If you are wondering how to fix the Call of Duty Warzone stuck on Fetching Online Profile error, you are not alone. In short, countless users encounter the Warzone stuck on Fetching Online Profile error whenever there are server issues affecting the game.
Because of this, your first step to troubleshoot the Warzone Stuck on Fetching Online Profile error is to check if the servers are down. If you do not find any reported server issues, the error is most likely a client-side problem. Because of this, you must try a series of troubleshooting steps.
The first step we recommend is to restart your game, then restart your system (console or PC). Doing so is an easy step to get out of the way, but it is not guaranteed to work every time. That said, if restarting your system and game doesn't work, you must try the following steps listed below:
Solutions to fix the Warzone Stuck on Fetching Online Profile Error
The following are some troubleshooting fixing steps we recommend using one-by-one until you manage to find one that solves the error:
Restart Router
Add Warzone to Firewall
Update Battle.net
Delete Warzone's document folder
Update graphics driver
Change DNS settings
If you want to fix Warzone stuck on the Fetching Online Profile error using the steps above, we recommend beginning with restarting your router. You can restart your router by unplugging all cables out of the back and waiting 30 seconds. After 30 seconds pass, plug the cables back in, wait a few minutes for your router to cycle on, and see if Warzone works again. If restarting your router doesn't work, you must try another step, such as updating your graphics driver or the Battle.net app. 
You can update your graphics driver by downloading the latest version from your card's manufacturer and uninstalling the current driver using a program such as DDU. Once your old driver is uninstalled, reinstall the new one and check if Warzone works again. If Warzone still doesn't work, try updating the Battle.net app by checking for a new version on the official website. 
Uninstall your current Battle.net if you find a new version, and download the latest version. But if updating Battle.net and your graphics drivers don't fix the error, you must try a few advanced steps, such as adding the game to Windows Firewall or deleting the game's documents folder. You can delete the game's document folder by opening up File Explorer on your PC and going to Documents on your PC. Inside Documents, remove Warzone's folder and try restarting the game. If your game still doesn't load, try using the steps below to add Warzone to Windows Firewall:
How to add Warzone to Windows Firewall
To add Call of Duty Warzone to Windows Firewall, open Windows Firewall and locate and click the Allow an app or feature through Windows Firewall option. Doing so will take you to another menu, where you must click another option called Change settings. After clicking Change settings, you can add Warzone to Windows Firewall by clicking the Allow another app option and locating Warzone on your PC. 
How to Change DNS Settings
Another potential fix for Warzone's Stuck On Fetching Online Profile Error is to change DNS settings. You can change DNS settings usually by opening up Internet settings on your PC or Console. For console users, you want to open up Network Settings, then Advanced Settings. Under Advanced Settings, you want to select DNS Settings and change the settings to 8.8.8.8 and 8.8.4.4. 
For PC users, open Status under Windows Settings and find change adapter options. After clicking change adapter options, another menu will open up called Network Connections. Inside Network Connections, select whatever type of network your PC is using.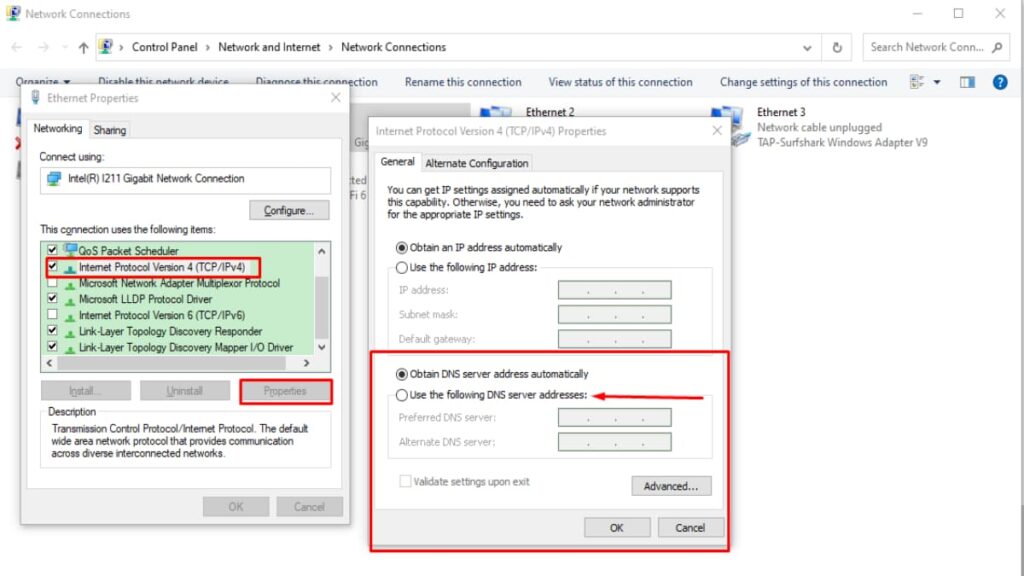 If your network is an Ethernet connection, select Ethernet and right-click it. Do the same if your network uses a WiFi connection. After right-clicking either Ethernet or WiFi, select properties and find Internet Version 4 (TCP/IPv4) as shown above. Select Internet Version 4 (TCP/IPv4), then click Properties. After clicking Properties, you can change your DNS settings on PC by selecting Use the following DNS server address. Under Prefered DNS server, set it as  8.8.8.8 and set Alterative as 8.8.4.4.
For more on Call of Duty Warzone, we at GameTips.PRO have you covered with guides like the following: How to get the Terminator skins in CoD Warzone & Vanguard and What is Titanium Trials mode in CoD Warzone?.