The Minotaur is a boss in Tower of Fantasy that is first encountered in Ruin B-02. The boss can appear in other locations as well, such as the Void Rift, with varying amounts of HP. It can be very slow in a majority of its attacks but will have a few moves that are as quick as they are powerful. This is how to find and defeat the Minotaur in Tower of Fantasy.
Where to find and defeat the Minotaur in Tower of Fantasy
The first encounter with the Minotaur will most likely be in Ruin B-02 in Banges, however, the boss can be found while doing things like Void Rifts as well. The location of Ruins in Banges can be found by looking at the map and looking for the large towers after interacting with the robot at the Omnium Tower in Banges or by exploring. The Minotaur boss fight may require players to have a good Shatter weapon as it has a large Shield in both solo and multiplayer. It can perform various attacks such as:
Shield Slam – The Minotaur will jump while holding its shield and perform a slam attack. This can happen in the middle of combos as well.
Large Swipes – Attacks that will cover the area around it while swinging wildly. This will hit players even behind the Minotaur.
Charged Axe – Players can notice when the Minotaur is about to charge as the boss with appear golden before performing a powerful charge attack. Dashing backwards is a good way of triggering Phantasia.
Six Swipes – When at low HP, the boss will stop performing double swipes and will instead perform a long combo. Parts of the combo deal AoE damage and is best avoided by running as far away as possible.
The other moves are either single hits or do significantly less damage. In melee range, the Minotaur is strong but can easily be dodged as most of its moves are well telegraphed.
Related: All Gold Nucleus locations in Banges in Tower of Fantasy
How to tell if a Weapon has good Shatter in Tower of Fantasy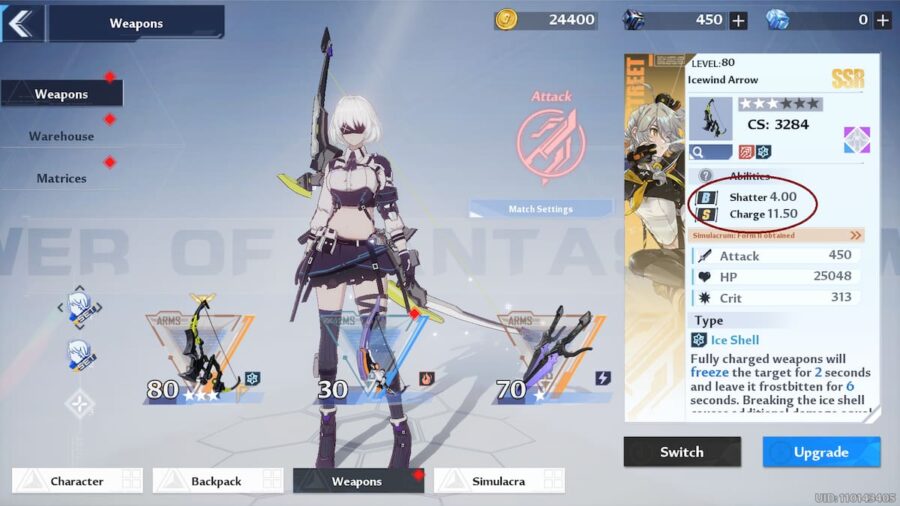 When looking at a Weapon's Stats in Tower of Fantasy, there will be two main stats that players should pay attention to. These are Shatter and Charge, which indicate how much damage is dealt to Shields and how fast the weapon gains its Discharge ability. Some Weapons will do one better than the other and it can be seen by clicking on Weapons and selecting any weapon the player has to see how well it does in each category. An S Ranking is the best while C Ranking is the worst.
For more Tower of Fantasy guides, check out How to clear Ruin B-03 in Tower of Fantasy on GameTips.PRO.