The Golden Apple Archipelago is back for Genshin Impact's Summertime Odyssey event, which runs from July 15, 2022, to Aug. 24, 2022. During this period, you can interact with Night Raven Statues that live in the Immernachtreich, which unlocks after completing all three parts of Fischl's Event Quest, Immernachtreich Apokalypse.
In the transformed Twinning Isle, you'll find plenty of Hidden Exploration Objectives from Night Raven Statues. One involves a broken Elevator in the southern part of the island. Read on to see how to locate and solve the puzzle to get a Common Chest reward.
How to find the Old Maintenance Raven Elevator puzzle in Genshin Impact
Head to the area circled in the image above to find two Night Raven Statues staring down at a hole. The Elevator in the area seems to be broken—your job is to help them get it to work again.
How to complete the Old Maintenance Raven Elevator puzzle in Genshin Impact
Start by interacting with the Night Raven Statue on the left. The Old Maintenance Raven will ask for your help figuring out why the elevator isn't working. Next, head to the location circled in the image below by turning right from your initial location and circling around the mountain. When you see the stage, go behind it to find a small pathway that leads to a fenced cave.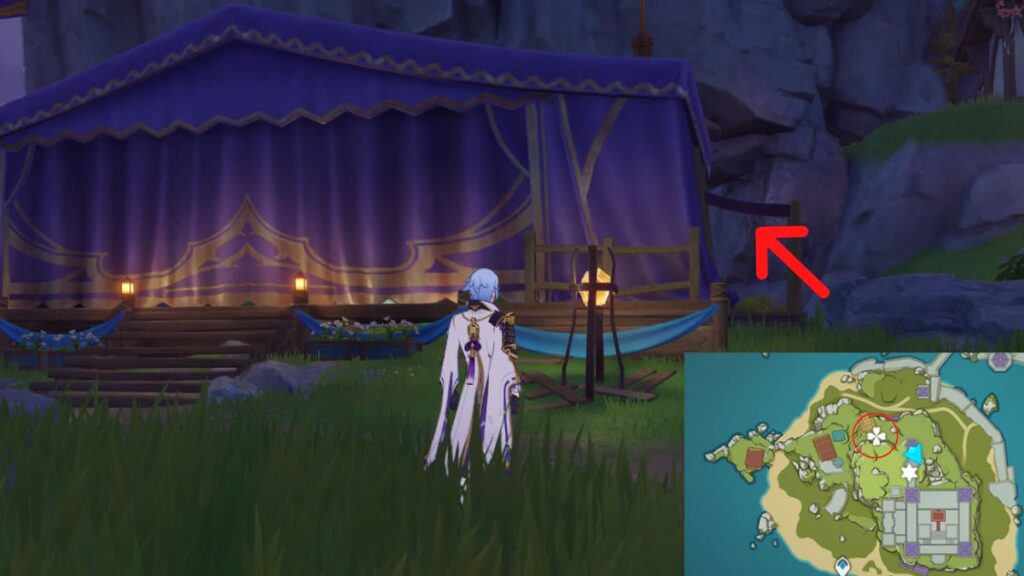 Approach the blocked entrance and interact with it to Tap Fence once and startle the Hidden Night Raven. Once that's done, head back to the location of the broken Elevator, and step on the platform on the left to summon the now-working Elevator. You may need to wait a few seconds for it to surface.
After, use the Elevator to go to the cellar below and speak to the two Night Ravens in the room. One is hiding behind the stairs inside the arched entryway, while the other is standing guard beside the Elevator. Once you're done speaking with both, relog the game and speak to the Night Raven guarding the Elevator—the Trainee Cellar Guard Raven. He will reward you with a Common Chest.
Check out our guide on All locations & answers to Night Raven Statue Questioner riddle puzzles in the Twinning Isle in Genshin Impact to get more Chests in Immernachtreich.