In Forza Horizon 5, players can unlock professional drift cars, upgrade their cars' components, and tune them specifically for the purpose of drifting. However, drifting takes quite a bit of skill to pull off and chain together. A car's handling is the most important factor, and the fastest car may not always be the best. In this guide, we discuss how to drift, which cars to choose, and how tuning works in Forza Horizon 5.
Best Tips and Tricks for Drifting in Forza Horizon 5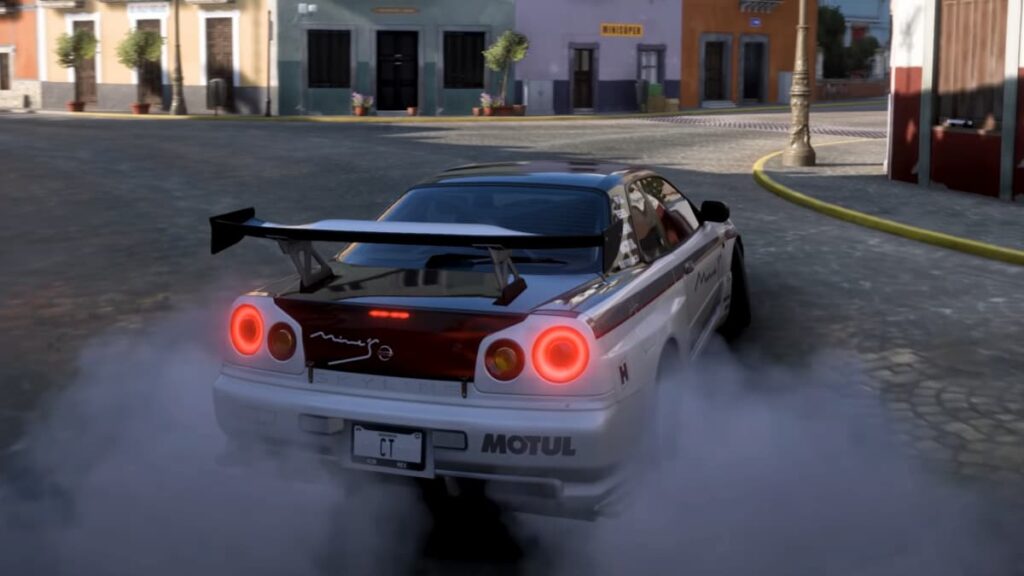 Drifting is close to an art form in terms of the precision with which a driver operates their vehicle. In order to get better at drifting in Forza Horizon 5, follow these tips and tricks to start sliding into glory in no time:
Initiate a drift – Initiating a drift is the first step. Simply reach a decent speed in your car, then pull the handbrakes while turning. This will cause the rear wheels to lock up and send you sliding.
Hold the slide – Once you have started the slide, slam down the accelerator to spin up the rear wheels while simultaneously counter-steering and flicking the accelerator to maintain the slide.
Practice around corners – Once you have learned how to push your car into a slide and hold it, try practicing going around big curves or circles while drifting. After this, you can also try linking one drift with another.
Get familiar with the car – Knowing and predicting how the car will behave while sliding is one of the main aspects of drifting. In order to start drifting effortlessly, get familiar with how your vehicle operates.
Best Cars for Drifting in Forza Horizon 5
Choosing the wrong car for drifting is one of the main mistakes made by players who are learning the ropes around drifting. One needs to understand the physics involved and the car specifications if they wish to start learning how to drift like a pro. The best cars to start drifting with are usually lightweight, rear-wheel driven, front-engined vehicles. While selecting a car, check the bottom-left corner of the screen to check the car's drivetrain setup. The following are some of the best vehicles for drifting in Forza Horizon 5:
Nissan Silvia (240SX/S14/S15)
Mazda RX-7
Mazda Miata MX-5
Nissan Fairlady 370Z
Ford Mustang RTR
DeBerti Tacoma TRD
Mazda RX-7 Twerkstallion
Ford Hoonicorn Mustang
Formula Drift #43 Dodge Viper SRT10
Formula Drift #34 Toyota Supra Mk IV
Best Upgrades for Drifting in Forza Horizon 5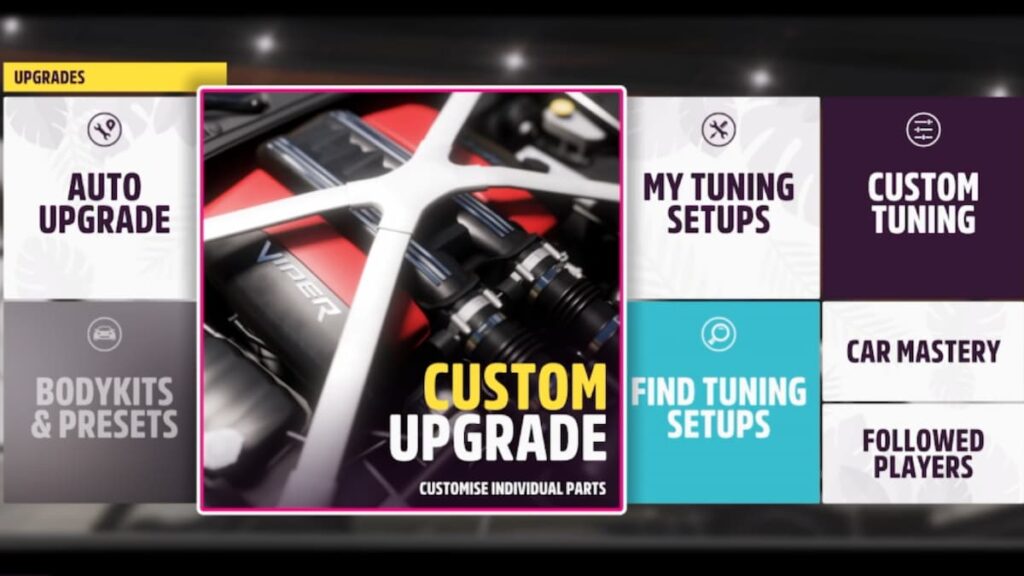 There are multiple components you can tune and upgrade in your car to suit your needs from the Upgrades & Tuning section in your Garage. Simply go to Garage, select Upgrades & Tuning, and head over into the Custom Upgrades section. This is where you can upgrade and tune your car's parts like the Engine, Brake pads, Suspension, and Tires. The following are the ideal Tuning setups for drifting in Forza Horizon 5:
Conversion
Engine Swap – Allows you to swap the original motor in the car with a more powerful engine, like a V8 or 2JZ from a Toyota Supra. The ideal tip here is to choose an engine with similar Power and Torque ratings, since this makes the car's handling more predictable and consistent.
Drivetrain Swap – Allows you to change the default drivetrain of your vehicle. The ideal Drivetrain setup for Drifting is Rear-Wheel Drive (RWD).
Aspiration – Allows you to fit a Turbo, Twin-turbo, or a Supercharger in your vehicle to pump out more power. Although this comes down to preference, Superchargers happen to be more consistent than Turbos.
Aero and Appearance
Aero and Appearance allows you to fit body-kits, customer bumpers, wheels, and other aesthetic upgrades to your vehicle. These upgrades are based on personal preference.
Tires and Rims
Tire Compound – Tire Compounds make a huge impact on your car's ability to drift with ease. In Forza Horizon 5, one of the newest features are Drift Compound Tires. These tires are specifically designed to go sideways and, as a result, are the best options to choose when starting out on Drifting.
Tire Width – Tire Width determines how much grip your car will have while on the track. The tire width depends on the weight of the car and the amount of horsepower it makes. Usually, however, you will want to bump it up a few notches to have a little extra grip.
Rim Style/Size – Allows you to choose a custom Rim and adjust the size. This is a cosmetic-only upgrade and come down to personal preference.
Track Width – Determines the length of the axle and how far apart your wheels are from each other. This upgrade reduces the car's body roll when going around a corner and provides improved handling.
Drivetrain
Clutch – Reduces the car's Shift Times and allows you to shift gears faster. For drifting, go with the Race Clutch.
Transmission – Allows you to change the gearbox in your vehicle, which reduces Shift Times and adds more gears to the vehicle's transmission.
Drivetrain – Allows you to improve throttle response and acceleration by reducing weight and inertia of driveline components.
Differential – A differential allows the car's wheels to turn at different speeds when taking a turn, as the inside wheel travels less than the outside wheel. For ideal drifting, choose the Drift Differential.
Performance and Handling
Brakes – Improved Brakes allows your car to bite the track harder when going into a turn or when trying to initiate a drift. Race Brakes are the best for drifting.
Spring and Dampers – Allows you to add improved suspension setup by lowering the car and adding negative camber to the wheels. For drifting, the ideal setup is Drift Spring and Dampers.
Front/Back Anti-roll Bars – Improved Anti-roll bars prevent body-roll when going fast through corners.
Weight Reduction – Significantly reduces the vehicle's weight and improves acceleration, top speed, and handling.
Engine
Engine upgrades are usually best left for the last. Having tons of power isn't always the best thing, as your vehicle might become barely controllable if it has too much power than it can manage. While upgrading the Engine, always keep tabs on the power-to-weight ratio of your car. Some minor yet significant upgrades in the Engine bay include Camshaft, Flywheel, and Exhaust. Other Engine upgrades are good for reaching certain Performance Index numbers and might increase the weight of your vehicle.
Best Tuning Setup for Drifting in Forza Horizon 5
After purchasing the Upgrades of your choice, you can fine tune them from the Tune Car section in the Cars menu. The following are all the components you can tune in your car and how they affect the car's performance in Forza Horizon 5.
Tire Pressure – Tire Pressure determines the grip and responsiveness of your vehicle while on track. The higher the tire pressure, the less grip the car will have. Try to keep the rear tire pressure a little lower than the front.
Gearing – Gear ratios determine acceleration and top speed. A higher gear ratio makes for quicker acceleration, while a lower ratio will make more top speed. A drift car should focus on higher ratios, as more acceleration means the rear wheels will spin up faster.
Alignment

Camber – Camber is the angle of the wheel relative to the vertical of the vehicle. If the top of the tire is leaning inward, it is negative camber. If the top of the tire is jutting outward, it is positive camber. Camber affects understeer/oversteer when cornering.
Toe – Toe adjusts the speed at which the car will transition from driving straight to making a turn. Toe-in brings the front wheels closer together, improving stability. Toe-out brings the rear wheels closer together, improving turn-in response.
Front Caster – Adjusting the caster enhances straight line stability. With positive caster, the wheels are inclined rearward and, thus, help you initiate a slide easier.

Anti-roll Bar – The Front and Back Anti-roll Bars provide a much-needed stability to cars by controlling unwanted body-roll and balancing understeer and oversteer.
Springs – Determines the ride height and suspension stiffness. A lower ride height will ensure more stability when drifting.
Damping – Damping determines how quickly the vehicle's suspension compresses and decompresses. The stiffer the suspension, the less grip you will have.
Brake – Determines the amount of braking force to be applied to the wheels. If the brake balance is set in toward the front wheels, the front wheels will lock up first when brakes are applied.
Differential – As mentioned before, differential works to turn the wheels at different speeds while cornering to ensure maximum grip. Turning this setting up to 100% for both acceleration and deceleration will effectively result in a "welded" differential, where the wheels will spin at the same speed, making drifting the car more predictable.
Best Game Settings for Drifting in Forza Horizon 5
Within the Difficulty settings in-game, there are a few options to help you drift more easily. The following are the settings options you should follow to go sideways with ease in Forza Horizon 5:
Drivatar Difficulty – Personal preference
Driving Assists Presets – Custom
Braking – Anti-lock Off
Steering – Simulation
Traction Control – Off
Stability Control – Off
Shifting – Manual
Driving Line – Off
Damage & Tire Wear – None
Rewind – On
Wondering how to find every barn in Forza Horizon 5? Check out All Forza Horizon 5 Barn Finds Locations – Every hidden car in the game, here on GameTips.PRO.