Disney Dreamlight Valley is an excellent simulation game available on PC, Xbox, PlayStation, and Switch. It allows players to adventure in a magical Disney world, complete various activities, and craft their own stories. They can interact with their favorite Disney characters, evil and good, and accomplish tasks with and for them. You can begin the adventure by first creating the perfect avatar in Disney Dreamlight Valley Avatar Designer Tool!
What is Disney Dreamlight Valley Avatar Designer Tool?
Disney Dreamlight Valley Avatar Designer Tool is a free program that allows you to create and customize your avatar before you jump into the game. It has full customization options from body types, hair, and facial features, to a complete outfit and accessories. Discover and utilize fun Disney-themed costumes and clothing, and flaunt styles inspired by your favorite characters. You can create a character that uniquely feels like you and change it up whenever you want something fresh.
How can to get Disney Dreamlight Valley Avatar Designer Tool
The Disney Dreamlight Valley Avatar Designer Tool is available on most of the same consoles as the main game and is entirely free for you to download right on: Steam, Microsoft, Epic Games, or search through your console shop. Head over and create your character to use in-game now, and don't worry, even if you make your avatar on a different device, you can still load them anywhere with your Avatar Code.
Will your Disney Dreamlight avatar be saved for the full game?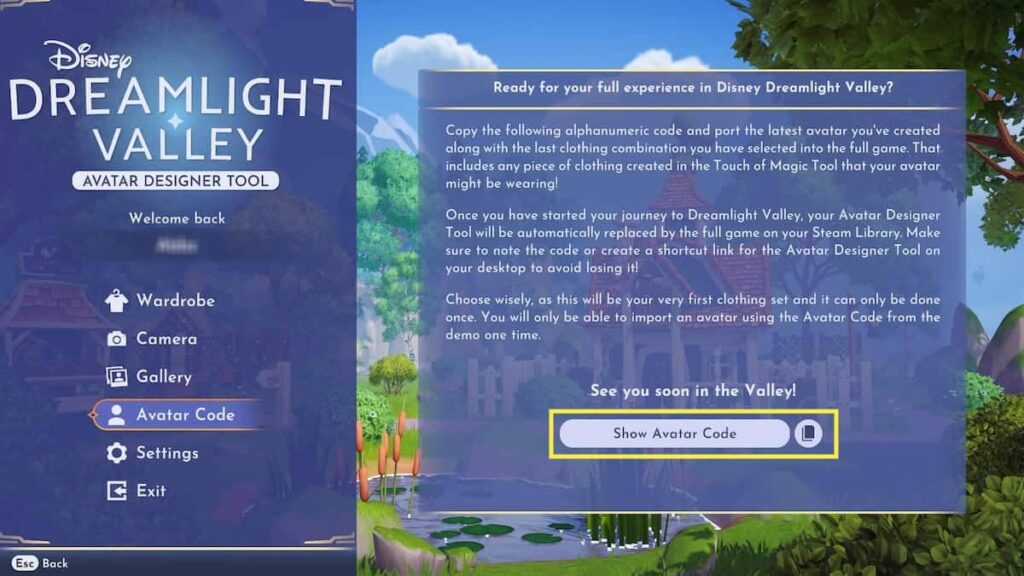 If you happen to create your avatar on a different platform than you intend to play the full game, you can still load in your created avatar anywhere with the Avatar Code. Once you're done customizing your character, head to the menu of the Avatar Designer Tool and navigate to the Avatar Code tab. These will have a code available for you to copy or write down and enter into any other device you play on. This means you can edit and customize your outfits or looks anywhere and anytime and not lose any of your saved work.
You can start your magical Disney Dreamlight Valley adventure right now by creating your perfect avatar in your favorite character's inspired outfits, from head to toe. Then you're ready to jump right into the world and get exploring!
Looking for more GameTips.PRO Disney Dreamlight Valley content? Check out our guides on Is Disney Dreamlight Valley similar to Kingdom Hearts? or Every Disney character confirmed in Disney Dreamlight Valley!