The Luterran Course Meal is a dish prepared by Chef Hyde at the Luterra Castle. The recipe calls for 1 Luterran Courtesies, 1 Sirloin, and 900 Silver. You will need 6,400 Silver to purchase all the ingredients.
Where to find the ingredients for Luterran Course Meal
Since the ingredients are close to Chef Hyde, preparing the Luterran Course Meal is relatively easy. Just head to the southwest corner of Luterra Castle. There will be many food vendors in that corner, so all you need to do is locate the two that sell the ingredients. You can find the exact location on the map below.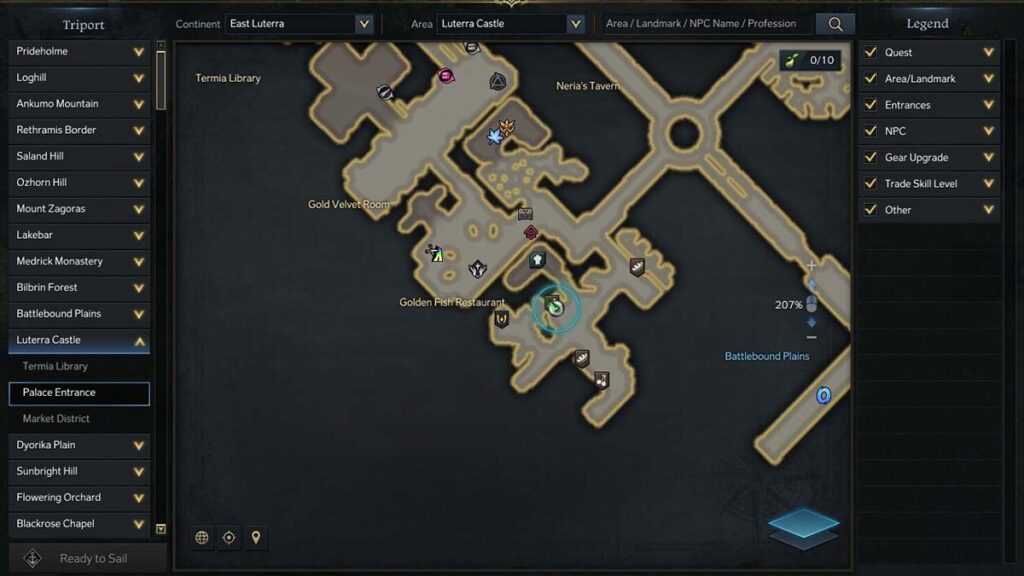 The image on the bottom left is Albaro, the first vendor, who sells Sirloin for 1,500 Silver. Albaro is located next to the largest stall with all the vegetables. The second vendor, Enoch is on the bottom right. Enoch sells Luterran Courtesies for 4,000 Silver. There is a small stall next to him with noticeably fewer vegetables.
Related: How to craft Gourmet Seafood Stew in Lost Ark
Where to find Chef Hyde
Chef Hyde's restaurant is located just to the right of Enoch. Look for the open door.
Once inside the restaurant, click on Chef Hide to open his store. In the Adventurer's Tome Specialties tab, you'll find Lutteran Course Meal. Even though you have both ingredients, he'll still charge 900 Silver, so be ready for that.
For more Lost Ark guides, check out Lost Ark – How to change the AFK timer or What is Crystalline Aura in Lost Ark? right here on Pro Game Guides.