Tower of Fantasy is celebrating a collaboration event with Discord from Aug. 12, 2022, to Nov. 9, 2022. During this period, you can claim a free one-month Discord Nitro subscription and a special ToF Avatar Pack filled with in-game goodies. This offer is limited to users who are subscribing to Discord Nitro for the first time. If you've already claimed Discord Nitro in the past, you can create a new account to take advantage of this offer.
How to claim the free Discord Nitro & Special ToF Avatar Pack
Head to the in-game Rewards menu by clicking on the gift icon on the upper right of the screen. If you're on PC, hold ALT to enable you to use your cursor to do so. Next, click on the Themed Event button at the bottom of the screen to find the Discord Nitro offer. Click on Claim Nitro Offer to be redirected toward the rewards claiming page on your browser.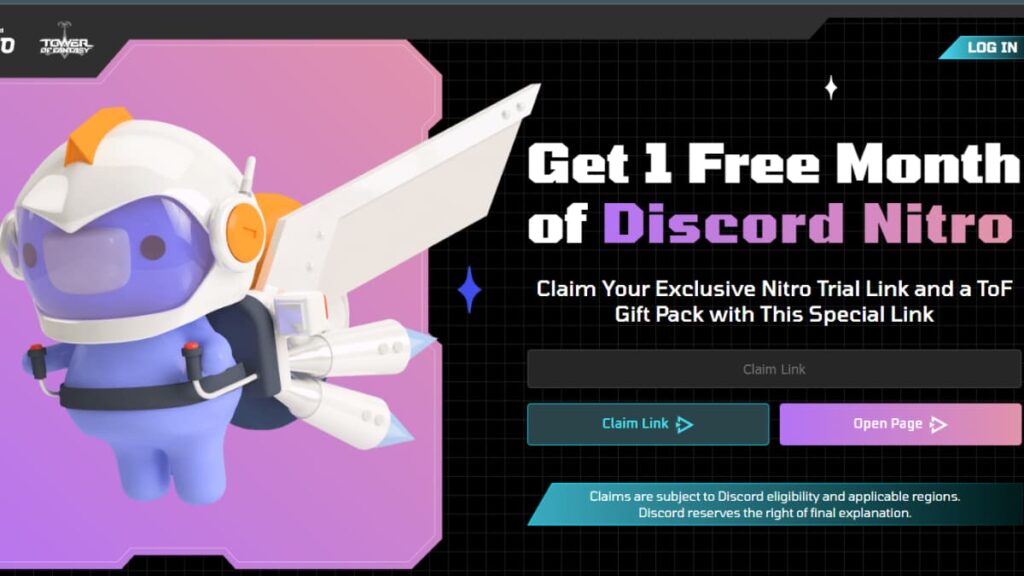 On the upper right of the page, click Log In and access your Discord account. Then click on Claim Link to generate a link that you must input into the browser to open the redemption page. Once you see the message, "You got 1 month of Nitro," click Next to open up the billing page.
To successfully claim the Nitro offer, you must sync your credit card or another eligible postpaid payment method with Discord. After the one-month free period ends, Discord will continue billing you for the cost of a Nitro, so you'll have to cancel your subscription later on if you don't want that. After syncing your payment information, you'll successfully obtain the one-month Discord Nitro.
Next, head over to Discord and enter the User Settings by clicking on the cog beside your profile picture. On the left, select Gift Inventory and find the ToF Avatar Pack under Your Gifts. Click Claim to get a redemption code that you can input in-game to get the following items in your mail:
SR Relic shard box 
8,888 Gold
White Gauze Eye mask
Keep in mind that it may take a few minutes for the items to arrive, so don't panic if you don't get them immediately. If you don't want the ToF Avatar Pack, you can give your code to a friend!
How to unsubscribe from Discord Nitro
If you don't want to keep getting billed for Discord Nitro after the free period ends, head to your Discord User Settings and select Subscriptions from the lefthand panel. Under Your Subscriptions, click on the small Cancel button in the upper right corner of the Nitro banner and confirm your actions by clicking Next to prevent getting billed for this subscription a month later.
Check out our guide on How to access your mail in Tower of Fantasy to find your ToF Avatar Pack rewards.