Apart from good game strategy or in-detailed knowledge about heroes/maps, one of the most vital criteria to excel in a tactical FPS game like Overwatch 2 is to have a good crosshair that helps you translate your true aiming potential onto the screen. While the default crosshairs for each hero are great, to begin with, it is always advisable to customize and select a crosshair manually. To change your crosshair in Overwatch 2, visit the Reticle section under the Controls tab.
What are the different Reticle types in Overwatch 2?
There are five types of reticles in Overwatch 2.
Default: If you choose this type, all the Heroes will display their native default crosshairs.
Crosshairs: The traditional FPS crosshair with both inner and outer lines.
Circle and Crosshairs: You will have an additional circle in the middle of your crosshair.
Dot: The reticle will only have a single dot. You can customize and tweak the dot to your convenience.
How to change your Reticle in Overwatch 2
To do this, follow the below steps.
Open Overwatch 2 and be available in your main menu.
Press Esc or click the button from the bottom right corner of your screen.
Select the Settings option and head over to the Controls section
Under the General category, find the Reticle settings.
Change the Reticle type to anything of your choice and save the settings.
All customizable parameters for Recticles in Overwatch 2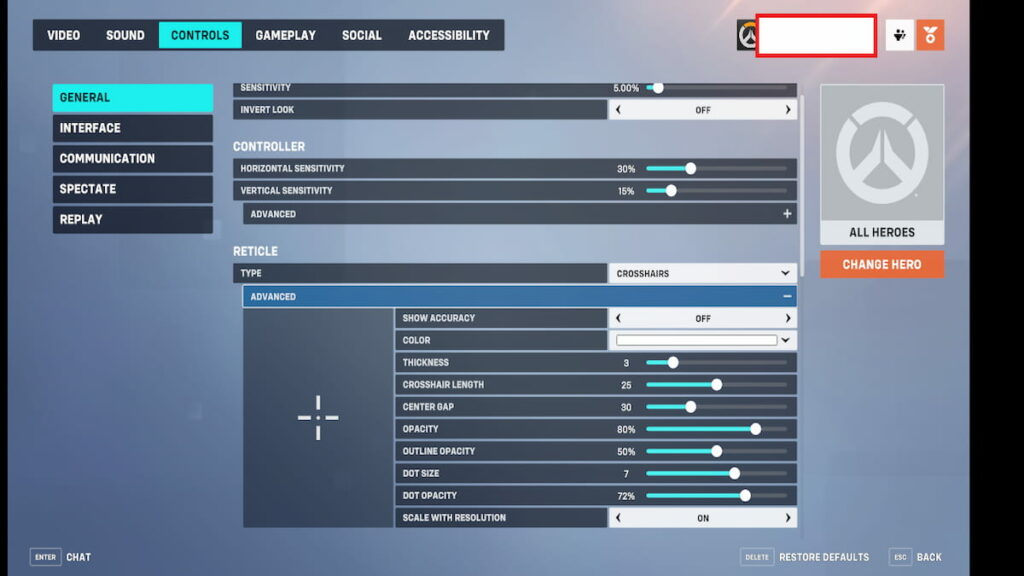 Apart from the default ones, you can customize the following parameters for your reticle type in Overwatch 2.
Color 
Thickness 
Crosshair Length
Center Gap
Opacity 
Outline Opacity
Dot Size
Dot Opacity
Scale with Resolution
For more on Overwatch, check out How to level up Battle Pass quickly in Overwatch 2 or Which class should you play in Overwatch 2? on GameTips.PRO.