Nintendo Switch Sports is a collection of six sports, including bowling, which returns from Wii Sports. Your Wii Bowling skills may return to you, and you may get strike after strike. But if you are new to the series, you may be wondering how to bowl a strike in Nintendo Switch Sports.
How to get a strike in Nintendo Switch Sports Bowling
The key to bowling a strike in Nintendo Switch Sports is lining up your shot and throwing with a slight spin. Lining up the shot is easier, as we detail in the image below, but it may take more time to figure out how much spin to put on your throw.
Line up your shot using the thumbstick and not the d-pad to prevent your avatar from throwing at an angle. Place the line just on the edge of the inside arrow to the right or left of the center arrow based on your dominant hand. Use a slight spin inward to get the ball to impact two of the front pins when you throw.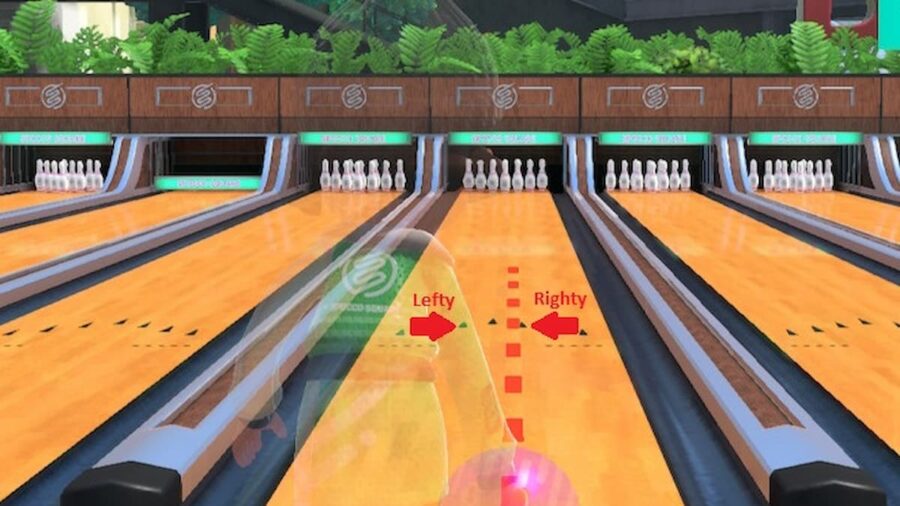 If you are successful, you will earn a strike. We recommend practicing this in an offline game until you master the correct amount of spin. Once you have this technique nailed, you can hop into the online Survival Bowling and show the Nintendo Switch Sports community a thing or two!
For more information on Nintendo Switch Sports, check out Is Nintendo Switch Sports worth it without online multiplayer? and Best sword type for Chambara in Nintendo Switch Sports on GameTips.PRO.