After the players compete East Luterra in Lost Ark, they can access their very own ship. This lets them sail around the world and explore the various continents and islands. However, sailing can be tedious, especially if you have to travel long distances. This may leave players wondering how to auto sail in Lost Ark.
There are two different ways to auto sail in Lost Ark. The first way to auto sail is to press T. This will cause your ship to sail on its own in the direction it is pointing. The second method is to open your map and enable auto-routing.
Related: Lost Ark – Artillerist Build Guide
How to Auto-Route in Lost Ark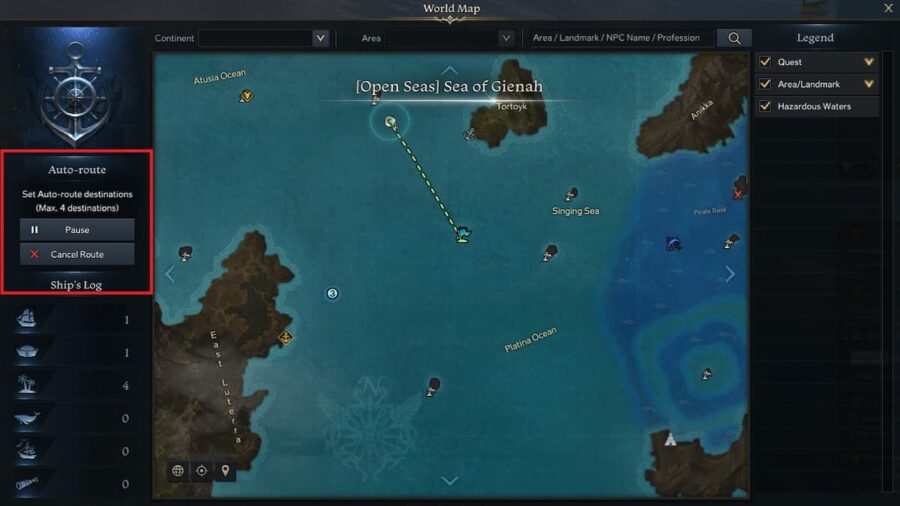 The best method for sailing is to auto-route. To do this, open your map and hold the Alt key while selecting your destination with the left mouse button. This has to be a discoverable location. Once you have done this, a green dotted line will appear, and you will auto sail to this point.
Auto-routing allows your ship to pilot itself, navigating around obstacles. With this feature, you can set your destination and let your ship take you there without manually doing it.
For more information on Lost Ark, check out All Mokoko Seed locations in Mercia in Lost Ark and Where to find "Sacred Rituals of the Harvesters" Hidden Story in Lost Ark on Pro Game Guides.