Call of Duty has long been a popular franchise, so it's natural to wonder about the performance of their individual projects. Released in 2020, Warzone has generated a lot of buzz online and globally. Is the number of players proportionate to the amount the game gets talked about? It seems so, with a recent active monthly player count of over 50 million.
How many total people have played Warzone?
In June 2022, CharlieIntel, an online influencer who keeps track of all things related to Call of Duty, reported on Twitter that Warzone has seen more than 125 million players since its release in March 2020. This number may not be as high as some of the other entries in the franchise, such as Modern Warfare, but it's important to keep in mind the nature of Warzone. CoD Warzone is a free-to-play Battle Royale game, meaning two things. One, it has a lot of competition in the very popular video genre. Second, it is a departure from the typical style of CoD games which typically means fan retention will be lower.
What is the amount of active users in Warzone?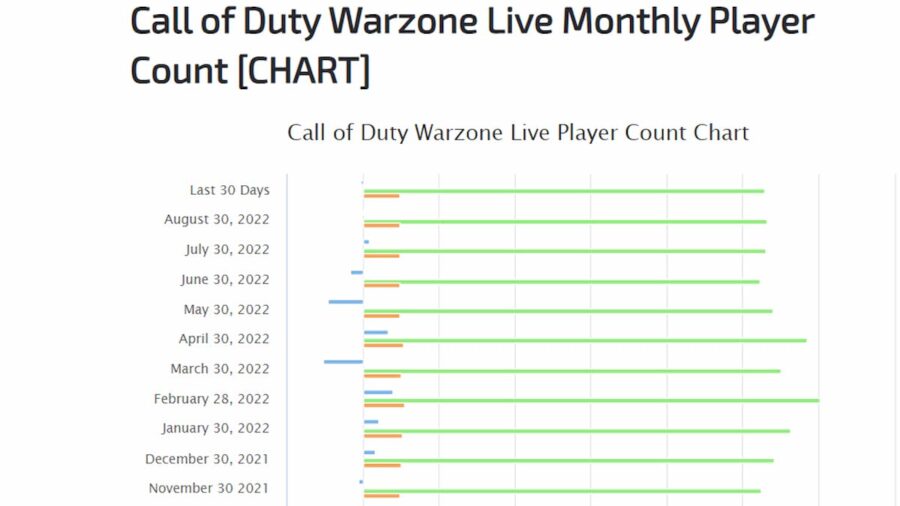 According to Active Player, a website that tracks the number of players on any given video game, the 30-day average of CoD Warzone players for Aug.-Sep. 2022 is 53 million. Using the same source, we can deduce that Warzone had the most monthly active players in Feb. 2022, when it topped out at 60 million monthly active users.
Want to read more about CoD Warzone? If so, check out Best Warzone Graphics Settings on GameTips.PRO.