The ever-shrinking safe zone is one of the core aspects of any Battle Royale game. Call of Duty: Warzone incorporates the poisonous Nebula V gas that surrounds the safe zone. Staying in the gas for some time can easily kill you, but there's an equipment that can help you last longer.
The Portable Decontamination Station Field Upgrade, also called P.D.S., filters the air for 13 seconds and neutralizes all harmful effects of the hazardous gas. Although found rarely, this is the only tactical gear besides the Gas Mask that lets you tank the gas effortlessly.
Once placed, it will clear any surrounding gas within its six meter operating radius. Gas Grenades also don't work when thrown inside the equipment's safety radius. Furthermore, you can place the P.D.S. anywhere, even on vehicles to safely relocate inside the safe zone.
Keep in mind that the P.D.S. appears on the minimap of every player as a blue circle once deployed. Opponents can destroy the gear easily by simply shooting at it. It's like a limited duration Trophy System that works against gas instead of rockets and grenades.
Related: How does the Nebula V Rounds ammo work in Call of Duty: Warzone Pacific?
Where to find the P.D.S. Field Upgrade in Warzone?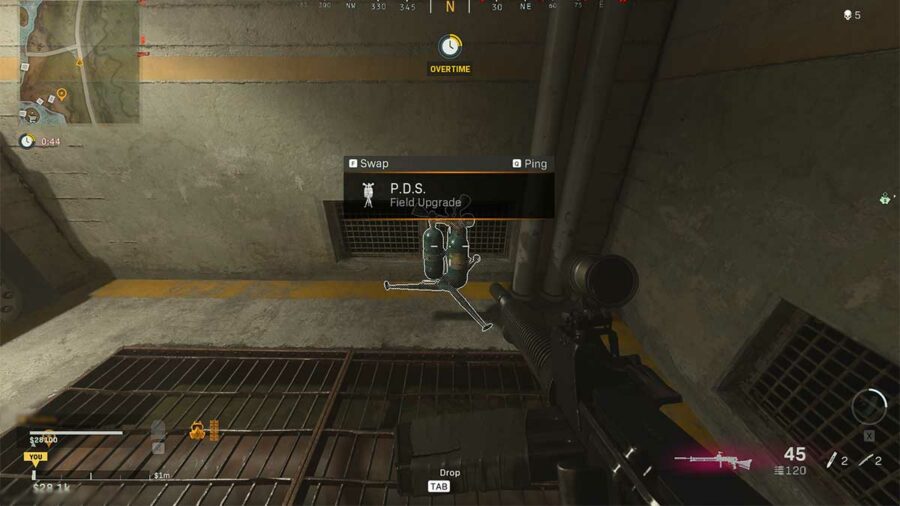 The Portable Decontamination Station is an extremely rare loot item and it doesn't spawn everywhere on the map. However, you can generally find one of these inside the Bunkers across Caldera and the Chemical Factory located by the Docks.
Stay tuned to Pro Game Guides for more Call of Duty content. In the meantime, head over to our articles on – What is Caldera Clash mode in Call of Duty: Warzone Pacific?