One of the highlights of Disney Dreamlight Valley is its availability on nearly any platform. It's available on PC, Xbox One, and Xbox Series X|S (included for free if you have Game Pass), PS4, PS5, and Nintendo Switch. We have all the details on its crossplay functionality between these platforms.
How does crossplay/cloud saves work in Disney Dreamlight Valley?
Crossplay exists, but with caveats. Early Access requires a one-time purchase of a Founder's Pack unless you play via Xbox's Game Pass, which is free. The Founder's Pack is a purchase for Early Access on only one platform, not for your account. If you want to play on a Nintendo Switch and a PS5, you'll need to purchase the $30 Founder's Pack on both platforms. You could create a Gameloft account and enable crossplay during the Early Access period. Once Disney Dreamlight Valley becomes a free-to-play title after Early Access is finished, you can download the game to as many platforms as you like and crossplay for free.
How to create a Gameloft Account and enable crossplay/cloud save in Disney Dreamlight Valley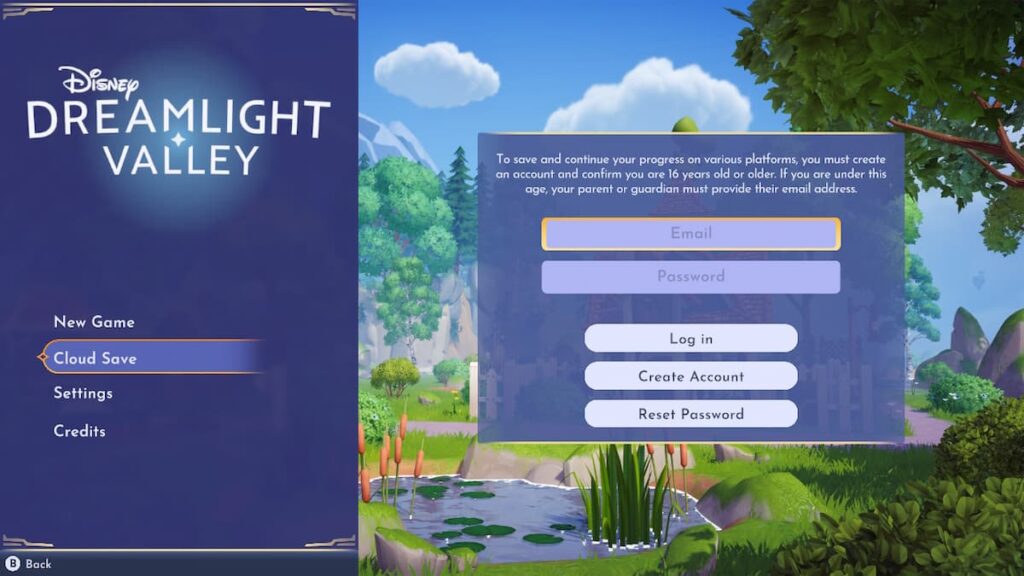 If you want to enable crossplay/cloud saves, the game does make it easy for you to do. From the title screen, scroll to Cloud Save, then use the right side of the screen to either log in to an existing Gameloft account or create a new one. If you create a new account, it does require you to verify your e-mail before you can enable cloud saves. Your device will also need to be connected to the internet to enable any kind of cloud saves.
Need more help with your Disney Dreamlight Valley's Early Access? Check out How to create an avatar in Disney Dreamlight Valley Avatar Designer Tool here at GameTips.PRO.