In FIFA 23, players build their squad from scratch in FUT, and team Chemistry plays a massive part in how well the players adapt to each other. A new Chemistry system is coming to the game, and naturally, fans want to know how this will affect team compositions. Positional Links are to be replaced with a broader system, allowing fans to link their players across the entire field. This effectively means that your Striker and Central Defender can have a link, despite being far apart on the field. Here's how Chemistry works in FIFA 23.
What is the new FUT Chemistry system in FIFA 23?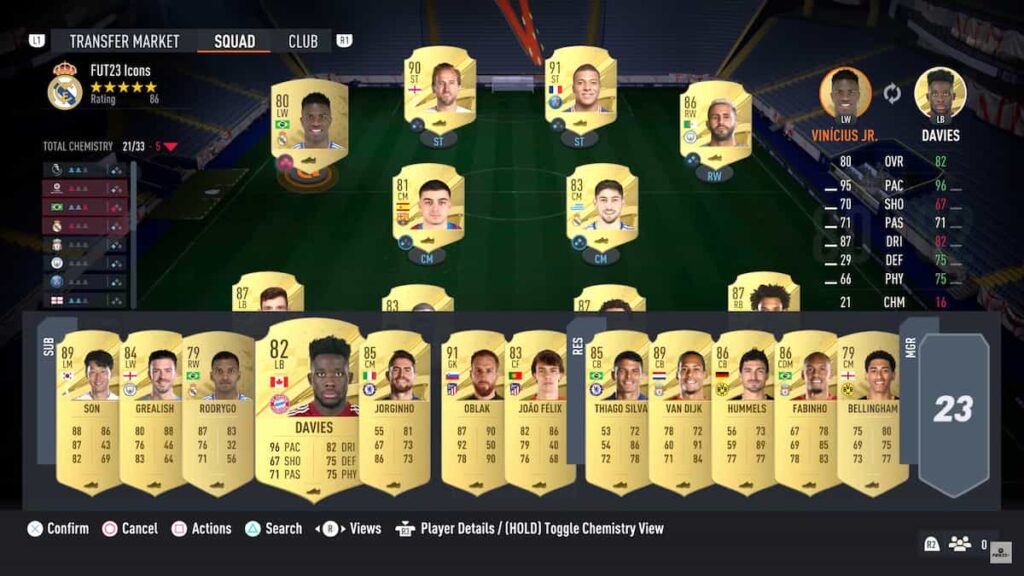 Chemistry in FIFA 23 will offer players more variety to build their squad with various options to Link with. Instead of depending on Neighbouring and Positional Links, you can now focus on building a complete squad by getting players from the same club, nation, and league. The official trailer video highlighted the example of Trent Alexander-Arnold and Andy Robertson, two Liverpool full-backs that have dominated the position in the past few seasons.
For instance, players can have Lionel Messi as the Right Winger, and Link Chemistry with teammates from Paris Saint-Germain, Argentinian Forwards, Midfielders, Defenders, and Goalkeepers. As for Icons and Heroes, if fans place them in the proper position, they will be at full Chemistry. Icons act as two players towards their nations, while Heroes count as two players towards their leagues.
Fans will also see a new three-diamond system on the Player Cards. This represents the number of Chemistry a player can have on the pitch. Players can have between zero to three Chemistry. Each player gets a maximum of three diamonds, which adds up to 33 Total Chemistry. Check the Total Chemistry panel on the left-hand side of the squad section to see how much Chemistry every player has in the team. Similarly, you can also change player positions based on their real-life team duties. For example, Joao Cancelo plays Right Back for Manchester City in the Premier League, but you can add a positional change to make him play as a Left Back.
For more on FIFA, check out Who are the top 23 players in FIFA 23? or What is Player Career Personality in FIFA 23? on GameTips.PRO.