Gucci Town is a social experience that brings the world of Gucci fashion to the interactive world of Roblox games. As you play, you quickly discover that GG Gems, the main form of currency in this world based on the famous line of Gucci designer clothes. However, GG Gems can be difficult to obtain. Even though it's primarily a social game, you'll have your work cut out for you if you want to rise to the top!
You can give yourself a boost in the game by using our list of Gucci Town codes below. These codes provide exclusive in-game rewards (such as Gems) that you can use to purchase special objects in the game. Our codes are the fastest way to get the resources you need to get those pricey clothes in the shop. If only there were codes to buy Gucci items in real life!
While you're using our Roblox Gucci Town codes below, don't forget to check out our other codes lists for similar Roblox games that focus on the more on social interaction. We have the latest codes for games like Funky Friday, Friday Night Bloxxin', and Spotify Island! Or, if you are interested in games that encourage roleplay, check out our codes for High School 2 and Miraculous RP!
All Roblox Gucci Town Codes List
Roblox Gucci Town Codes (Working)
Here's a look at all the working Roblox Gucci Town codes.
GUCCITOWN10—Redeem for 100 Gems (New)
Roblox Gucci Town Codes (Expired)
These Roblox Gucci Town codes no longer work.
Roblox Gucci Town Frequently Asked Questions
How to Redeem Roblox Gucci Town Codes
Redeeming codes for free rewards in Gucci Town is easy.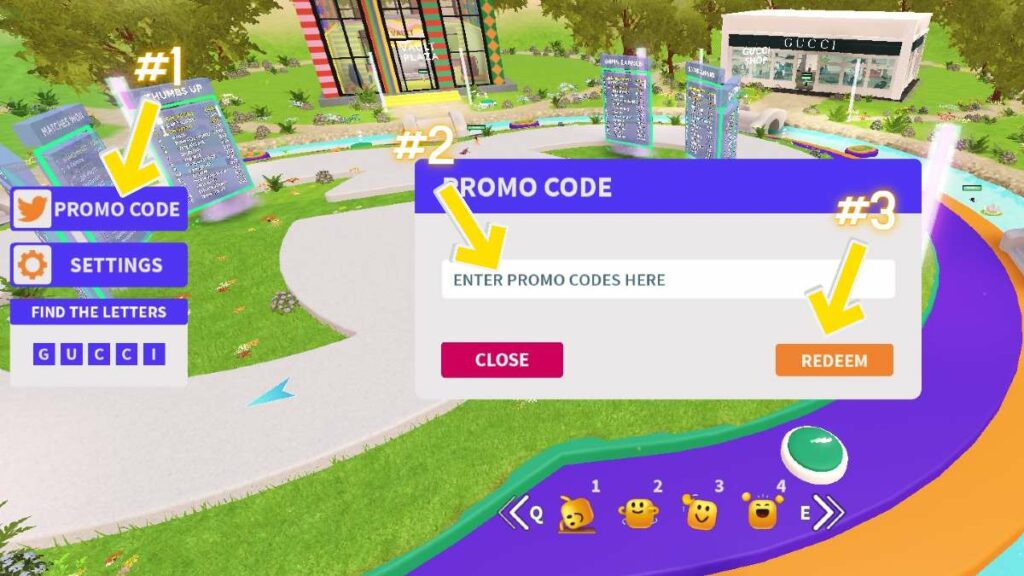 In the game, press the Promo Code button on the left side of the screen.
In the text box, enter the code exactly as it appears in the list above.
Press the Redeem button to claim your reward!
What are GG Gems and how do I use them in Gucci Town?
GG Gems are the main form of currency in Gucci Town. Similar to real life, Gucci clothes are not free in the game. You must collect GG Gems to buy any clothes in the game, which are mostly used to establish prestige for your character and show off your elegant style. To buy clothing, go to the main lobby and walk to the Gucci Shop (the white building with the word 'Gucci' on the top). Enter the blue ring in the shop to open the shop menu, then select your favorite items to purchase them!
How do I get more Roblox Gucci Town codes?
As with many Roblox games, Gucci Town provides codes base on the interaction they have with their community. When enough people show support for the game, the developers have more reason to push more content and updates, much of which include new codes. The best way to get new codes to be added to the game is to like and follow the game on the Roblox page, and interact with the Gucci Town Group page.
Gucci doesn't have any official social media presence for the development of the game, but you can interact with the official Twitter, YouTube, and Facebook accounts to offer suggestions. If enough people show interest in them adding more content, they may make it easier to get new codes!
What is Gucci Town?
Gucci Town is an immensely popular Roblox interactive experience that combines the world of Gucci fashion with virtual gaming. In the game, players can participate in a myriad of community events and activities. Some of these activities include taking selfies with Gucci designer clothes, playing mini-games, and buying Gucci clothes that represent real-world pieces!
If you're looking for codes for other games, we have a ton of them in our Roblox Game Codes post! You can also get a bunch of free stuff via our Roblox Promo Codes page.