In the Genshin Impact Version 3.0 Livestream, HoYoverse CEO Dawei and the Genshin Impact production team walked players through what to expect in the nation of wisdom—including the upcoming events to keep players occupied from Aug. 24, 2022, to Sept. 27, 2022. While the exact dates for the events have yet to be released, here's an overview of what to expect in the coming month.
All upcoming Sumeru events in Genshin Impact Version 3.0
Graven Innocence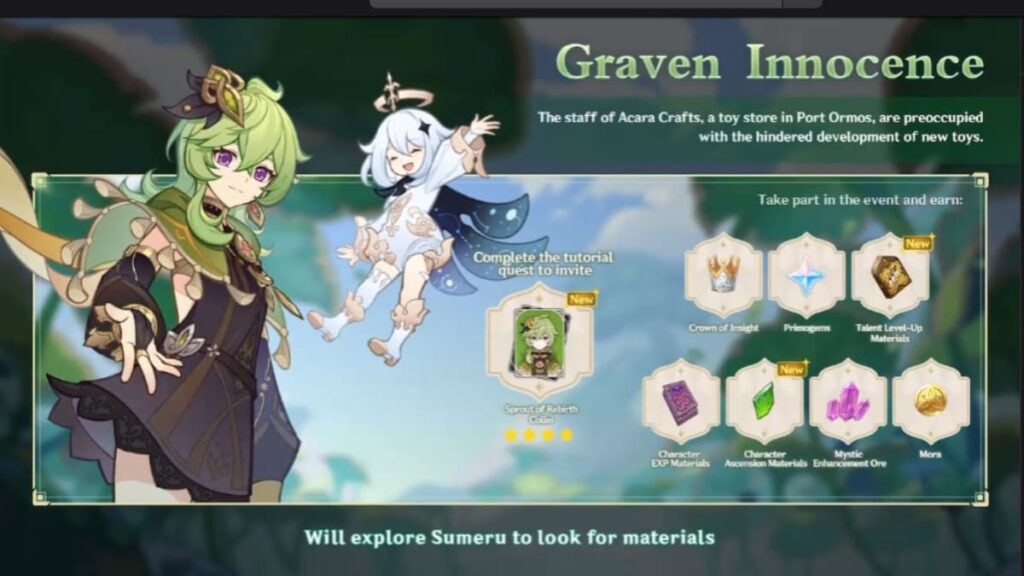 This event will bring players to Port Ormos, Sumeru's bustling trading hub where all forms of international—and illicit—trades occur. The Acara Crafts, a local toy store, is having trouble thinking up new toy ideas for children, and it's up to the Traveler to bring inspiration to the shop owners.
After completing the event tutorial quest, Meticulous Craftsmanship, players will be able to obtain Collei for free. While unconfirmed, it's likely for this event to be available at launch so that players have a Dendro character to explore Sumeru, so we recommend playing it as soon as possible.
The event mechanics were also designed to familiarize players with Sumeru, including:
Taking pictures of Sumeru's wildlife
Battling new enemies and bosses
Completing obstacle courses using new Sumeru exploration mechanics
Fayz Trials
This combat event is a Domain-focused challenge where players must use trial characters to complete various stages. A new potion, called the Fayz Potion, can be used to stop opponents from moving, sharpening your vision to the point so that you can see all of their weak points to aid in battle.
Tablet Analytics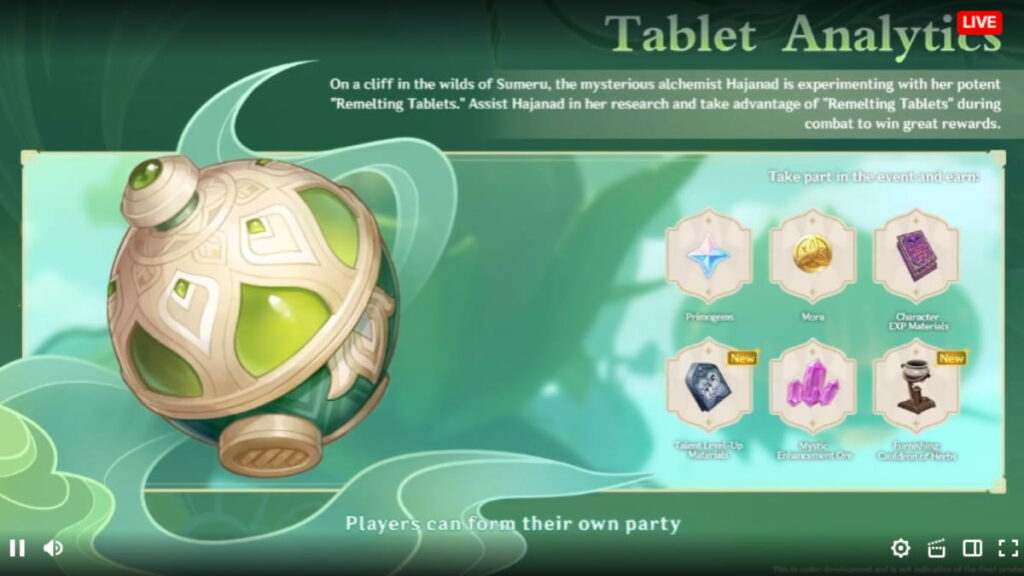 Tablet Analytics is another combat event where you meet a researcher named Hajanad, who is interested in experimenting with Remelting Tablets. These will provide various combat effects that can be used to clear Domain-like stages.
Lost Riches
Ulman will be coming back for another round of Lost Riches! This infamous treasure-hunting event rewards players with a Mini Seelie companion, including a new Dendro-themed one. The gameplay mechanics are similar to previous rounds of Lost Riches, including:
Following traces to find treasure
Defeating enemies
Completing challenges
Ley Line Overflow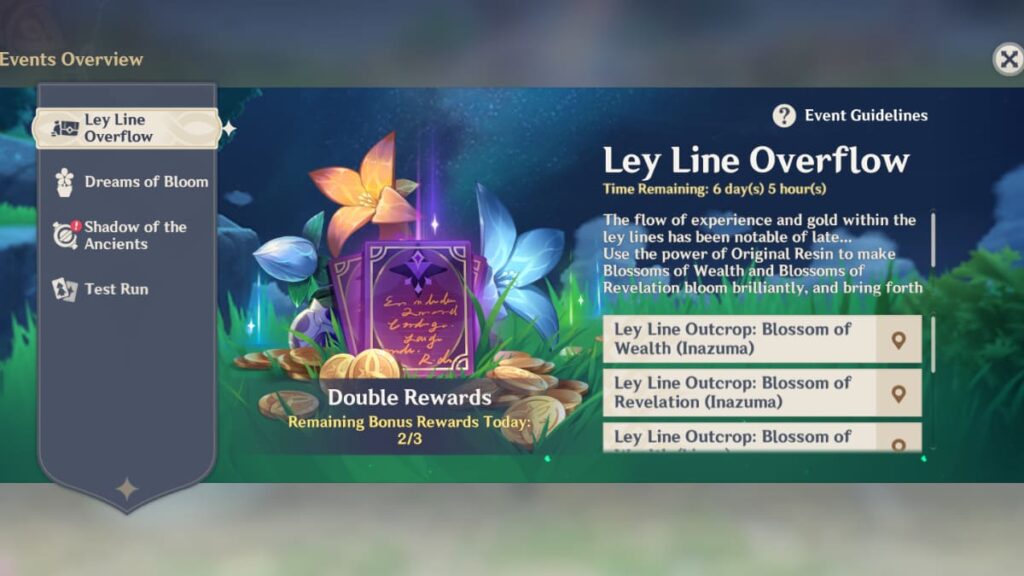 Yet another rerun of the Ley Line Overflow event will help players collect Hero's Wits and Mora to build their new Sumeru characters. Like previous renditions of this event, you can get double rewards from Ley Line Outcrops three times a day.
Amid your Sumeru excitement, don't forget to clear Summertime Odyssey to farm Primos—check out How to unlock and complete the Drama Phantasmagoria World Quest in the Golden Apple Archipelago in Genshin Impact for 10 easy Chests.