Rishboland Tiger, roaaar is a mini World Quest that can be accepted from an Aranara named Arakanta during the Festival Utsava. It's a requirement for completing the Festival, so don't skip it if you're following the Aranyaka questline.
How to unlock the Rishboland Tiger, roaaar Sumeru World Quest in Genshin Impact
Rishboland Tiger, roaaar can only be unlocked while you're working on the Festival Utsava World Quest. At the first part of the Festival, you must speak with various Aranara to obtain their Flowers. This includes Arakanta, who first wants to play with you. Head to the area circled in the image below to find Araesha and accept the quest.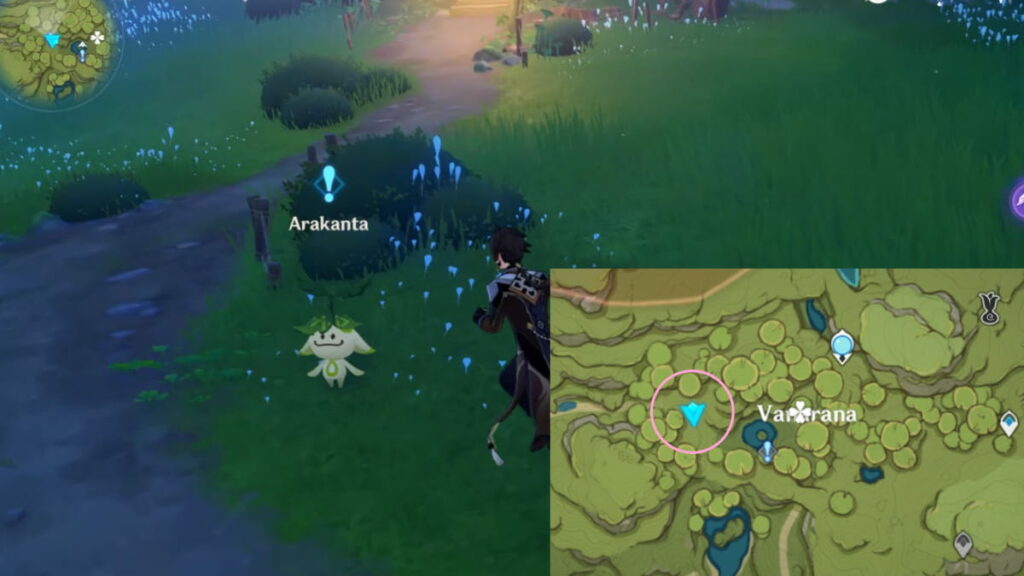 How to complete the Rishboland Tiger, roaaar Sumeru World Quest in Genshin Impact
After speaking with Arakanta, respond with Sure to begin the quest objective, which is a Time-Trial Challenge that involves a capture game. You, the Traveler, plays the role of the Rishboland Tiger, while the Dendro Particles act as Aranara. You simply have to collect all 10 Dendro Particles articles within one minute to complete the Challenge.
You can follow these directions to help you find all the Particles.
Turn left toward the Aranara house and pick up four Particles.
Go under the tree trunk and collect three Particles. Keep in mind that one is floating on top of the rock on the left.
Follow the path forward and turn right to collect two Particles.
Climb the rock in front of you and pick up one Particle.
Check out our Genshin Impact Delicious Riddle World Quest guide – Aranyaka Part II to complete another Festival Utsava World Quest.