Genshin Impact's Reminiscent Regimen Co-op event runs from Aug. 4, 2022, to Aug. 15, 2022, and is open to all players Adventurer Rank 32 and above who have completed The Golden Apple Vacation Returns Event Quest. During this event, you can complete six challenges that unlock during the first six days of the event. The first two are Descent challenges, which involve completing various objectives on floating platforms.
How to unlock the Reminiscent Regimen event in Genshin Impact
After completing the prerequisites, you'll automatically get an event quest called Any Unsolved Mysteries? Follow the quest marker to the centermost island in the Golden Apple Archipelago, where a challenge mechanism will appear. Interact with it to play through any of the Reminiscent Regimen event challenges.
How to complete Descent challenges in Genshin Impact
Head to the Reminiscent Regimen Waypoint at the center of the Golden Apple Archipelago and interact with the challenge mechanism. Choose any of the Descent challenges and click Match, which will randomly pair you up with a Co-op team. If you want to play with friends, start a Co-op in your World before clicking Match. We highly recommend bringing a DPS character as Descent challenges involve defeating enemies.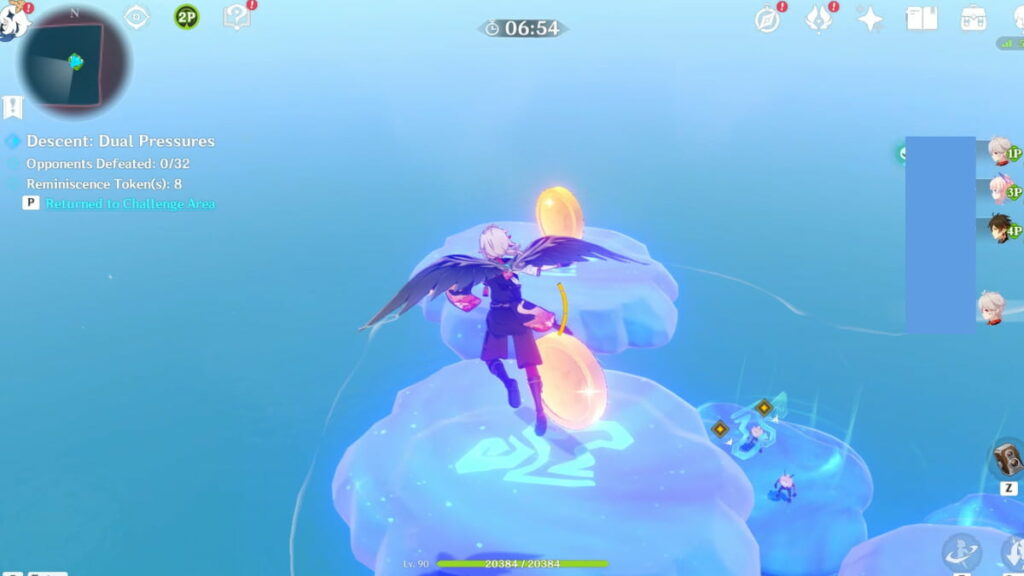 Pay attention to the left side of the screen to find all of the challenge objectives. Quest markers will also indicate what platform you need to go to next. Collect as many Reminiscence Tokens as possible to increase your final score and ensure you get all the event rewards. Keep in mind that you need to defeat all enemies or push them off the platforms before the next group of platforms will appear below.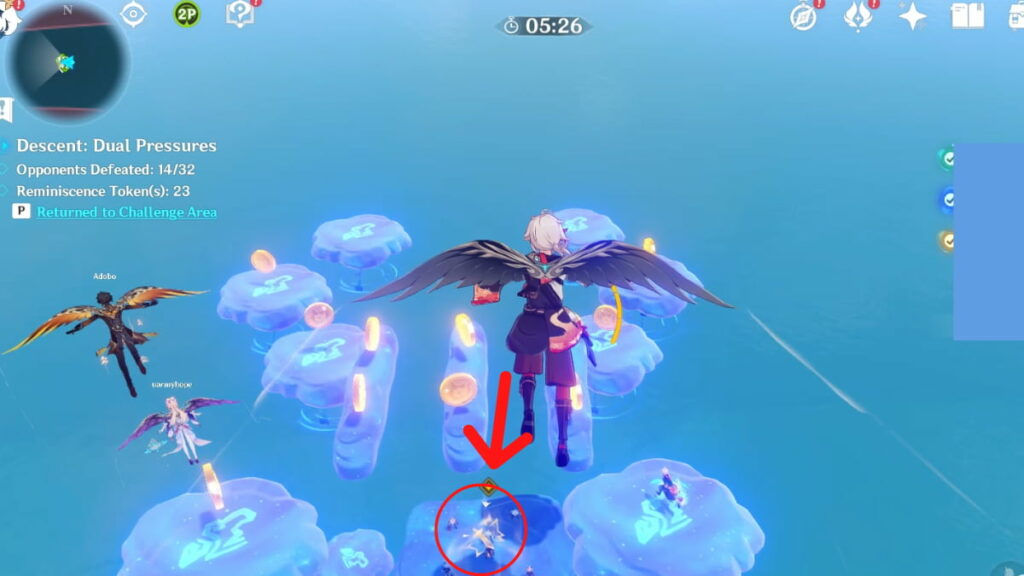 Take advantage of bonuses, such as the Aegis of Descent, which looks like a yellow sword. Plunging onto it will immediately defeat all of the enemies on the platform. Stepping on the green symbols on platforms will also increase your jumping height, making it possible to make more Plunging Attacks.
Lastly, if you get lost in the event, click on the Return to Challenge Area button under the challenge objectives to spawn to your teammates' location.
How to claim rewards in the Reminiscent Regimen event in Genshin Impact
Head to the Reminiscent Regimen section of the event menu and click Challenge Details. Choose the challenge you've completed and claim rewards for reaching 200, 350, and 500 points. You can take a look at how the challenge score accumulates by clicking on the i button beside Score Details.
Check out our guide on How to solve the Minacious Isle wall symbol puzzle in Genshin Impact – Summertime Odyssey event to aid your GAA exploration.