Festival Utsava is the third World Quest in the Aranyaka: Part II – Dream Nursey questline and covers the legendary Festival required to obtain the Bija to save Rana. It breaks down into a few more World Quests, all of which involve making friends with even more Aranara.
How to unlock the Festival Utsava Sumeru World Quest in Genshin Impact
You can unlock this World Quest by completing the following prerequisites in the Aranyaka: Part II – Dream Nursery questline in this exact order:
The World of Aranara
Children of the Forest
For A Better Reunion
After completing all of the above, you'll automatically unlock Festival Utsava, which starts in Vanarana.
How to complete the Festival Utsava Sumeru World Quest in Genshin Impact
If you selected Let's go while speaking with Arama in For A Better Reunion, you'll automatically be transported to dream Vanarana, where the festivities are taking place. Otherwise, head to Vanarana and switch to its dream form to begin.
Upon starting Festival Utsava, various blue exclamation marks will appear in your World Map and mini-map. These indicate the location of all Aranara that you're required to speak with in order to obtain their flowers. You can speak with them in any order, but some will request to play with you in a mini World Quest.
Araja—obtain Araja's Flower.
Ararycan—obtain Ararycan's Flower.
Aranaga, Aranakin, and Aragaru—you must speak with them but you won't obtain their Flowers as they've already given them to you in Agnihotra Sutra.
Arapandu, Arakunti, Aranakula, and Arakara—obtain Arapandu's Flower, Arakunti's Flower, Aranakula's Flower, Arakara's Flower.
Aranara named ??? (located on top of a giant leaf)—obtain Nameless Flower.
Arapacanti—initiate the Taste of Happiness World Quest, complete to obtain The Siblings' Flowers.
Aralila—initiate the Garden Fairies World Quest, complete to obtain Aralila and Aranishat's Flowers.
Araesha—initiate the Delicious Riddle World Quest, complete to obtain Araesha's Flower.
Arakanta—initiate the Rishboland Tiger, roaaar World Quest, complete to obtain Arakanta's Flower.
Once that's done, follow the quest marker to speak with Arakavi. Then step on the glowing spot and equip the Vintage Lyre. Use it to play the Rhythm of the Great Dream (fa > mi > so > fa > do on the first line) to enjoy Festival Utsava with all the Aranara. This will unlock the Wonders of the World Achievement called Glittering Melody.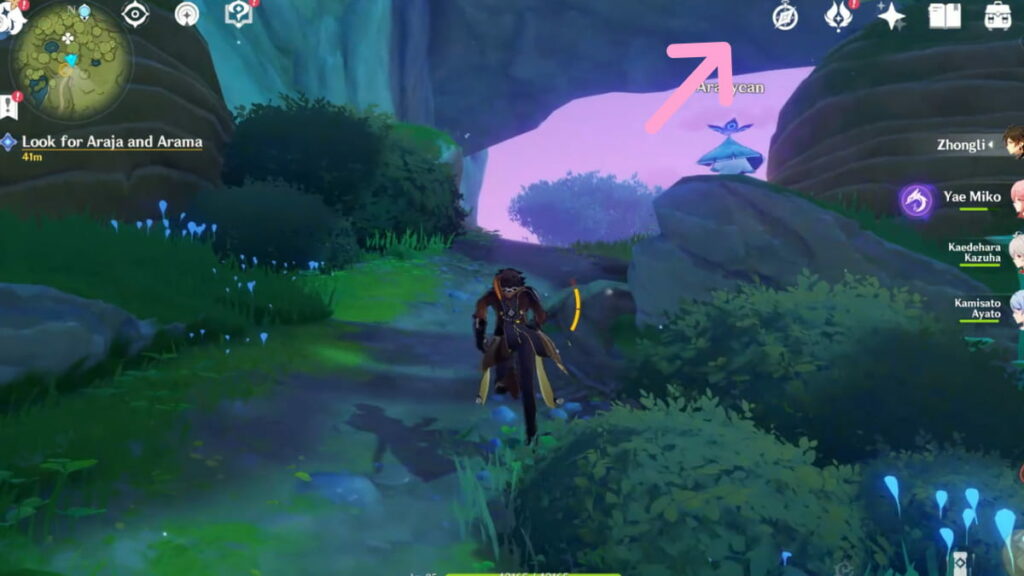 Next, you need to search for Araja and Arama. You can find them by climbing the big mount beside Ararycan. There's a vine ladder that you can climb to get to the top of the cliff, where the two are waiting. After speaking with them, you'll be prompted to head to Araja's house.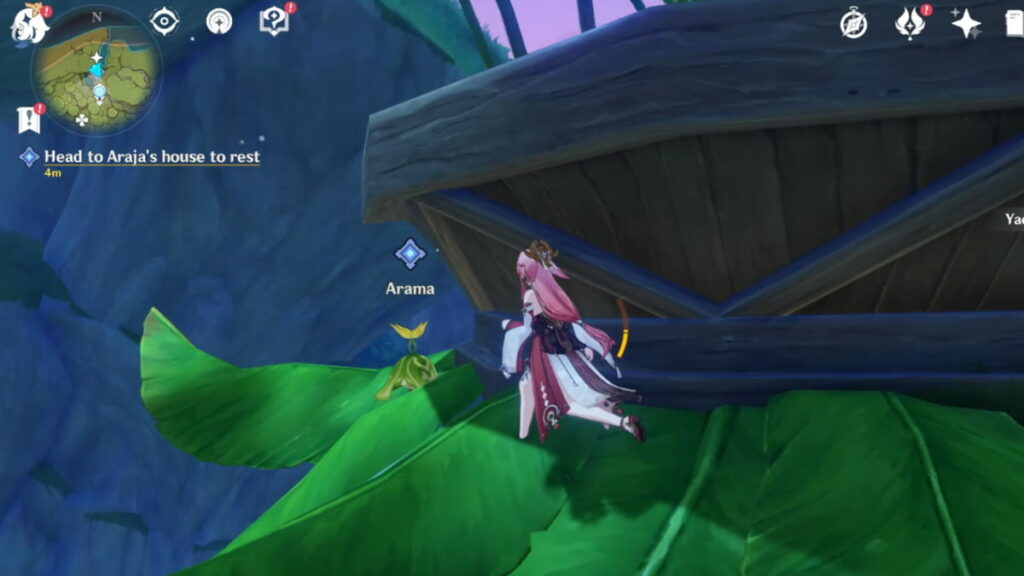 Follow the quest marker to Araja's house near the Statue of The Seven. You must climb up with the help of Four-Leaf Sigils to find Arama, who you should speak to. After that, you'll be prompted to go to bed, completing the World Quest.
Check out our guide on How to complete the Drusus Riddle Sumeru City bulletin board puzzle in Genshin Impact to complete a Hidden Exploration Objective.