Charity and Creativity is one of the four activities that you can enjoy in the Genshin Impact Of Ballads and Brews event, which celebrates the Weinlesefest, one of Monstadt's most important holidays. The event runs from September 29, 2022, to October 17, 2022, while you can exchange Festive Fever rewards until October 24, 2022.
After you've gathered the original funding per Bernhard's request, you can proceed with helping him manage the Charity Stall. And once that's done, you'll be eligible to join the Charity Alliance alongside other merchants in the Weinlesefest.
How to unlock the Charity Alliance in the Genshin Impact Of Ballads and Brews event
To unlock the Charity Alliance, you must first complete the following:
Complete the first Event Quest called Sounds From Afar.
Complete the Charity Event? Securing Funds? Event Quest.
Secure Funds by bartering with NPCs.
Manage the Charity Stall and earn at least 80,000 Funds within 10 Customer Cycles.
Once all of those are done, you'll automatically unlock the Event Quest called Favonian Goodies and Buddies, where you must speak with Bernhard in Springvale. After completing it, you can begin playing through the Charity Alliance Challenge.
How to complete the Charity Alliance – Genshin Impact Charity and Creativity
After completing the above prerequisites, speak to Bernhard in front of the stall and select What about the shop? to begin playing through the Charity Alliance. In this Challenge, you need to manage three stores in any number of Customer Cycles. Your goal is to earn 1,000,000 Funds.
You can switch between the three shops on the lefthand corner of the screen. Once you've consumed all your Funds improving your business strategy across the three shops, you can Open For Business. You're not required to improve your business strategy for each stall in every Customer Cycle, but it's best to try to meet your goals (blue markers on the slider) to improve earnings.
Target Specialties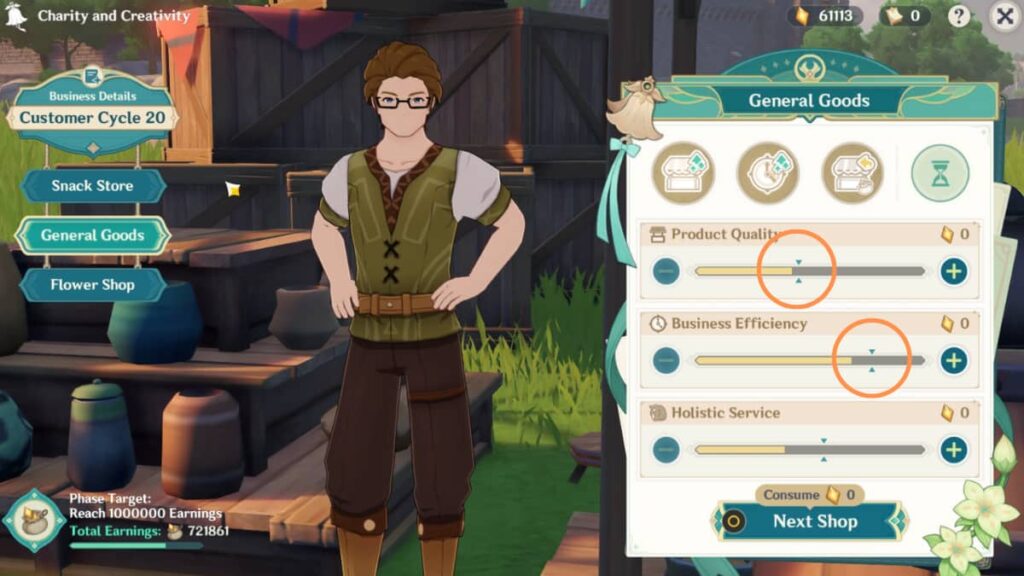 Each store has a target specialty and weak target. The target specialty is much easier to reach, while the weak target may take you a few Customer Cycles to achieve. You may want to use Stratagems that improve the store's weak target to make it easier to reach your goals.
| Business Strategy | Target Specialty | Weak Target |
| --- | --- | --- |
| Snack Store | Product Quality | Holistic Service |
| General Goods | Business Efficiency | Product Quality |
| Flower Shop | Holistic Service | Business Efficiency |
Best Strategems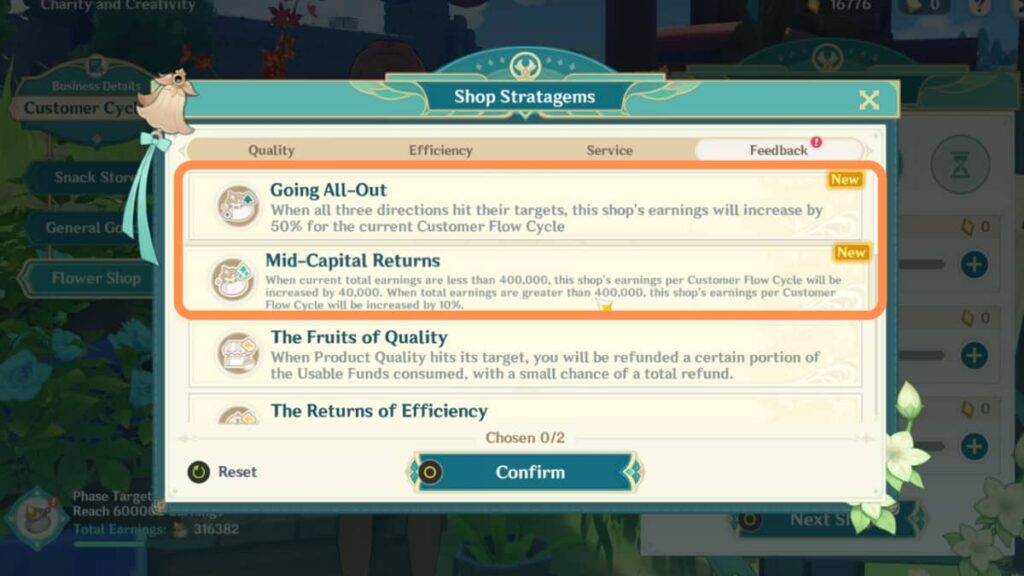 While Quality, Efficiency, and Service Stratagems will help you reach your targets, the Feedback Strategems can provide a huge boost in earnings when you meet the required conditions. You want to watch out for the following:
Mid-Capital Returns / Zero-Cost Trial and Error, and other similar Stratagems that provide you with a specific Fund boost when your total earnings are below quota. Make sure to switch them out once your earnings have exceeded the limit.
Service and Supply / Going All-Out, and other similar Stratagems that reward you a percent increase if you meet specific targets.
Rewards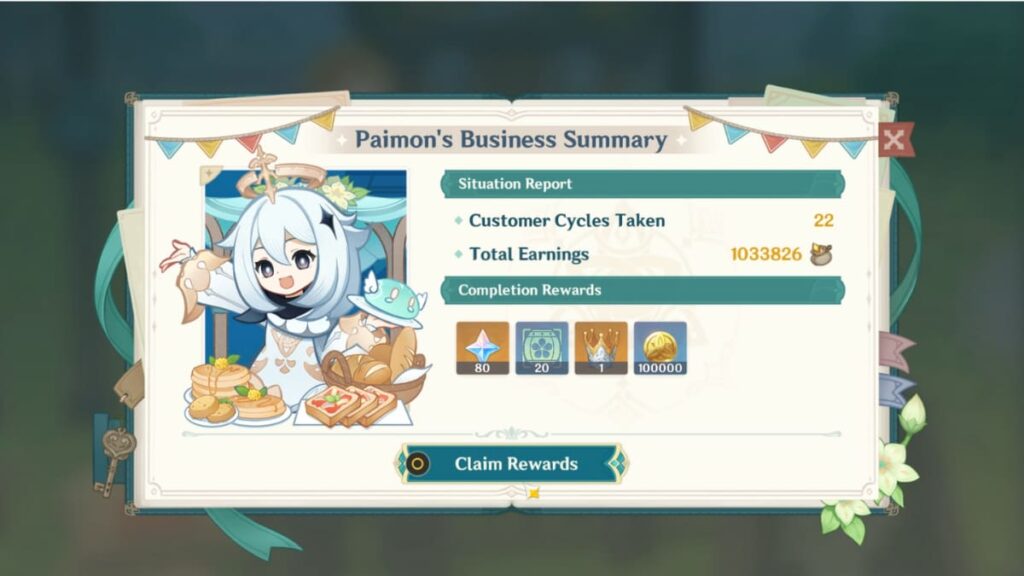 When your total earnings reach 1,000,000, you can claim the following rewards from Paimon:
x80 Primogem
x20 Festive Fever
x1 Crown of Insight
x100,000 Mora
You'll also automatically initiate the Event Quest called Charity Event! A Great Success!, where you can engage in dialogue with Amber and Eula.
Check out our guide on All 8 Fecund Hamper locations in The Feast in Full Swing – Genshin Impact Fecund Blessings to collect amazing rewards.