The Beast of Prey Collection Event running from September 20, 2022, to October 4, 2022 will introduce the new LTM Gun Run, Loba's heirloom, and collection cosmetics. Like every collection event, it will also feature a free reward track with daily challenges to complete.
You can earn points to progress through the reward track by completing daily challenges during the event. Here are all the rewards and points required to unlock:
250 Points: Beast of Prey Badge and Beast of Prey Music Pack
500 Points: Legend tracker
750 Points: Legend tracker
1000 Points: Rare Apex Pack
1250 Points: Legend tracker
1500 Points: Spiked Backpack Charm
2000 Points: Legend tracker
2500 Points: Legend tracker
3000 Points: Vantage skin
3500 Points: Devotion skin
4000Points: Legend tracker
5000 Points: Flatline skin
To earn all free rewards, you will have to complete at least three days' worth of daily challenges, however, the points do increase with each tier of challenge, so it may be able to be completed sooner. Players will have two weeks to complete the free reward track when the collection event releases on September 20.
Check out how the free rewards look in the Beast of Prey Collection Event below!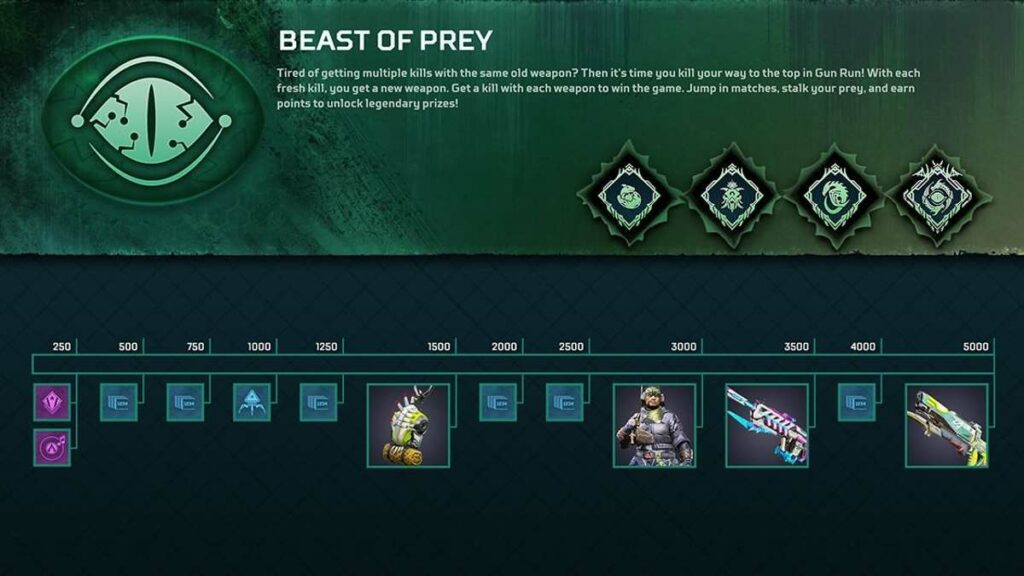 For more on Apex Legends, check out How to play Gun Run in Apex Legends – Limited Time Mode on GameTips.PRO.