In Final Fantasy Patch 6.2 a new dungeon, The Fell Court of Troia was added. This dungeon sees the Warrior of Light and their companions dive into The Void to launch their search for the missing dragon Azdaja. Here's how to clear the Fell Court of Troia.
Starting out
This is a simple pull for the first section. The enemies numbers are as follows:
6, 2, wall
4,1,6 adds, wall
You can pull this all together with minimal mitigation and healing.
Boss 1: Evil Dreamer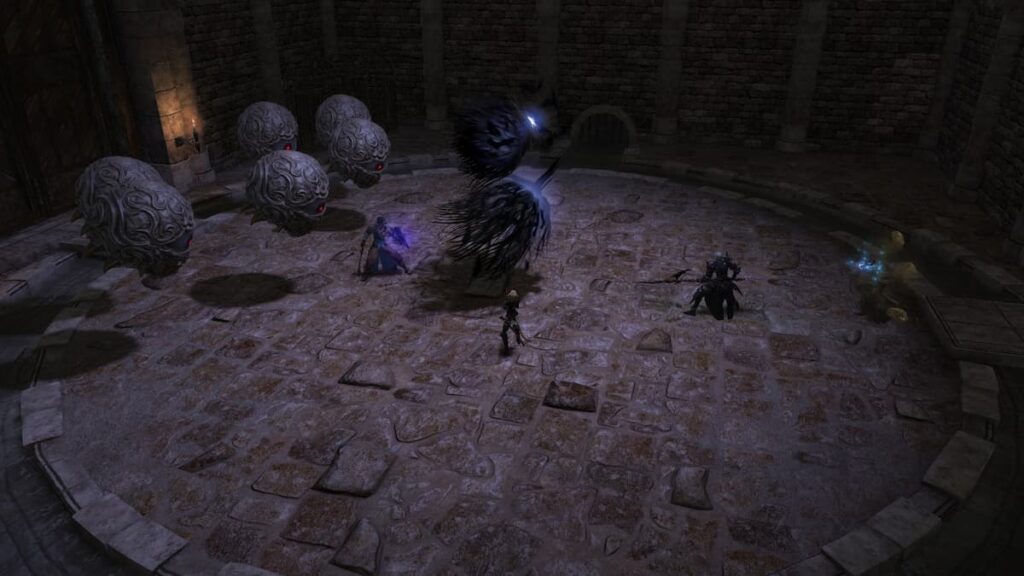 Boss one is a pretty simple Gauntlet Boss. You'll need to burn down waves of enemies while avoiding AoE attacks.
Spread to avoid stacking AoEs and Dodge lines AoEs
Unite Mare: Heads appear in line, then killable heads will appear covering entire area. Burn down one head
Finally A large head will appear in the center and start casting Endless Night. If this completes, it will wipe the party, as this is an enrage. At the same time, multiple heads will spawn with tethers. The heads will move towards a set point, and then explode with a large AoE. You'll need to position yourself as far away from the tethered heads as possible, while continuing to damage the boss.
Once you've killed the large head, the fight is over.
Second section
Another short mob section with a repeating pattern of enemies. Again this is super easy to tank both groups before a wall. You should be wall-to-wall pulling this section.
4, 4, wall, treasure
4, 4, wall, treasure
Boss 2: Beatrice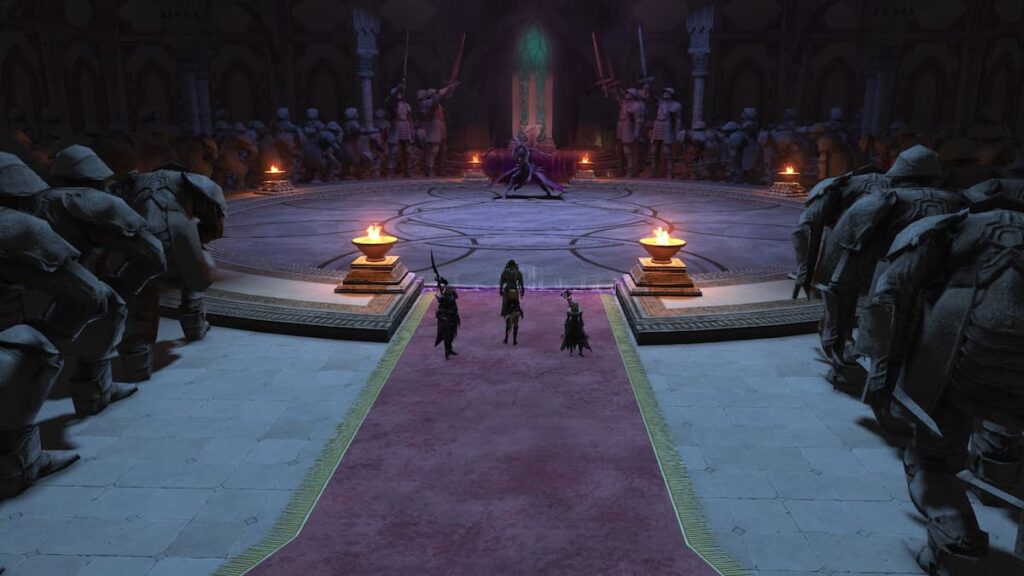 The second boss is Beatrics, a demonic helper of the Fell Court. She starts off with a fairly simple Turn Away mechanic called Eye of Troia. Next you will need to follow the order of the lines that she draws on the floor. They will explode in turn, damaging you. Then keep your eyes out for the following mechanics
Hush is a tank buster
Voidshaker is a Cone AoE while also dropping spread markers
Toric Void is a Turn Away blind markers that spawn on in sequence
Finally Antipressure is a Stack Marker that will take place during the second AoE lines effect.
After you've seen all these mechanics, they'll repeat until you've killed the boss.
Third Section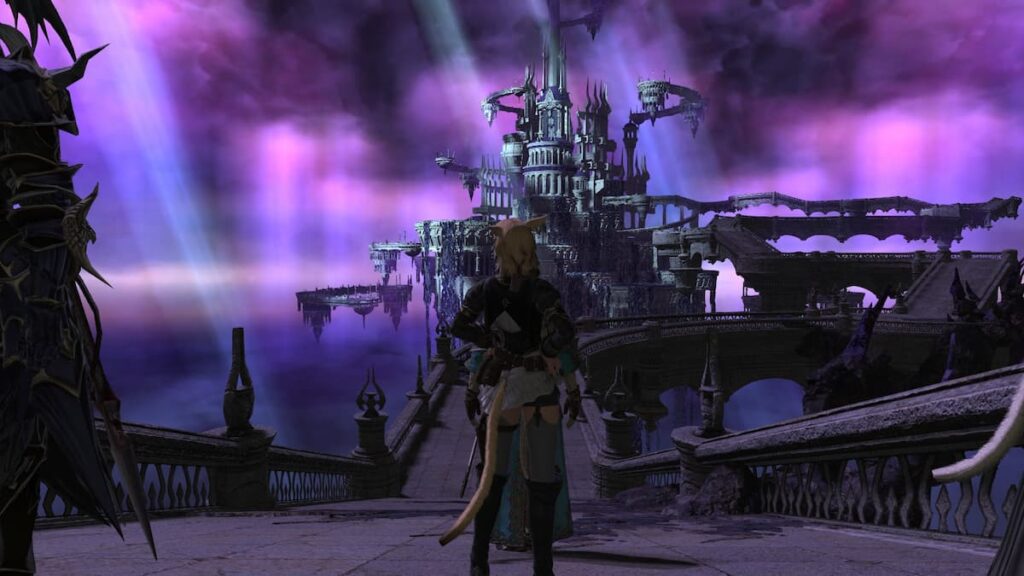 Another run of much more challenging enemies. These packs can be pulled together but will be much more challenging. You can do a very large four pack pull here and limit break with a Magic or Ranged DPS to try and skip this stage. Again remember the treasure here!
Final Boss: Blighted Despot, Scarmiglione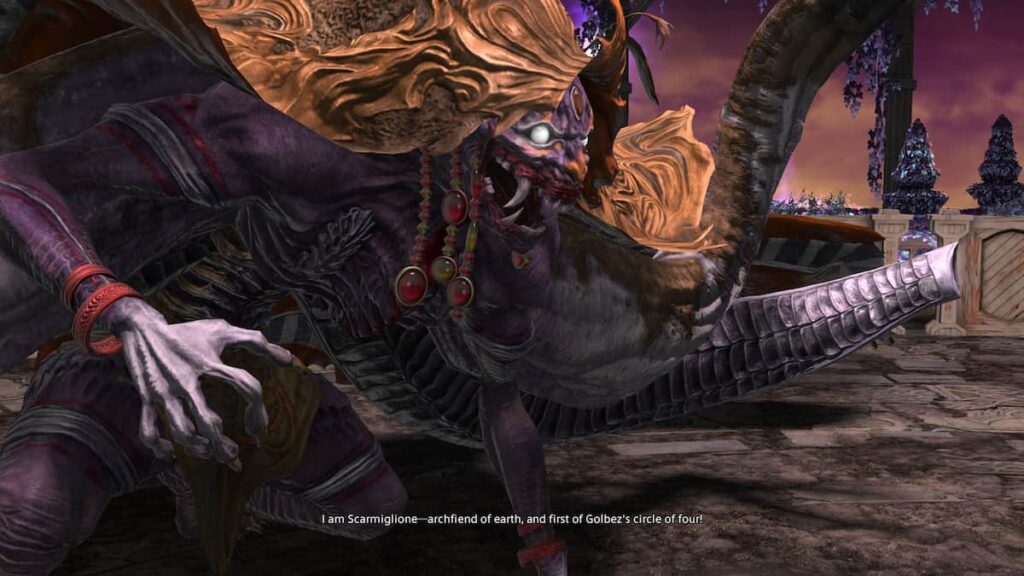 Scarmiglione will start out with a raid-wide that inflicts an 11 second bleed. Counter with regen and healing. Next four sets of AoEs called Rotten Rampage will appear. Avoid them, and avoid stacks of Brain Rot. If you get three stacks of Brain Rot, you'll be Zombified.
Next a knockback called Blighted Bedevilment will happen. Avoid being knocked into the puddle outside the arena, or you'll be affected by Toxicosis. Standing too close to the center results in instant death. Then watch out for these abilities.
Blighted Bladework: Scarmiglione draws his sword, leaps into the air and tethers to a point on the ground. After a short delay, Scarmiglione drives his sword into the ground, causing a very large circle AoE.
Blighted Sweep: Cast immediately after Blighted Bladework. Scarmiglione turns to the center of the arena and fires out a wide line that leaves only the area behind him safe.
Firedamp: Tankbuster.
Void Vortex: A stack marker on a random player.
Next is a gauntlet stage where Scariglione will power up. If the power reaches 100% he'll cast Corruptor's Pitch and wipe the party. You'll need to kill all the enemies before he reaches 100% and tank the weaker version of Corruptor's Pitch.
Scarmiglione will then repeat the previous mechanics until killed.
Fell Court of Troia Gear
The Fell Court of Troia will drop Troian gear, which is Item Level 595. Additionally, there is a chance for Materia level IX to drop from all in-dungeon chests, but not boss chests. The final boss also has a chance to drop the Wind-up Scarmiglione.
For more Final Fantasy XIV guides, check out How to get the Isle Eggplant Knight Mount in Final Fantasy XIV on GameTips.PRO.