The Skyrim Together: Reborn mod has received its first update, fixing many of the issues the mod had at release. Skyrim Together: Reborn is a mod for Skyrim that allows players to play co-op with 2-8 players online. The creators of the mod have detailed all the changes in the 1.1.0 update, how to properly install the mod, and planned changes for the next update.
Skyrim Together mod 1.1.0 update Features
Although most of the changes are fixes, there are some improvements to the mod that are noticeable in gameplay. Here are the biggest feature changes in the Skyrim Together update:
XP sync can now be disabled through a server setting
The "Healing Hands" spell should now work on other players
Enemy aggro should now target the entire party more equally instead of just the party leader
Some enemies not dying after going below 0 hp has been fixed by removing kill cams (this could also potentially solve the "duplicated loot from dead bodies" issue)
Skyrim Together mod 1.1.0 update Bug Fixes
Along with a list of bug fixes, the creators of the mod also shared how to prevent some crashes during gameplay. The creators recommend having the party leader enter the server and any quest dungeons first to prevent any crashing. The creators also recommend disabling the Anniversary Upgrade DLC pack and the free mods that come with it. Here are the additional bug fixes included in the update.
The server list is visible again
The UI's back end had a mini overhaul resulting in less issues with the UI not showing up, along with some new features 
Duplicated quest items can be dropped without them getting re-added
Player homes from DLC and mods should now also not sync chests
Fixed a crash when enchanting an item when the player was not connected to a server
Fixed the chest in "Diplomatic Immunity" being empty (this chest does not sync anymore)
How to install Skyrim Together mod 1.1.0 update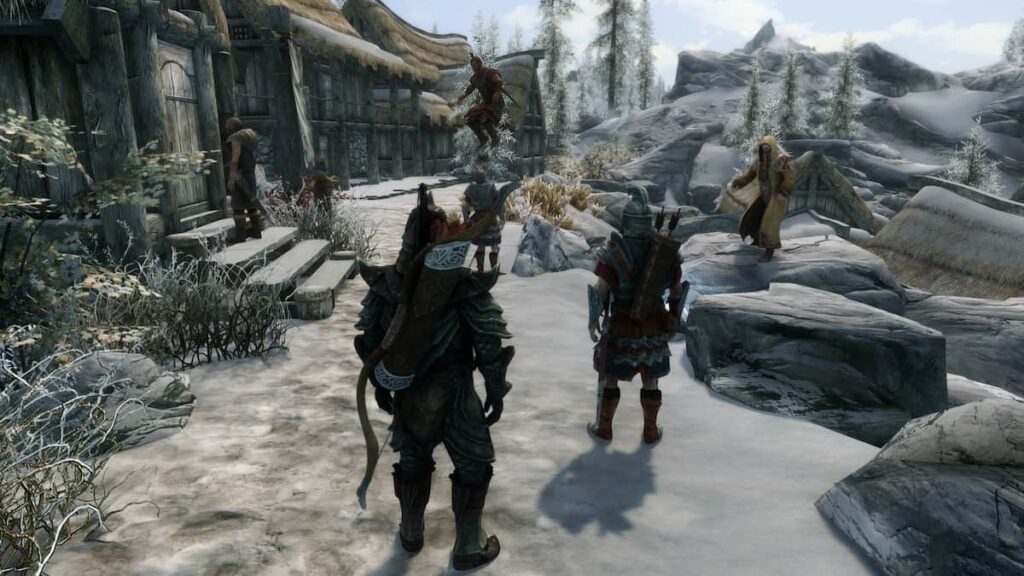 To download the update, you must uninstall the old installation and download the new one at Nexusmods.com. Server hosts should also download the latest docker image to use. Installing the new update should not cause you to start a new game, but if you are playing Skyrim Together in co-op you may have to launch a new session.
For more Skyrim guides, check out How to Play Skyrim on Oculus Quest on GameTips.PRO.