You'll want luck on your side in Dice Simulator. This Roblox title is all about rolling, selling, and collecting dice. Explore the world with your trusty dice by your side, and nothing can stop you. But you can also purchase pets to have a constant companion while you adventure.
Codes in Dice Simulator will reward you with free stuff when used. All codes have an expiration date, so be sure to keep an eye on them and use these codes once they are released. As codes are created, we will add them our to lists below, so be sure to check back to get free rewards in Dice Simulator.
If you're looking for more Roblox content, check out Explosion Simulator Codes, Sword Lands Simulator Codes, Bot Clash Simulator Codes, and more on GameTips.PRO. Explore our site for more Roblox code guides and get loads of free stuff.
All Dice Simulator Codes List
All Dice Simulator Codes List (Working)
Here are all active codes for Dice Simulator.
1KLIKES—Redeem for Quad Abyss Hydra Pet, Luck Boost, and 2,000 coins (New)
MRBEAST—Redeem for Mr. Beast Pet, Luck Boost, and 100 coins (New)
TRADING—Redeem for free rewards (New)
All Dice Simulator Codes List (Expired)
There are no expired codes for Dice Simulator.
Roblox Dice Simulator Simulator Codes FAQ
Here's everything you need to know about Roblox Dice Simulator codes.
How to redeem codes in Dice Simulator
Redeeming codes for Dice Simulator will give you free reward and help you progress. Make sure that when entering codes, they are spelled correctly and are not expired. Here is how to redeem codes in Dice Simulator.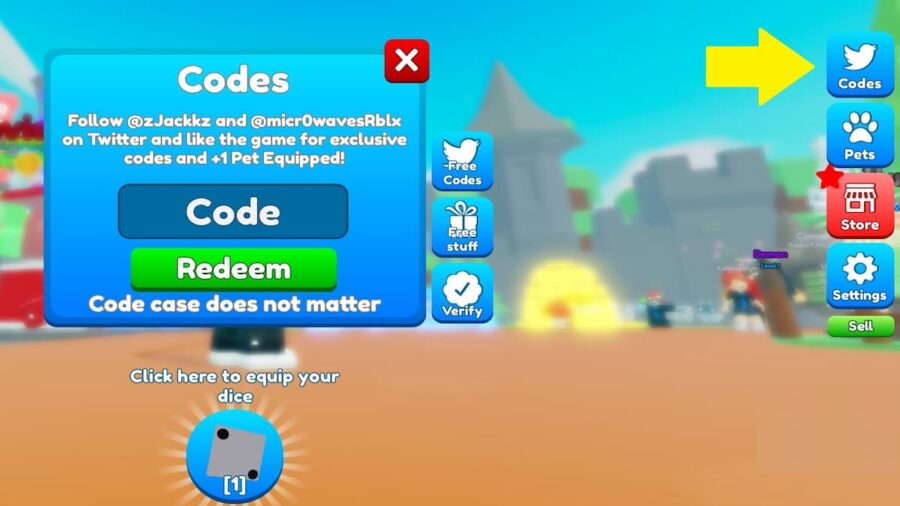 Click on the Codes button on the right side of the screen.
Select the text box.
Enter your code and hit Redeem.
How to get more Dice Simulator Codes
Join the Dice Simulator Twitter, Community Group, and Discord for more codes and to interact with the community. You can also bookmark this page, as we will update this list once new codes are released. So be sure to check back often to see if there are new codes for Dice Simulator.
Why aren't my Dice Simulator Codes working?
Codes for Dice Simulator are controlled by the developer, and they determine how long the codes are active for. Some codes may expire quicker than others, and some may not work with others. If a code does not work for you, double-check if there is a spelling error, the code isn't active yet, or it has already expired. To help solve that issue, bookmark this page and come back often to see if Dice Simulator has added new codes or if some are expired.
What do coins do in Dice Simulator?
Coins are a type of currency used to purchase pets, eggs, and dice. You can also use coins to upgrade your dice. You can get more coins from redeeming codes or selling your dice. As you progress and get more dice, you will be rolling in coins in no time.
What is Dice Simulator?
Dice Simulator is a Roblox title all about collecting and selling dice. As your earn coins, you can spend them on upgrading your dice and earning more bang for your buck. You can also collect pets, explore the various worlds of Dice Simulator, and so much more.
For more information on Roblox, check out Skateman Simulator Codes and Sword Simulator Codes on GameTips.PRO.