Destiny 2's weekly reset has just landed, and that means Week 4 of the Seasonal Challenges has officially begun! Completing these challenges rewards Guardians with Season Pass experience, Bright Dust, and more. So, with plenty of reason to complete these challenges, let's look at the rundown for the week.
What are the Season of the Haunted Week 4 Challenges?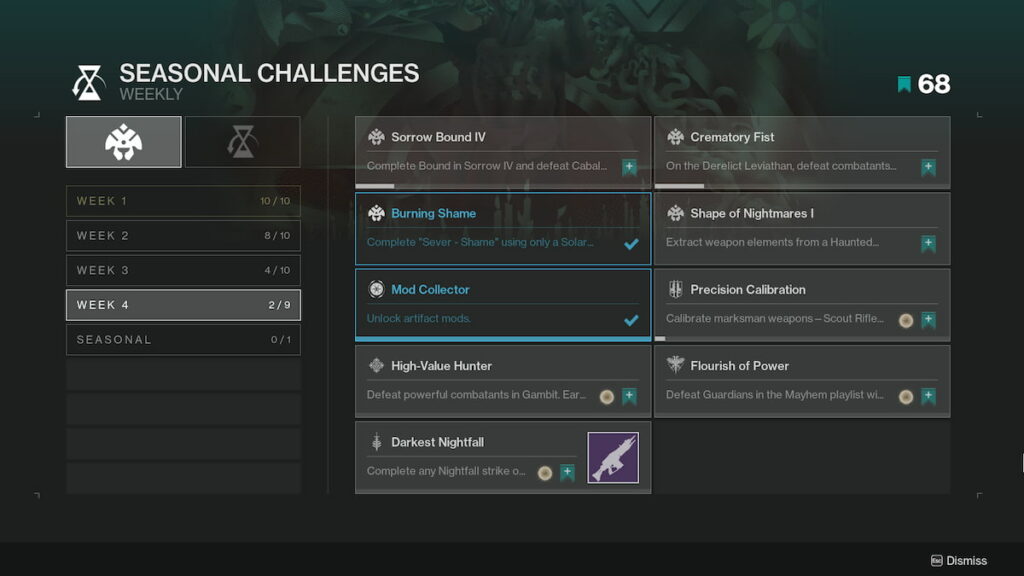 Sorrow Bound IV
Bound in Sorrow IV completed
50 Cabal Centurions defeated
Burning Shame
Complete "Sever – Shame" using only a Solar subclass and Solar, Kinetic, or Stasis weapons
Mod Collector
High-Value Hunter
Defeat powerful combatants in Gambit. Earn bonus progress for defeating high-value targets
Darkest Nightfall
Complete 3 Nightfalls on Hero or higher
Crematory Fist
On the Derelict Leviathan, defeat combatants with melee abilities. Solar melee abilities or Nightmares defeated with melee abilities grant additional progress.
Shape of Nightmares I
Extract weapon elements from a Haunted weapon with a Deepsight mod.
Precision Calibration
Calibrate marksman weapons – Scout Rifles, Sniper Rifles, and Linear Fusion Rifles – by landing precision final blows. Bonus progress against Guardians.
Flourish of Power
Defeat Guardians in the Mayhem playlist with Super abilities.
For more Destiny 2 goodies, check out How to obtain and complete every Exotic Energy weapon Catalyst in Destiny 2 on GameTips.PRO.