Halloween and Dead by Daylight go together like peanut butter and chocolate. To help kick off the spooky season and get everyone in the mood, developer Behaviour Interactive has revealed a string of events coming this year. Here's everything we know about Haunted by Daylight.
Dead by Daylight Halloween 2022 Event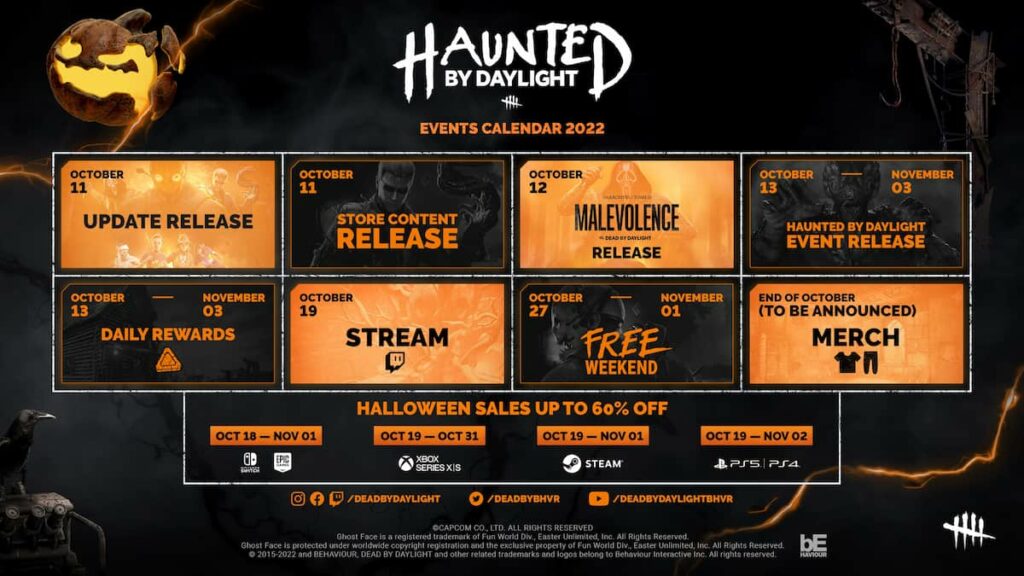 Update & Store Content Release – October 11
For a limited time, players can purchase a haunted selection of skins for their favorite Dead by Daylight Survivors and Killers. Dwight Fairfield is decked out as the Toilet Paper Mummy and Jane Romero steps into Hollywood Glamor. Killers like The Oni and The Mastermind get a taste of the Hallowed Blight Collection.
The Archives / Tome 13: Malevolence Release – October 12
This entry into the Archives takes players into the minds of The Ghost Face and Mikaela Reid. There will be two progress tracks for players to earn new cosmetics. The Free Track will include fan-created costumes for The Artist and Yui Kimura. The Premium Track includes costumes for The Ghost Face and Mikaela Reid in addition to some of The Ghost Face's more iconic masks.
Haunted by Daylight Event Release, Daily Rewards – October 13 – November 3
During the Haunted by Daylight event, Killers and Survivors will need to complete objectives. This will award them with Void Energy that can then be deposited into the Unstable Rift for rewards. Survivors can don skeletal shirts while Killers get candied versions of their iconic weapons.
Additionally, there will be a community Event Tome to complete. By knocking these challenges out, players can earn new charms and outfits like Kate Denson's Cornfield Scarecrow garb and The Hag's Swamp Creature skin.
Special Halloween Stream – October 19
There isn't any information regarding the stream at this time, but we'll be sure to update this section as more is revealed.
Free Weekend – October 27 – November 1
It's only fitting that during Halloween weekend that Dead by Daylight goes free to play for a short duration. There's no better time to get your friends into the asymmetric horror title than during the spookiest time of the year.
For more Dead by Daylight goodies, check out Dead by Daylight updated Unbreakable, Soul Guard, No Mither, and Boon – Exponential Perks, explained on GameTips.PRO.