Have you ever played darts? Well, now you have a chance with Roblox Dart Simulator where balloons are your worst enemies! It's all about collecting coins and gems so you can upgrade your darts and have cute pets to help you in your adventures. To get better pets you'll need to unlock more areas of the game. To do that, you need some help with resources from the start.
Use Dart Simulator codes to get as many Coins and Gems as possible so you can upgrade gear and pets quickly. There are many areas to explore and balloons to pop use codes to speed up your progress. Gold is a currency used for buying better darts and unlocking areas, while the Gems are used for acquiring pets.
If you're a fan of Roblox games, check out titles like Arsenal Codes, Anime Adventures Codes, Blox Fruits Codes, Roblox Little World Codes, and Project Slayers Codes. If you need more help, search for more guides on this site.
All Dart Simulator Codes List
Dart Simulator Codes (Active)
Here's a look at all the working Dart Simulator codes.
release—Redeem for 1000 Coins and 1000 Gems
yay250likes—Redeem for 2,500 Coins and 2,500 Gems
Dart Simulator Codes (Expired)
These codes for Dart Simulator no longer work.
There are no expired codes for Dart Simulator.
Roblox Dart Simulator FAQ, Answered
Here's everything you need to know regarding Dart Simulator codes.
How to redeem Dart Simulator Codes
Redeeming codes for free rewards in Dart Simulator is easy.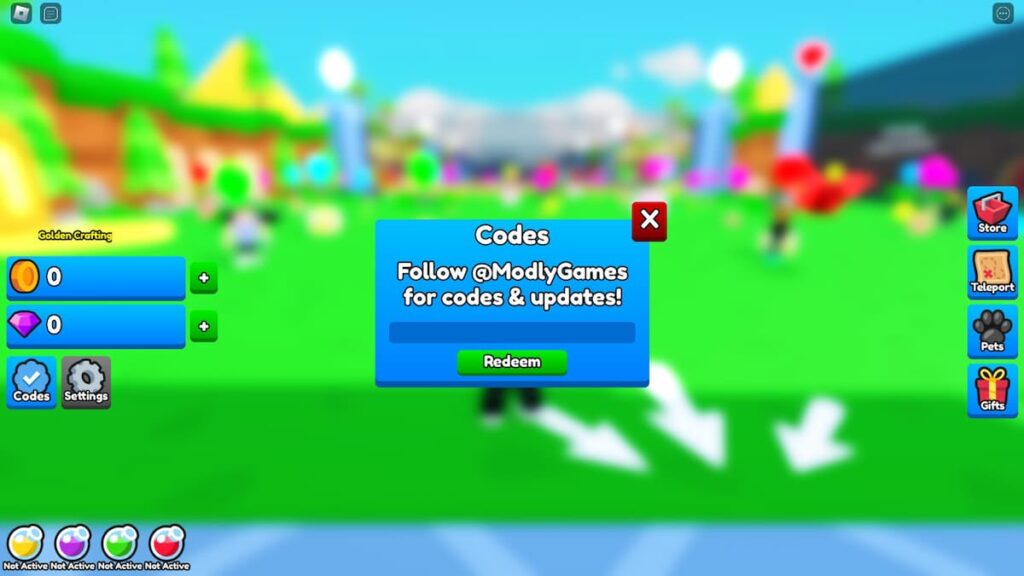 In the game, press the Codes button on the left side of the screen.
In the text box, enter the code exactly as it appears in the list above.
Press the Redeem button to claim your prize!
How to get more Dart Simulator Codes
To get Dart Simulator codes, check out this page often, as we'll update it as soon as new ones arrive. This way, you'll never miss any rewards. Other sources are the developer's official Twitter, YouTube, and Discord pages, where you can find more information regarding game updates and codes.
Why aren't my Dart Simulator Codes working?
If your codes aren't working, you first need to check if you've entered them correctly. To avoid grammar mistakes, the best thing to do is copy and paste codes from the list to redeem the text box. If your codes are still not working, perhaps they've expired. Most of the Roblox codes become inactive after some period, so make sure to use them as soon as possible.
Which balloons are most valuable in Dart Simulator?
You'll notice that not all balloons are the same, and it's not just because of the colors. Some of them you need to pop to get Coins, while others will award you with Gems. First, focus on balloons that are connected to the chests as they'll give you a lot of Coins and Gems. Also, try to unlock new zones as soon as you can as you'll find a lot more resources there.
What is Dart Simulator?
Roblox Dart Simulator is an adventure games where you travel around diffrent zone and pop balloons. In this heroic quest, you'll be acompanied with pets that give you bonuses for faster resource collecting. When you're rich enough, buy better darts and pets so you can be even more successful in balloon popping.
If you're looking for codes for other games, we have a ton of them in our Roblox Game Codes post! You can also get a bunch of free stuff via our Roblox Promo Codes page.