Cyberpunk 2077 seems to have got off on the wrong foot with both console and PC owners. Graphically, the game is beautiful. However, its quirks make gameplay difficult at times. FPS drops are an annoyance when it comes to any game, but on PC, it always feels worse. Here's how you can fix it.
It would appear that Cyberpunk isn't particularly well-optimized, and so you will need to make a few tweaks in the settings to see an improvement where frames are concerned.
When you are in the Main Menu, head to Settings and apply these changes:
| | |
| --- | --- |
| Quick Preset | Custom |
| Texture Quality | Medium (Low looks downright bad, and High has minimal improvements whilst syphoning more power) |
| Field of View | 90 |
| Film Grain | Off (this only effects cutscenes) |
| Chromatic Aberration | Off |
| Depth of Field | Off |
| Lens Flare | Off |
| Motion Blur | Off |
| Contact Shadows | Off |
| Improved Facial Light Geometry | On |
| Ansiotropy | 4x for low-end PCs, and 16x for high-end PCs |
| Local Shadow Mesh Quality | High |
| Cascaded Shadows Range | Medium |
| Distant Shadows Resolution | High |
| Volumetric Fog Resolution | Low |
| Max Dynamic Decals | High |
| Screen Space Reflections Quality | Medium |
| Subsurface Scattering Quality | Medium |
| Ambient Occlusion | Medium |
| Color Precision | Medium |
| Volumetric Cloud Quality | Medium |
| Mirror Quality | High |
| Gamma Correction | 1.36 (to make Night City less over-exposed during the daytime) |
| Level of Detail (LOD) | High |
| Crowd Density | Low (there are enough NPCs as is, and the higher the crowd count, the more of an impact it has on your GPU and FPS) |
| VSync | Off |
| Slow HDD Move | Off |
Related: Can you play Cyberpunk 2077 on Xbox One S?
For a game that is graphically demanding, we realize that it may seem confusing to see a lot of the settings set to Medium. This is because the difference visually between Medium and High is often negligible, whereas the performance impact is much greater than what you get in return.
There are a few other extras choices you can implement, depending on what brand of GPU you have.
Nvidia
If you have an Nvidia GPU, you can download Nvidia Ansel and do the following:
Inside Nvidia Ansel, go to GeForce Experience > Settings > Photo Mode/Game filter, and enable it
Open Cyberpunk 2077, press Alt + Z to open Ansel and change the settings
For details, use these percentages:
Sharpen – 10%
Clarity – 6%
HDR Toning – 0%
Bloom – 6%
For color, use these percentages:
Tint Color – 0%
Tint Intensity – 0%
Temperature – 0
Vibrance – 21.6
AMD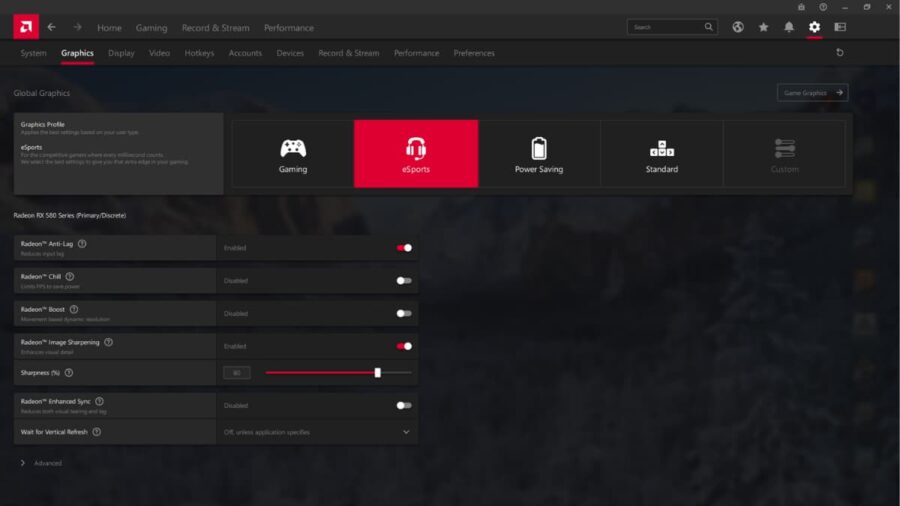 If you have an AMD GPU, you can download AMD Adrenalin (Radeon Software) and do the following:
Go to Settings
Go to Graphics
Change the Graphics Profile to eSports
Make sure Image Sharpening is enabled and set to a value above 75%
You can also go back into Cyberpunk's in-house settings and enable Static FidelityFX CAS.
These settings should improve your FPS drastically and set you up for a more enjoyable experience. The graphical intensity of the game shouldn't differ much from the use of lower settings, and in return, you will find way fewer frame drops, as well as fewer GPU performance issues.
Looking for more content? Check out the Cyberpunk 2077 patch notes for February 2022.