Clicking Simulator tasks players with gaining the currency, which are Clicks, by clicking on the screen. When you have enough clicks, you can rebirth, giving you Gems. Gems are used to upgrade your click skill. If you get enough clicks, you can get pets that make you gain more Clicks per click.
The codes below will give you a boost in Clicking Simulator, making it easier to get more rewards faster. The codes unlock potions you can get from the Upgrades shop in the spawn point. Using them, you can get a lot of Gems and extra clicks without even trying.
For more codes for games like Clicking Simulator, check out Roblox Clicking Havoc Codes, Roblox Clicking Legends Codes, and Roblox Clicking Champions Codes. These codes will give your finger a break and give you little boosts that you don't need to click for.
All Clicking Simulator Codes List
Clicking Simulator Codes (Working)
Here's a look at all the working Clicking Simulator codes.
WOOHOOLIKES—Redeem this code for Double Gems! potion.
SAKURA—Redeem this code for a Super Lucky! potion.
Clicking Simulator Codes (Expired)
These codes for Clicking Simulator no longer work.
There are no expired codes for Clicking Simulator
Clicking Simulator frequently asked questions
Here's everything you need to know regarding Clicking Simulator codes.
How to redeem Clicking Simulator codes
Redeeming codes for free rewards in Clicking Simulator is easy.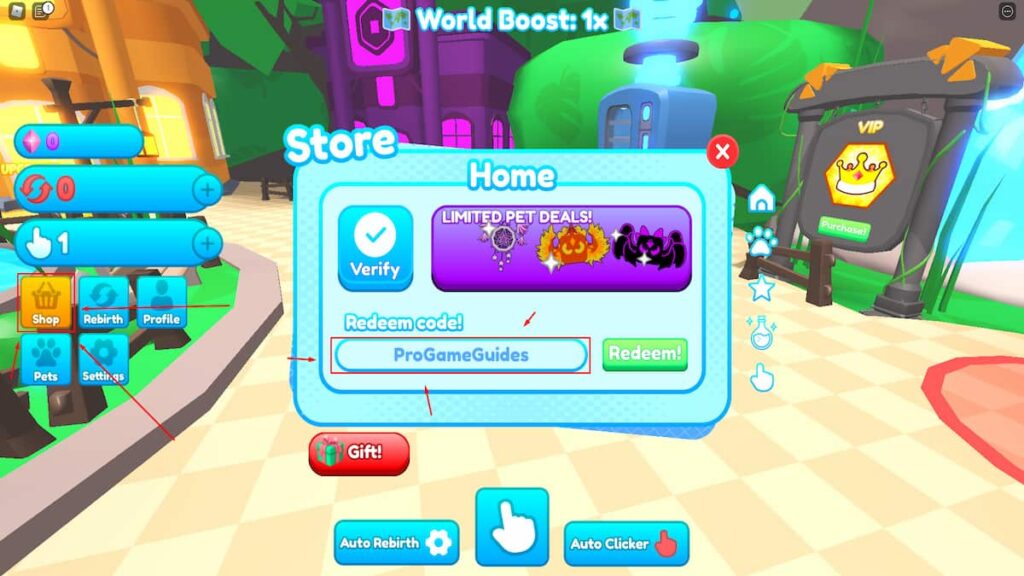 Launch Clicking Simulator on Roblox
Press the Shop button on the left side of the screen.
The code should be entered into the text box exactly as it appears in the list.
Press the Redeem! button to claim your reward!
How can you get more Clicking Simulator codes?
The easiest way to get Clicking Simulator codes is to bookmark this page and return to it often.
You can find the newest code on the front page of the game and in the group page. The game is fairly new, so it will take a few milestones before more codes are released. You can also follow the developer on Twitter and Discord, just in case they start posting codes there as the game reaches more fans.
Why aren't my Clicking Simulator codes working?
The main reason why your codes wouldn't work is that you entered them incorrectly. The best way to avoid that setback is to copy it from the list above and paste it into the text box. If you have entered the code correctly and are still getting an Invalid Code! message, then let us know in the comments. We test every code presented to us in the comments.
How to verify your Twitter or Discord username for rewards in Clicking Simulator
Verifying your Twitter username is easy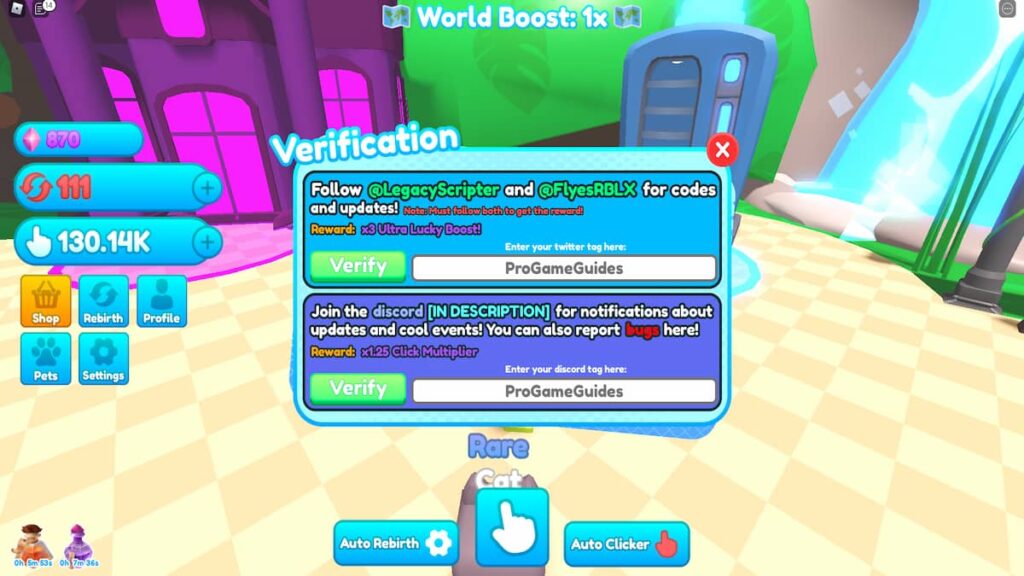 Launch Clicking Simulator on Roblox.
Press the Shop button on the left side of the screen.
Press the Verify button in the new window
Enter your Twitter username on the top box or your Discord username in the bottom box.
What is Clicking Simulator?
Clicking Simulator is a game that makes you click to gain the currency of Clicks before rebirthing and gaining the currency of Gems. Gems are used to upgrade your clicking to give you more Clicks per click. You can also use your Clicks to buy animals, which helps you make more Clicks per click. You can get to the point where you gain exponentially more Clicks per click than you need to rebirth, so the game becomes a rebirthing simulator pretty quickly.
If you're looking for codes for other games, we have many of them in our Roblox Game Codes post! You can also get some free stuff via our Roblox Promo Codes page.