Candace is the ever-reliable guardian of Aaru Village and uses her power to ensure the safety of all its residents, never discriminating against Village Keepers and otherwise. She's fully devoted to honing her craft with her lance and shield, choosing to protect her people over a more comfortable life outside. Candace's Special Dish is called the Utmost Care, a variation of the Aaru Mixed Rice.
How to get Candace's Special Dish Recipe in Genshin Impact
You can get Utmost Care by purchasing the Recipe from Azalai, a merchant located in Aaru Village. Head to the area circled in the image below to find him and purchase Recipe: Aaru Mixed Rice for 2,500 Mora. This is a one-time purchase that will allow you to make as many of this Dish as you want.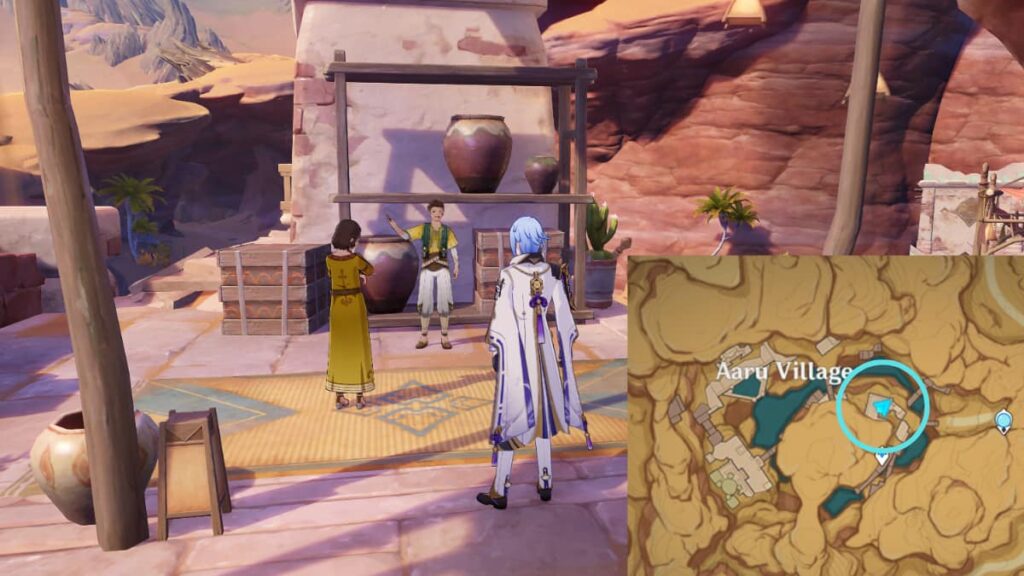 How to cook Utmost Care in Genshin Impact
You can cook Utmost Care on any stove using Candace. It's unfortunately not possible to cook the Special Dish if you haven't pulled for her. Interact with any bonfire or stove to open the cooking menu and select Aaru Mixed Rice, which can be made with the following ingredients:
x3 Rice
x2 Flour
x2 Glabrous Beans
x2 Tomato
If Candace cooks Aaru Mixed Rice, there's a chance for her to make Utmost Care instead. The exact rate for cooking Special Dishes is unknown, but it works on both Manual and Auto Cook modes.
Difference Between Aaru Mixed Rice and Utmost Care in Genshin Impact
Both of these Recipes will recover Stamina, which is useful for exploring Sumeru's massive desert landscape.
Aaru Mixed Rice—Restores 40/50/60 Stamina.
Utmost Care—Restores 80 Stamina.
Check out our Genshin Impact An Introduction to Indoor Archaeology World Quest guide – Golden Slumber to explore a temple in the desert.