There's nothing quite like a nice keyboard. A lot of people treat their keyboard like a hammer: it does a job and then gets put away. But a high-quality gaming keyboard can provide not only a superior typing experience but a superior gaming experience as well. Tactile keypresses, aesthetically pleasing RGB lighting, macros, and other gaming-focused features do make for a tangible difference. All the keyboards we have listed here use superior mechanical key switches in one form or another. While there are lots of membrane gaming keyboards on the market, they're all largely going to feel the same due to using the same underlying technology.
Razer BlackWidow V3 Wireless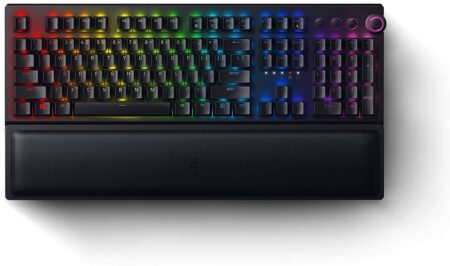 Few gaming accessory lists escape the razor-sharp clutches of Razer and their celebrated gaming peripherals. The BlackWidow V3 is an update to one of their longer-running keyboard lines and comes packed with bells and whistles. It comes in either tactile/clicky or linear/silent key switch options to please both the gamers and typists out there. It works via Bluetooth, 2.4GHz wireless, or USB Type-C wired modes, and the housing is transparent to allow the fully customizable RGB to shine through the case. It's fitted with doubleshot ABS keycaps, and includes a magnetic padded wrist rest for comfort. The top edge above the number pad features standard media controls, and it's fully compatible with Razer's Synapse software for customizing macros and RGB lighting.
Related: 2021's Best Pink Mechanical Keyboards for Gaming
Razer BlackWidow V3 Mini Wireless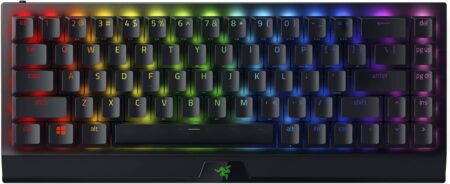 The BlackWidow V3 Mini Wireless takes Razer's standard BlackWidow design and shrinks it down to a 65% layout, complete with Bluetooth, 2.4GHz, and Type-C connectivity. It also sheds the wrist rest of its larger sibling and features up to 200 hours of battery life in 2.4GHz or Bluetooth modes. The USB receiver also supports multiple devices, so if you have a wireless Razer mouse then it can share a receiver with your keyboard. Like most of their keyboards, it's offered in either tactile/ clicky or linear/silent key switches.
Corsair K57 RGB Wireless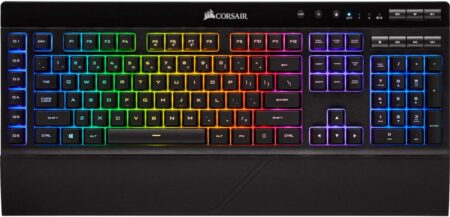 Corsair is often forgotten in the realm of PC gaming accessories since they're primarily a component manufacturer. But they have quite a pedigree when it comes to keyboards and mice, as exemplified by their K57. This is a full-size keyboard with media controls, full RGB, detachable rubber-coated wrist rest, and a programmable macro row on the left side. It uses a 2.4GHz receiver that boasts a less than 1ms response time but also supports Bluetooth and standard Micro USB connectivity. As a bonus, it's compatible with Corsair's iCUE RGB software, which will sync it up with any other iCUE components you may have in your PC case.
Corsair K63 Wireless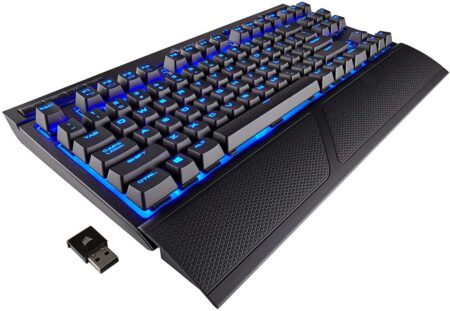 The K63 is a very well-known keyboard in the gaming space, and not just because of its feature set. It comes equipped with 2.4GHz wireless and Bluetooth connectivity, real-deal Cherry MX Red mechanical key switches, a removable wrist rest, and per-key blue lighting. But it's best known in gaming circles as the keyboard compatible with Corsair's Lapboard. The K63 installs into the K63 Lapboard and when paired with a wireless mouse creates a fully wireless gaming setup for those who want to game from the couch, but don't want to give up the keyboard and mouse. The Lapboard is sold separately but can be often purchased in a bundle on Amazon with the K63 Wireless for a modest discount.
Redragon K599
After Cherry MX's patent on their mechanical key switch design ran out design, a plethora of clone-switch-equipped keyboards burst onto the scene. Redragon slowly began floating to the top of the "budget mechanical key switch clone" pile with its high price to performance ratio. This 60% keyboard from them uses Outemu red key switches and provides built-in hardware controlled RGB that can be changed software-free at any time. The bottom casing is also metal, which gives it a weight that betrays its modest price tag. It works either wired through its Type-C port on the left side or wireless via 2.4GHz wireless receiver.
Logitech G613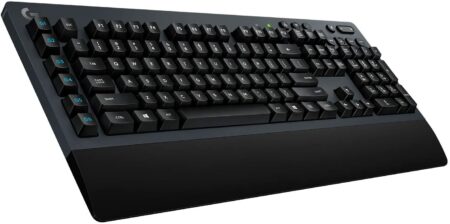 If you're after a great, no-frills wireless gaming keyboard from a highly reputable manufacturer then the Logitech G613 deserves your attention. It uses Logitech's Lightspeed tech to achieve a less than 1ms response time, comes outfitted with Logitech's own Romer G mechanical key switches, and sports six programmable macro keys along the left edge. On two AA batteries, you'll get roughly 18 months of battery life, and it supports both Bluetooth and 2.4GHz connectivity. It's not the most exciting looking keyboard on the market, but it's a great performer that will do the job admirably.
Related: Best Keyboard and Mouse for Xbox Series X/S
Logitech G915 TKL Wireless
Logitech's high-end G915 keyboard is brimming with features and style. It uses their Lightspeed low latency wireless, offers 40 hours on a full charge, and has an aluminum plated bottom panel. The real draw here is the low-profile mechanical switches here that come in three variants: tactile, linear, or clicky. These key switches are the perfect compromise for those who want the tactile nature of a mechanical key switch without all of the height and actuation that comes with a full mech. The result is a very unique hybrid typing feels that's somewhere between a very nice laptop and a high-end mechanical keyboard. It also comes with full media controls along the top edge, and Logitech offers a full-sized variant for those after a number pad option.
Chances are you spend a lot of time in front of your keyboard between work and gaming, so it's worth investing in nice peripherals. So, throw out that old membrane keyboard that you've been gaming with and upgrade to something tactile and feature-rich. Your fingers will thank you!
For more hardware recommendations check out Best Gaming Mouse for Laptops and When can I expect my Steam Deck to arrive? on Pro Game Guides.
This article includes affiliate links, which may provide small compensation to Pro Game Guides.