The Vargo 52 Assault Rifle was added to Call of Duty: Warzone in an unexpected content drop. The gun is seemingly a top-tier option thanks to its fast fire rate, good damage output, and easily controllable recoil curve. This guide showcases the best Vargo 52 attachments and class setups in Warzone Pacific.
Best Vargo 52 Loadout Warzone for Long-Range
Muzzle: GRU Suppressor
Barrel: 18.6″ Task Force
Optic: Axial Arms 3x
Underbarrel: Spetsnaz Grip
Magazine: Spetsnaz 60 Rnd
The aforementioned attachments represent the general long-range build for any Black Ops Cold War AR. The GRU Suppressor and Task Force barrel together provide the weapon its highest damage range and bullet velocity for maximum effectiveness over range.
Additionally, these two attachments along with the Spetsnaz Grip foregrip help with recoil control and accuracy. Finally, the 60 Round magazine feeds the fast-firing Vargo 52 AR with enough bullets to engage with an entire squad, be it Caldera or Rebirth Island.
Best Vargo 52 Sniper Support Loadout Warzone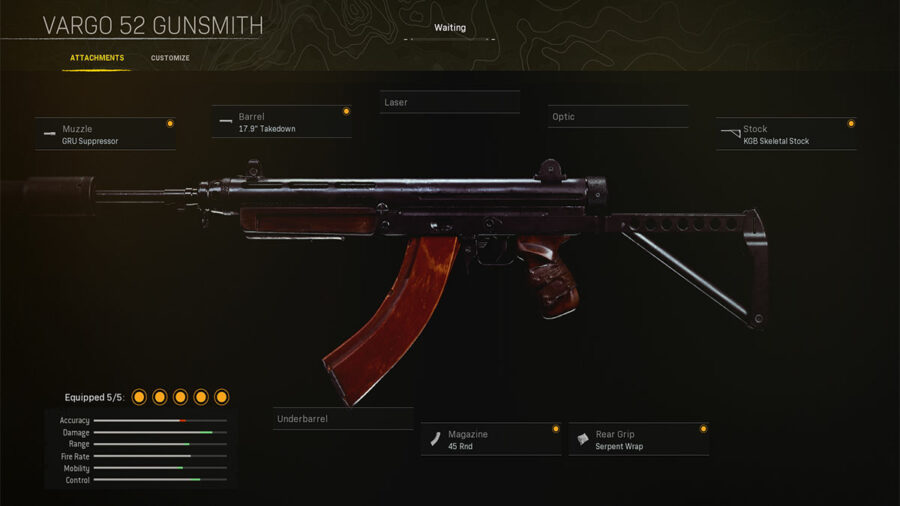 Muzzle: GRU Suppressor
Barrel: 17.9″ Takedown
Stock: KGB Skeletal Stock
Magazine: 45 Rnd
Rear Grip: Serpent Wrap
For this particular Vargo 52 build, we've used attachments that help with damage range as well as mobility. While the KGB stock adds sprint-to-fire and aim walking speeds, the Serpent Wrap boosts the aim-down-sight (ADS) speed of the weapon for close-range dexterity.
We've replaced the Task Force barrel with the Takedown as the latter increases the effective range and control without downgrading the mobility by a lot. Moreover, the 45 Round magazine provides sufficient bullets for close-to-medium range engagements, and its doesn't hurt the ADS speed.
Best Vargo 52 Class Warzone
Primary Weapon – Vargo 52
Secondary Weapon – Welgun / OTs 9 / Swiss K31
Lethal – Throwing Knife
Tactical – Stim
Perk 1 – Cold Blooded
Perk 2 – Overkill / High Alert
Perk 3 – Combat Scout
Stay tuned to GameTips.PRO for more Call of Duty content. In the meantime, head over to our article on – Best Milano Loadout and Class in Call of Duty: Warzone.