Valve is producing their own first-party dock for the Steam Deck, and it will inevitably be highly functional. The problem is that it has no announced price and was recently delayed to late Spring. This puts anyone with an early Deck pre-order in a bit of a weird spot, especially if you were planning on docking the system to your TV for a Switch-like experience.
Thankfully, Valve has stated on their official site that the USB Type-C port on the Deck is just that: a regular USB Type-C port. This means that any powered USB Type-C hub should be able to function just fine and provide the same (or even more) functionality than Valve's own offering.
A note about power: The Steam Deck requires a 45W charger, which is included in the box. That means that any USB Type-C hub that you use is going to need to provide at least 45W via power delivery for the Deck to charge. Not doing so not only means that your Deck will be draining battery as you play, but it may also limit the functionality of the Dock you're using.
Anker A833350A1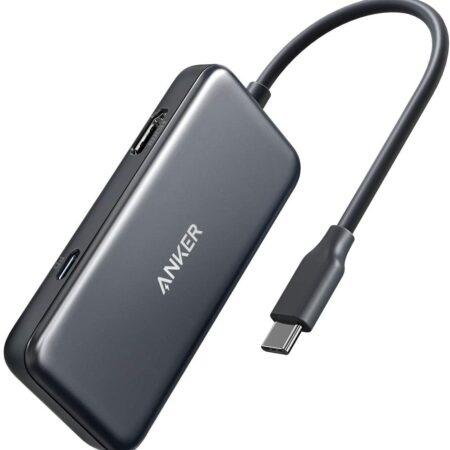 Anker is widely celebrated in the world of third-party charging accessories for their ability to make high-quality, affordable products. This 3-in-1 hub is a bit barebones in that it only provides HDMI and USB. But if you're just looking to dock your Deck to your TV and plug in a single peripheral, then it will get the job done for about $20.
It's small, properly cooled, and great for tossing in a bag to dock your Deck on the go. Anker's best-in-class cooling capacity also makes it great for use in very tight, thermally-restricted spaces (such as stuck behind a hotel TV). This is a great option if you're planning to buy the official dock when it comes out and want to re-purpose this one as an easy, affordable travel option.
Related: Best Steam Deck Competitors
WALNEW 7-in-1 Hub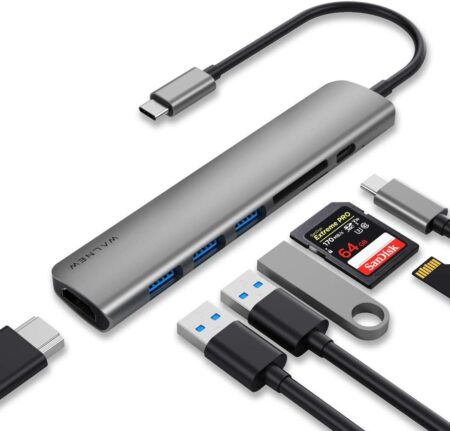 The WALNEW 7-in-1 Hub is a great, travel-friendly option that offers the standard slew of expansion options: three USB ports, SD/Micro SD, power delivery, and HDMI. It's rated at 100W of power delivery, so it could also easily double as a hub for your MacBook or other electronics, and the body is constructed out of aluminum to assist in cooling. If you're planning on getting the official dock later on, then it's a great option that can be quickly and easily repurposed elsewhere in your home or backpack.
MCY 12-in-1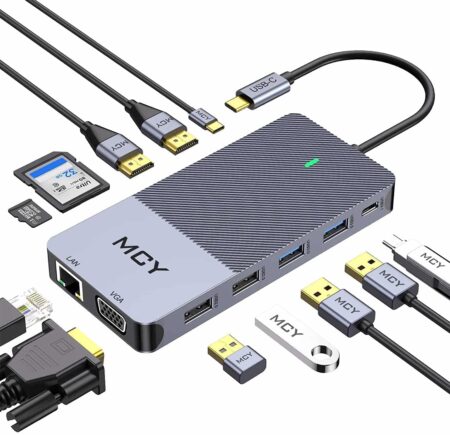 Maybe Valve's Deck dock just doesn't offer everything you're after. If you want the ability to easily travel with your dock without sacrificing a plethora of connectivity options, then this 12-in-1 from MCY has you covered. It featured two USB 2.0 ports, two USB 3.0 ports, USB Type-C, 85W power delivery (also suitable for MacBooks), Ethernet, VGA, and an SD/Micro SD card slot. Basically, it can turn your Deck from a gaming device into an actual productivity machine instantaneously. This is useful if you're planning to treat your Deck as a sort of makeshift, on-the-go workstation in addition to a gaming device, or if you just have a boatload of crazy peripherals you want to try out.
Tobenone XP09019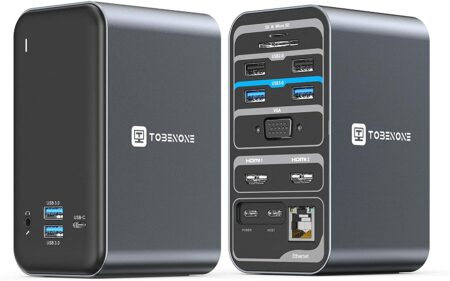 This hub from Tobenone is decked out with just about every port you could need for any normal computing situation. It has 100W power delivery, four USB 2.0 ports, four USB 3.0 ports, Type-C dual HDMI, VGA, Ethernet, dual card slots, and a duplex headphone jack. This is a great option if you're planning to use the Deck at a desk with a monitor, keyboard, and mouse. It's larger than many other docks, and most of the ports are on the backside. This makes for a much more convenient and cleaner desk, even after adding lots of peripherals.
The power delivery is high enough to support a wide range of devices, and it's large enough to stay in place on your desk. So, if you're planning to set up a desk space for swapping portable devices into, then the Tobenone XP09019 is a great centerpiece to keep things organized.
Related: People are already experiencing stick drift on Steam Decks. Is it fixable?
UTechSmart 15-in-1
This hub from UTechSmart is brimming with functionality. For starters, it has 100W power delivery, Type-C, dual USB 2.0, dual USB 3.0, Ethernet, dual card slots, dual HDMI, and separate headphone and microphone jacks—all arranged in a desk-friendly, two-faced design. The ports you're likely to access most frequently are on the front, while the less-accessed ports are around the back, so you're not dragging cables all over your desk.
But the real innovation here is in the removable top panel, which houses an M.2 slot for adding an additional M.2 SSD. This means you can load up an external M.2 SSD with extra-large games that you only plan to play in docked mode. Games like high-end strategy titles, for example, eat up a lot of storage space and aren't particularly suited to handheld play. Or, maybe you want your Deck to double as a light-productivity machine and plan to load up the M.2 SSD with necessary files that you don't need to lug around on your Deck. It's worth noting that there are some restrictions on the type of M.2 SSD you use: it's built for M.2 SATA SSD drives only, not NVMe drives, so be sure to choose carefully when buying additional storage.
Valve's official Dock looks very slick and provides a decent amount of functionality for the Deck. But USB hubs and docks are old news, which means there's an entire world of different configurations and capabilities to explore. Even if you're planning on grabbing the official dock down the line, it's worth checking out some other options in the meantime.
For more Steam Deck guides, check out Best Steam Deck Accessories and When can I expect my Steam Deck to arrive? on Pro Game Guides.
This article includes affiliate links, which may provide small compensation to Pro Game Guides.