The Soldier class in Steelrising relies on the Power stat, focusing on weapons that deal high amounts of Impact damage. Similar to the Bodyguard class, the majority of weapons that the Soldier class can take advantage of have a high Affinity with Power and are relatively slow. There are weapons that are faster than others but they won't reach the level of speed as Agility focused weapons. Players can choose to focus on either raw damage or staggering enemies using Impact damage. These are the best Soldier builds for early, middle, and late game in Steelrising.
Making the Best Soldier Build in Steelrising
Of the four classes in Steelrising, the Soldier Class is the most straightforward. It starts with some extra Power and a weapon that can be used for close or medium distance. Where the Bodyguard build focuses on survivability and Charged Attacks, the Soldier's extra Power at the beginning allows players to focus on dealing as much damage as possible first. Players should level Durability as they see fit, however, they have a head start in damage output and can capitalize on it.
Best Early Game Soldier Build in Steelrising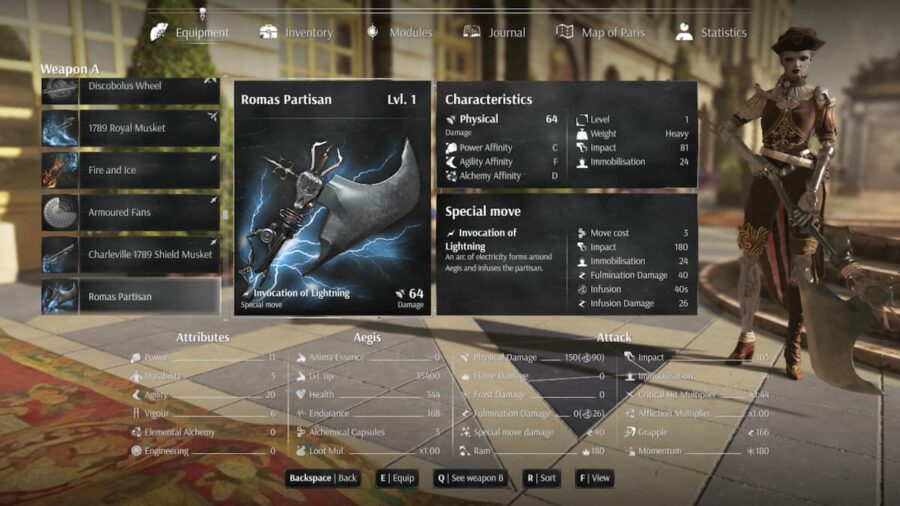 Special Moves play a valuable part in Steelrising, using alternate methods of dealing damage. These moves only get more powerful when leveling Power while the base weapon damage scales with the same stat. With this in mind, players can use many different weapons' Special Moves to deal damage and experiment with what they like most. This is everything that players can use at the beginning of the game for this playstyle:
Weapon

Gribeauval Halberd – The starting weapon for the class that can be used at close and medium range.
Fire Chain – Deals Flame Damage and deals more Impact damage when infused.
Romas Partisan – Deal Fulmination Damage and deals more Impact damage when infused.

Armour

Any – Armour hardly matters as it is used to mainly cover weaknesses. Balance and Armour can increase, as well as Endurance depending on what set is worn, helping players focused on leveling Power.

Modules

Grade I Frost/Fulmination/Flame Catalyst Module – Depending on what weapon players have, they can increase the speed that Alchemical Afflictions are built up.
Grade I Long Infusion Module – This will increase how long weapons with Infusion Special Moves will stay coated in their Alchemical element.
Grade I Unstable Essence Module – This causes the player to have a chance of getting Alchemical Capsules whenever they fire a weapon or attack with an infused weapon.
Players can experiment with other weapons and even try to go for an Agility and Power hybrid. In the beginning, they aren't too many Power weapons with Special Attacks attached to them apart from Shields, making Infusions very strong. Leveling Durability will be important to make sure that players survive longer but will have diminishing returns after a certain point.
Related: Best Dancer Build in Steelrising
Best Mid Game Soldier Build in Steelrising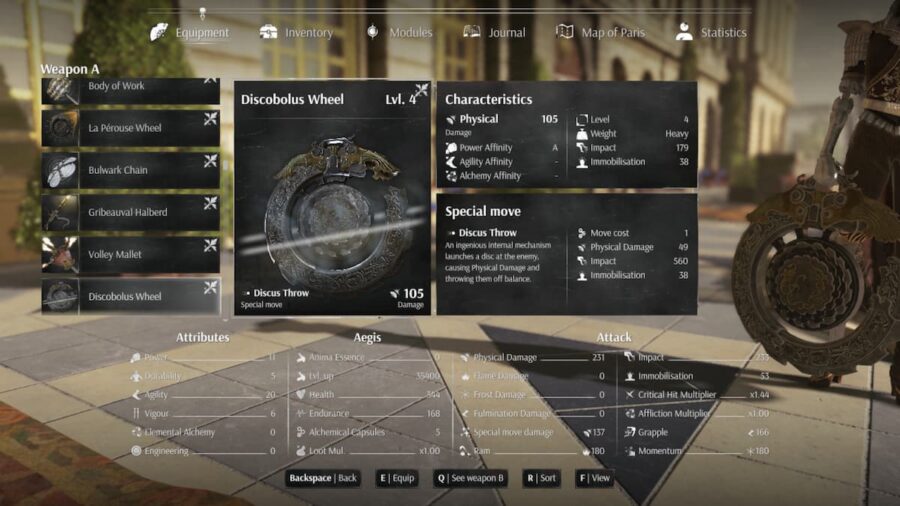 By the middle of the game, players should have a better understanding of what weapon types they enjoy. Even without going for Infusion based weapons, there are many other powerful Special Moves that players can take advantage of. These are all the new things that players can start incorporating into their builds:
Weapon

Boreas Wheel – A great weapon with a Frost Infusion Special Move, dealing lots of Impact damage.
Discobolus Wheel – A high Impact weapon that can be fired from a distance, dealing even higher Impact damage.
Porevit Chain – The Special Move of this weapon does more damage up close, firing multiple knives at once.
Hephaestus Batons – These weapons infuse themselves and fire two projectiles. They scale more with Alchemy than Power but still will increase their power with a Power build.

Armor

Any – Armour should start to be swapped for resistances more than anything.

Modules

Grade II Endurance Module – Increasing Endurance will keep players from having to level Vigour.
Grade II Frost/Fulmination/Flame Module – Stacking these modules with their other Grade versions will stack, dealing more damage.
Grade II Long Infusion Module – Stacking these will increase how long weapons stay Infused.
Grade II Unstable Essence Module – These modules also stack with each other, although at a certain point, these Modules will become obsolete as the player will be swimming in Alchemical Capsules.
Any weapon is viable to be taken to the end of the game as long as players are comfortable with it. Using both the Ram, Grapple, and Momentum moves that the player unlocks are great options to build up damage and Alchemical Inflictions.
Related: Alchemical Afflictions explained in Steelrising
Best End Game Soldier Build in Steelrising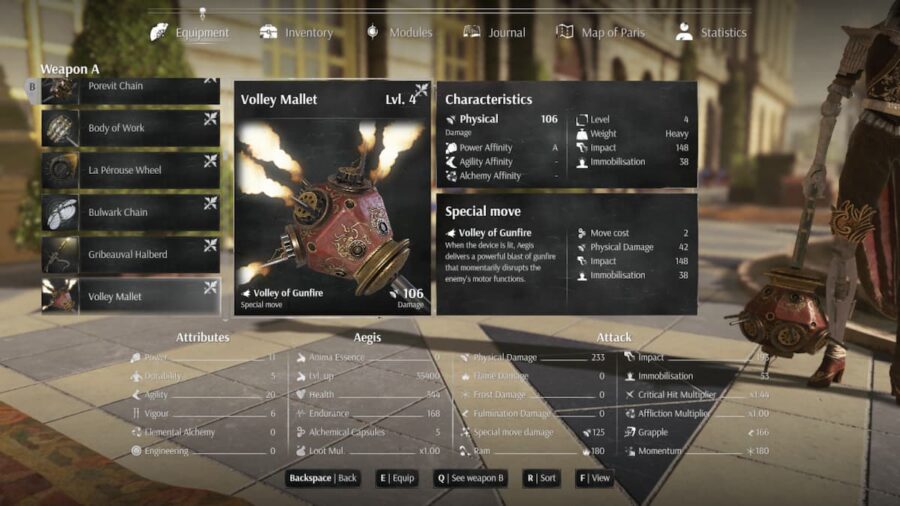 By the end of Steelrising, players should have unlocked at least a few of their Grade III Module slots. Players will have an arsenal of weapons and can either use Infusion based weapons for damage or favor other weapons that do purely Physical damage with their Special Moves. Players can use close ranged or medium ranged Special Moves, using their Modules to increase their Health if they are having issues staying alive. These are all the new things that players have access to once players reach the end of the game:
Weapon

La Pérouse Wheel – The Special Move of this weapon does a lot of damage and can be used against a large group of enemies if the player's Balance is high enough to not be interrupted.
Volley Mallet – This weapon's Special Move interrupts enemies and can do a large amount of damage up close.

Armour
Modules

Grade III Destruction Module – The best Module in the game, increasing Physical Damage. This works great with weapons whose Special Move also deal Physical Damage.
Grade III Endurance Module – This increases Endurance by a large amount, almost removing the dependency for leveling Vigour at all.
Grade III Frost/Fulmination/Flame Catalyst Module – Increases the amount of Alchemical Affliction build and stacks with the Grade II variant.
A Soldier build is extremely versatile and easy to make as a hybrid. Players can get through the game either with purely Physical Damage, Special Move damage, or with Infusions. The best builds will be able to deal high amounts of Special Move damage and are capable of one shotting most enemies at a range.
For more Steelrising guides, check out Best Starting Class in Steelrising on GameTips.PRO.