OLED monitors are still a bit of a niche category in the larger monitor market. Most companies still lean toward IPS or VA panels due to their availability and price, but a few have started to dip into the OLED space. One concern that many potential customers and manufacturers had was that of screen burn-in, which is possible with an OLED panel. And while newer OLED technology is significantly less susceptible to burn-in, it's something to keep in mind when shopping for a monitor. Setting reasonable screen timeout or even using a screensaver can help mitigate the risk of burn-in, and several manufacturers have also implemented their own safeguards against it. Outside of that, OLED panels can provide an unparalleled level of color depth and uniformity, which means you're going to be getting a great picture across the board.
As a note: Keep an eye out for professional grade OLED monitors. While they provide fantastic color accuracy, they're often well into the thousands of dollars and usually lack gaming features such as adaptive sync and higher refresh rates.
Alienware AW5520QF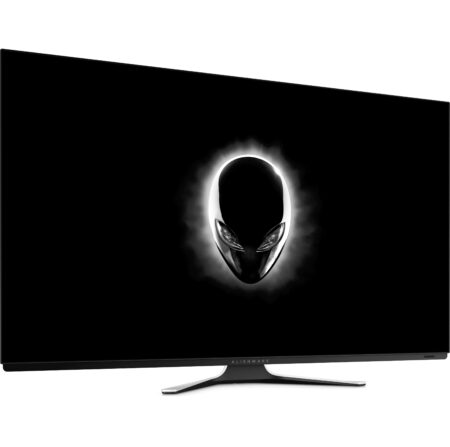 This OLED monitor from Alienware really falls more into the television camp at 55" in size, but comes with the usual monitor amenities such as a headphone jack and USB port along the side. It also features AMD FreeSync (with NVIDIA G-Sync compatibility), full 4K support, and a super snappy 0.5ms response time. Around the back, it sports three HDMI 2.0 ports and one DisplayPort 1.4. For those wanting this beastly 55" screen to pull double duty as a regular television, it also comes with a remote. Do keep in mind that HDMI 2.0 is not capable of 4K 120Hz, so those planning to use this monitor for an Xbox Series X or PlayStation 5 might look elsewhere. For the PC crowd, DisplayPort1.4 supports high-end refresh rates just fine.
Related: Best Gaming Monitors for Xbox Series X/S
AOC AGON AG485UD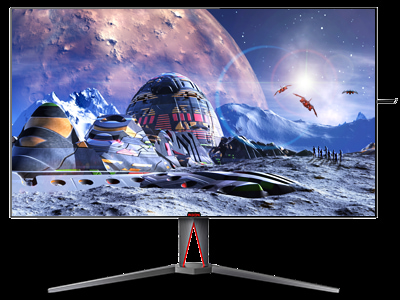 AOC has become the budget brand du jour for discerning gamers across the PC landscape. They offer truly generous warranties, many of which include a single incident of accidental damage, and have unbeatable prices for the category. Their new AG485UD was just announced for the Chinese market, and will likely be making its way to the rest of the world sometime in 2022. It's a 48" OLED panel running at 120Hz with a 0.1ms response time, HDR support, HDMI 2.1, USB Type-C, and DisplayPort. In other words: it's a feature-packed monitor that is going to give the competition a run for its money when it hits markets outside of China.
GIGABYTE AORUS FO48U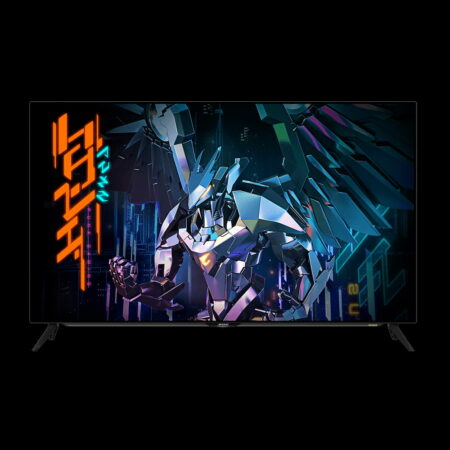 GIGABYTE is always ready to cater to gamers with their AORUS line of products, and that trend continues with their 48" OLED FO48U. You'd be mistaken for thinking this is a television at first glance, and it would work fine as one with its built-in speakers and wide-set legs. It features HDMI 2.1 so it will support 4K 120Hz on the latest consoles, and comes outfitted with AMD FreeSync Premium Pro for adaptive refresh rates when PC gaming. Like many other GIGABYTE monitors it also includes a KVM switch and multiple picture-in-picture modes so driving multiple PCs with it should be a breeze.
LG 32EP950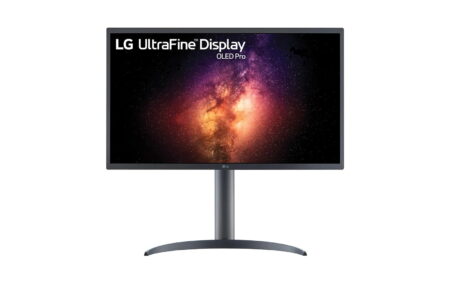 The LG 32EP950 is one of the professional-grade monitors we warned you about earlier. It comes attached to an eye-watering price tag, but it's also one of the nicer professional-grade monitors on the market. So, if you actually are an art professional after a high accuracy monitor anyway, then it might be worth consideration. It features a 31.5" 4K OLED panel at 60Hz, so it's not very well-suited if you're after 120Hz or higher gaming. That said if you're just playing older, lower refresh rate games occasionally after a long day at the home office, then it will provide a fantastic image. It features three USB ports, a USB Type-C port with 90W power delivery, dual DisplayPort, and HDMI. What you're really paying for here is DCI-P3 99% and Adobe RGB 99% accuracy running at 10-bit color.
INNOCN PU15-PRE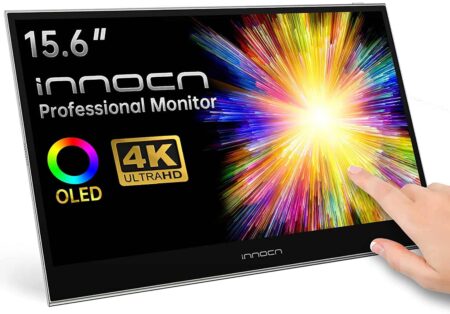 The PS22UC from INNOCN is a bit of an edge case scenario. It's a 21.6" 4K portable monitor with touch support and 100% DCI-P3 color accuracy. For the feature set and size, it's a bit pricey, but portability has its costs. But if you're an on-the-go game that demands the very latest and greatest OLED technology on the go for your gaming needs, then it's a viable choice assuming you're okay sacrificing higher refresh rate (this one runs at 60Hz) and adaptive sync technology. Its main connection is via USB Type-C, since this is billed as a secondary monitor, but it also features a regular HDMI input. As a secondary screen, it's full plug-and-play with no additional software or drivers needed. With its built-in 5000mAh battery, it might not be the most blazing fast gaming monitor on the market, but it's a great looking portable OLED monitor for those on the go.
Related: The 5 Best Gaming Monitors for the PS5
Acer CG552K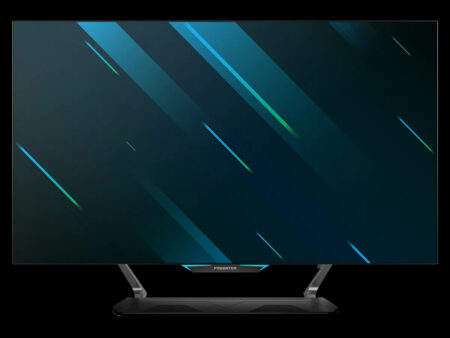 One of the newer monitors in Acer's Predator line, the CG552K is a massive 55″ 4K 120Hz OLED monitor with some impressive gaming specs. In addition to high color accuracy, it comes equipped with NVIDIA G-Sync compatibility, dual DisplayPort 1.4 ports, dual 10W speakers, and three HDMI 2.0 ports. Other creature comforts include automatic backlight adjustment, which is a welcome feature for those tired of accidentally blinding themselves late at night with their monitor. Like the rest of the Predator line from Acer it's built from the ground up with gaming performance in mind.
As the months—and CES 2022—roll on we're expecting a lot more OLED monitors hitting the market. AOC has a lot of promising tech hitting their native markets right now, and Dell is always keen to flex their Alienware brand into new territories. Samsung, the provider of Dell's OLED panels, has also announced that they plan to enter the OLED monitor market sometime soon.
For more hardware recommendations check out 2021's 5 Best Frameless Gaming Monitors and 2021's 5 Best Curved Gaming Monitors on Pro Game Guides.
This article includes affiliate links, which may provide small compensation to Pro Game Guides.