The M1916 Marksman Rifle was introduced with Season 3 of Call of Duty: Warzone. It has a high damage output, good range, and decent accuracy and also comes with a full-auto barrel, just like the SVT-40. However, all Vanguard Marksman Rifles remain untouched by the majority of players as they aren't effective.
Nonetheless, if you want to give it a go, here are the best M1916 attachments and class recommendations for Warzone Pacific.
Best M1916 Loadout Warzone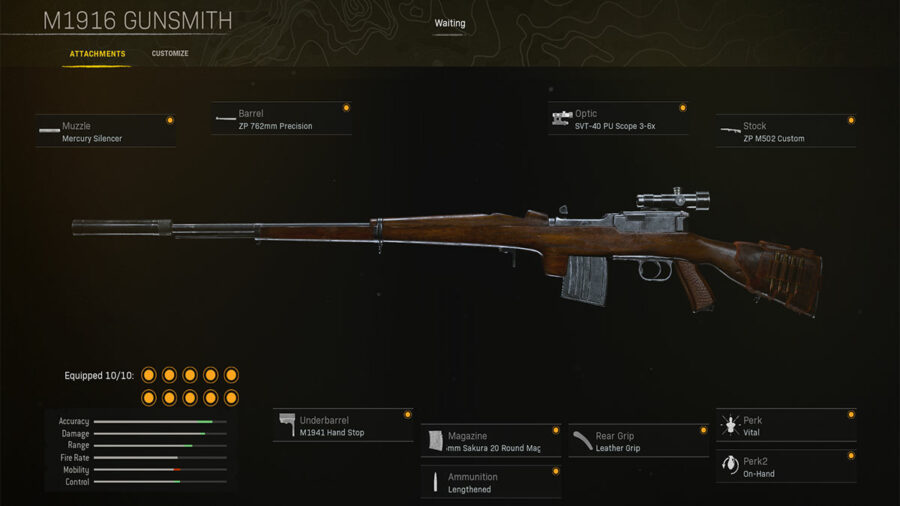 Muzzle: Mercury Silencer
Barrel: ZP 762mm Precision
Optic: SVT-40 PU Scope 3-6x
Stock: ZP M502 Custom
Underbarrel: M1941 Hand Stop
Magazine: 6.5mm Sakura 20 Round Mags
Ammunition: Lengthened
Rear Grip: Leather Grip
Perk 1: Vital
Perk 2: On-Hand / Fully Loaded
This M1916 build focuses on improving the weapon's damage range, bullet velocity, accuracy, and aim-down-sight (ADS) speed. The barrel and muzzle attachments used here boost all of these features. For added accuracy, the M1941 underbarrel and stock are used. The ZP Custom stock also helps with ADS speed alongside the Leather rear grip.
Alternatively, you can use a fully automatic, close-range build for the M1916 by equipping the Wyvern 532mm Full-Auto barrel. However, this attachment makes the gun even less viable because it uses sniper ammo and you can only carry 40 of those.
Best M1916 Class Setup Warzone
Primary Weapon – Nikita / Type 100 / XM4
Secondary Weapon – M1916 
Lethal – Throwing Knife
Tactical – Stim
Perk 1 – Cold Blooded
Perk 2 – Overkill
Perk 3 – Combat Scout
Stay tuned to GameTips.PRO for more Call of Duty content. In the meantime, head over to our article on How does Caldera Iron Trials mode work in CoD Warzone?