Laptops are great for getting your gaming done on the go, but using one at a desk is a bit of an ergonomic nightmare. Even if you're able to use an external mouse and keyboard for ergonomic comfort, the screen is going to be sitting very low down. This can lead to hunching over your laptop, which might be fine for checking some emails but not for a long gaming session. The best thing you can do for your laptop, and your back, is raise it up off your desk to get it closer to your eye line.
Soundance Laptop Stand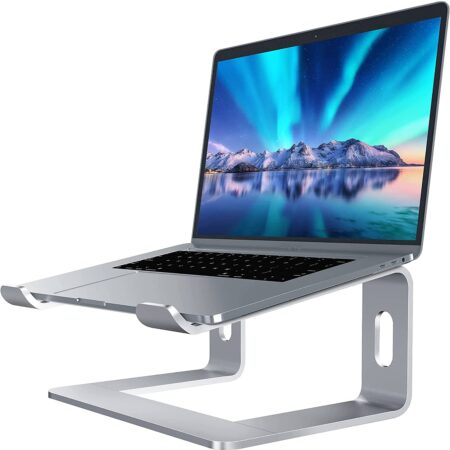 This is about as basic as laptop stands come. It's a solid aluminum stand with a basic curved design to hold a plethora of different laptop sizes, and it comes in a slew of different colors. The main selling point here is simplicity. There are no adjustment knobs to fiddle with or complicated assembly instructions—just unpack it and start using it. If you're after a simple, quick, and sturdy laptop stand then this is a great place to start.
HUANUO Adjustable Laptop Stand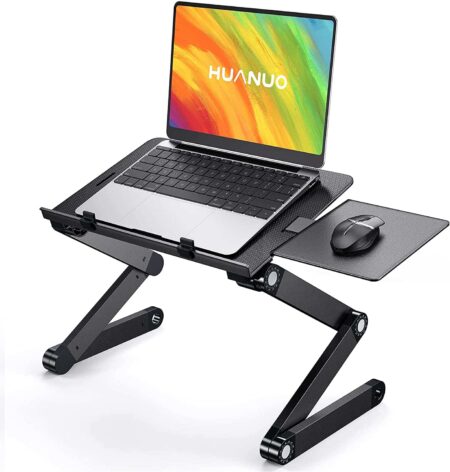 This is an adjustable stand that works well in a few different environments. As a laptop stand for a tabletop or desk, it offers full adjustability across multiple axes and includes a separate removable mouse pad. The mouse pad also adjusts independently of the rest of the stand to ensure that your mouse remains level regardless of how you have the main portion of the stand situated. The wide-set legs also make this a great option if you're looking to relax on the couch while getting some work done. On the backside are two USB-powered cooling fans to ensure that your laptop remains cool while in use, and the legs include angle markers to make sure that both sides are even with one another at all times. This is a great, versatile laptop stand with a ton of different use cases.
VIVO Universal Adjustable Laptop Holder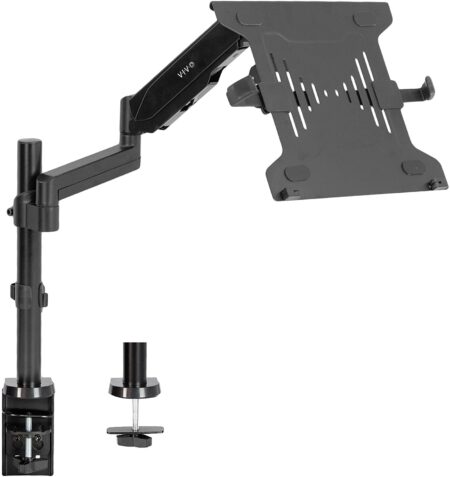 If you're looking for a more permanent solution to situate your laptop at your desk then this stand from VIVO will fit the bill. It includes a table clamp capable of fitting into a mounting hole or just on the edge of a desk, a pneumatic arm that offers height and tilt adjustments, and ventilation along the bottom tray to keep your laptop running cool. This is a great option if you're looking to mount your laptop for long-term usage without having to fuss with stands that can get bumped or knocked over.
Razer Laptop Stand
Razer makes just about every PC gaming accessory imaginable, so it's no surprise that they have a fully RGB-enabled laptop stand. Despite the amount of tech packed into it, it's a relatively simple affair in the realm of laptop stands. One non-adjustable angle that serves to just lift your laptop up off of your desk for improved angles and cooling. Along the backside are three USB ports, which connect via a built-in USB extension, and the front edge features full Chroma enabled RGB. While not the most ergonomic stand, it does integrate into Razer's RGB software to provide supported lighting effects in supported titles. It's a great option if you're just looking for something to help keep your gaming laptop cool while adding a bit of flair.
Tobenone USB C Docking Station Stand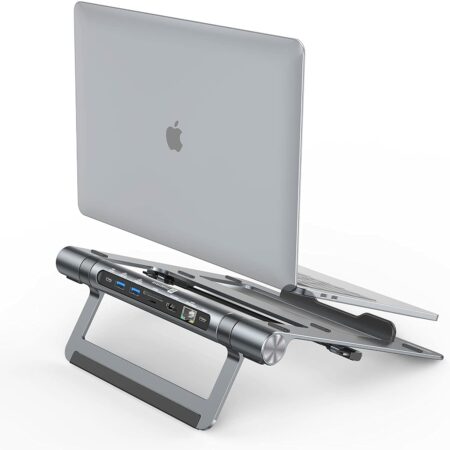 This stand from Tobenone is fully angle adjustable, crafted out of aluminum, and features ventilation along the bottom and a convenient fold-flat design. But the real draw here is the full USB Type-C hub that is built into the hinge of the stand. It featured SD card readers, Ethernet, USB 3.0, and 100W power delivery via Type-C. This is a great option if you're trying to save space in your travel bag but still want the convenience of both a docking station and laptop stand-in-one.
Regardless of whether you're lifting your laptop off your desk for ergonomic or cooling reasons, a laptop stand is an invaluable tool to have both on the go and in your home office. Even raising your laptop a few degrees can assist greatly in cooling and relieve a lot of strain on your wrists.
For more hardware guides check out Best Gaming Mouse for Laptops and How to Clean a Laptop Keyboard | Safely Clean Your Laptop Keyboard on GameTips.PRO.