The fourth time's the charm, right? It may be for this iteration of the Traveler's elemental powers in Genshin Impact. They are one of a few characters who wield the new Dendro element. Is it worth your time to level their skills? Read on and find out.
Dendro Traveler's Playstyle in Genshin Impact
The Dendro Traveler is all about their burst, Surgent Manifestation. It's probably the most involved burst we've seen from the Traveler yet. The Traveler plants a lamp on the field that will change mechanics based on which element, Hydro, Electro, or Pyro, it comes into contact with first. Plan to use them as a sub-DPS unit that plants the Lamp and switches to a Hydro, Electro, or Pyro main DPS. As a sub-DPS unit, they can provide quite a bit of damage, which is a nice change.
Dendro Traveler's Best Weapons in Genshin Impact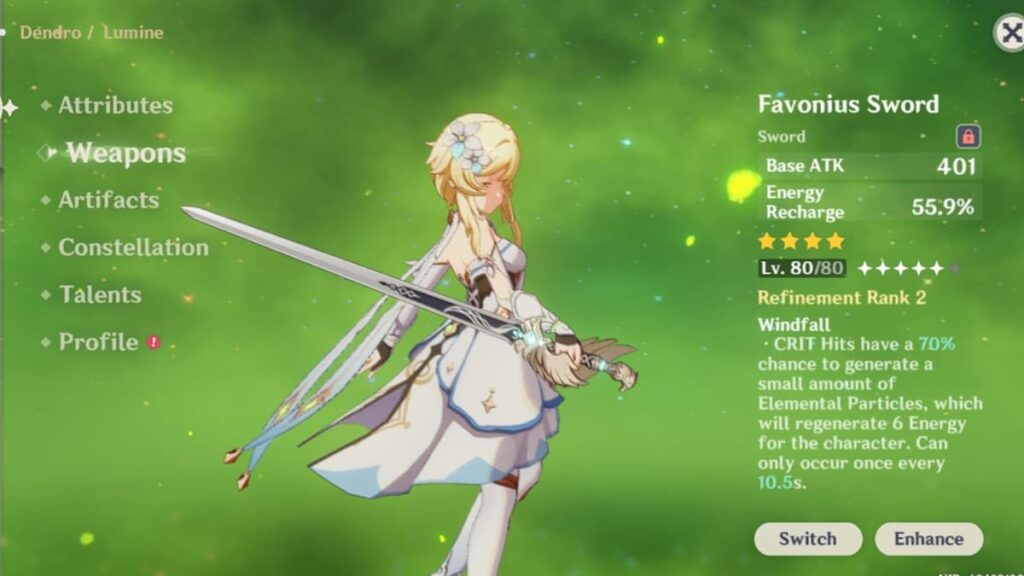 A four-star weapon tends to fit best on the Traveler, mostly because five-star weapons are best saved for other characters. We recommend the Favonius Sword to maximize its burst uptime. Dendro is all about reactions, so another option you could consider is the Iron Sting. Its Elemental Mastery substat helps to boost the many Dendro reactions that occur if you pair the Traveler with a hydro and electro unit. If you really, really want to give the Traveler a five-star sword, try the Skyward Blade.
Dendro Traveler's Best Artifacts in Genshin Impact
The Deepwoods Memories artifact set is geared toward Dendro characters, particularly support characters, making this a great choice for your Dendro Traveler. You could also make do with a Noblesse Oblige set as it helps many burst support characters. Try to find artifact pieces with as much Energy Recharge and CRIT rate as possible. A Dendro damage goblet will be your best choice as well.
Dendro Traveler's Skills in Genshin Impact
Foreign Fieldcleaver
Normal Attack

Perform up to five rapid strikes.

Charged Attack

Consumes a certain amount of stamina to unleash two rapid sword strikes.

Plunging Attack

Plunges from mid-air to strike the ground below, damaging opponents along the path and dealing AoE damage upon impact.
Elemental Skill: Razorgrass Blade
With a flourish of your blade, you unleash a spray of razor-sharp leaves that go before you and deal Dendro damage.
Elemental Burst: Surgent Manifestation
You create a Lea Lotus Lamp by calling upon the might of the flora all around you. This Lamp will deal continuous Dendro DMG to opponents within its AoE.
Lotuslight Transfiguration

The Lea Lotus Lamp will undergo the following changes after it comes into contact with Hydro/Electro/Pyro:

Hydro: the Lamp's AoE and the AoE of its attacks are increased.
Electro: the Lamp's attack speed is increased.
Pyro: the Lamp will explode after a short delay and then disappear, dealing AoE Dendro damage.

The Lea Lotus Lamp can only undergo one Lotuslight Transfiguration in its duration.
Only one Lamp created by the Traveler can exist at any one time.
Passives
Verdant Overgrowth

Lea Lotus Lamp will obtain one level of Overflowing Lotuslight every second on the field, increasing the Elemental Mastery of active character(s) within its AoE by six. Overflowing Lotuslight has a maximum of 10 stacks.

Verdant Luxury

Every point of Elemental Mastery the Traveler possesses increases the damage dealt by Razorgrass Blade by 0.15% and the damage dealt by Surgent Manifestation by 0.1%.
Dendro Traveler's Constellations in Genshin Impact
Symbiotic Creeper: Constellation level one.

After Razorgrass Blade hits an opponent, it will regenerate 3.5 Energy for the Traveler.

Green Resilience: Constellation level two.

Lea Lotus Lamp's duration is increased by three seconds.

Whirling Weeds: Constellation level three.

Increases the Level of Razorgrass Blade by three. The maximum upgrade level is 15.

Treacle Grass: Constellation level four.

After the Lea Lotus Lamp triggers a Lotuslight Transfiguration, it will obtain five stacks of the Overflowing Lotuslight effect from the Passive Talent: Verdant Overgrowth. You must have unlocked this Passive Talent first.

Viridian Transience: Constellation level five.

Increases the Level of Surgent Manifestation by three. The maximum upgrade level is 15.

Withering Aggregation: Constellation level six.

The Dendro damage bonus of the character under the effect of Overflowing Lotuslight, created by the Lea Lotus Lamp, is increased by 12%. If the Lamp has experienced a Lotuslight Transfiguration previously, the character will also gain a 12% damage bonus for the corresponding element.
What you need to build the Dendro Traveler in Genshin Impact
If you haven't ascended your Traveler's level, we've got a handy farming guide to help. You'll also need to visit one of the Statues of the Seven in Sumeru with the Traveler as your current character to resonate with Dendro. You'll have to level all of the Traveler's skills from scratch (yes, the normal attack again, too), which requires all three Sumeran talent level-up materials, fungal spores, Mudra of the Malefic General, from the Raiden Shogun weekly boss, and Crowns of Insight if you choose to max any skill.
Best teammates for the Dendro Traveler in Genshin Impact
While a "nuclear" build sounds fun, your best teams will probably use the Traveler to support an Electro or Hydro main DPS, characters such as Keqing, Kamisato Ayato, or Raiden Shogun. You can use other Dendro, Hydro, or Electro supports such as Collei, Xingqiu, or Kuki Shinobu to complete the team.
What about the first Dendro five-star character, Tighnari? you can read more about him here Best Tighnari build in Genshin Impact – weapons, Artifacts, & more! and here Genshin Impact – All Tighnari Skills, Talents, & Ascension Materials