The BP50 Assault Rifle was one of the final few weapons added to Call of Duty: Warzone. It was introduced into the game with the Season 5 Reloaded update. The weapon has a fast fire rate and good control, features which are ideal for a dominant gun. Here's how to create the best BP50 class in Warzone Pacific.
Best BP50 Loadout Warzone – Sniper Support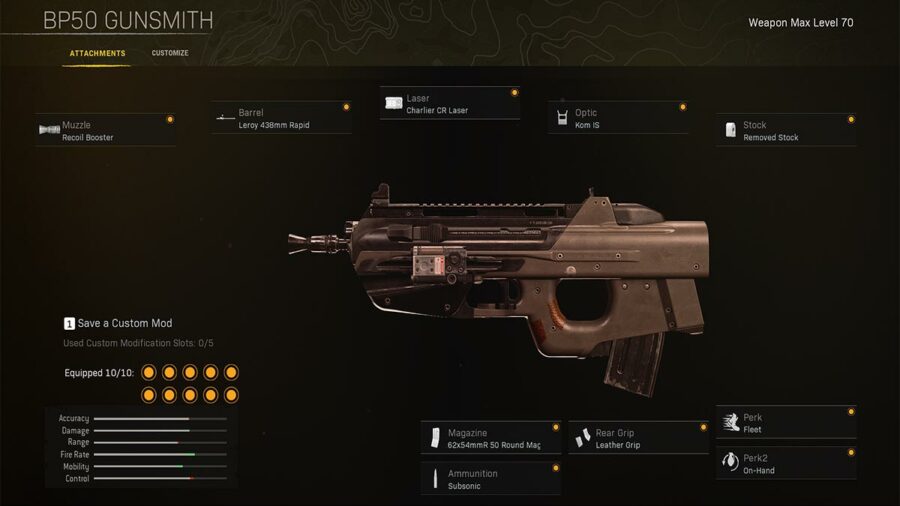 Muzzle: Recoil Booster
Barrel: Leroy 438mm Rapid
Laser: Charlier CR Laser
Optic: Kom IS / Slate Reflector
Stock: Removed Stock
Magazine: 7.62x54mmR 50 Round Mags
Ammunition: Subsonic
Rear Grip: Leather Grip
Perk 1: Fleet
Perk 2: On-Hand
Although the weapon has potential for all ranges, it shines mainly in close-to-mid range engagements, especially when paired with a Sniper Rifle. This particular BP50 build uses attachments that boost the gun's fire rate and mobility stats such as aim-down-sight (ADS), strafe, movement, and sprint-to-fire speeds. While these attachments will give you max agility, feel free to swap a few to your preference.
Best BP50 Loadout Warzone – Long Range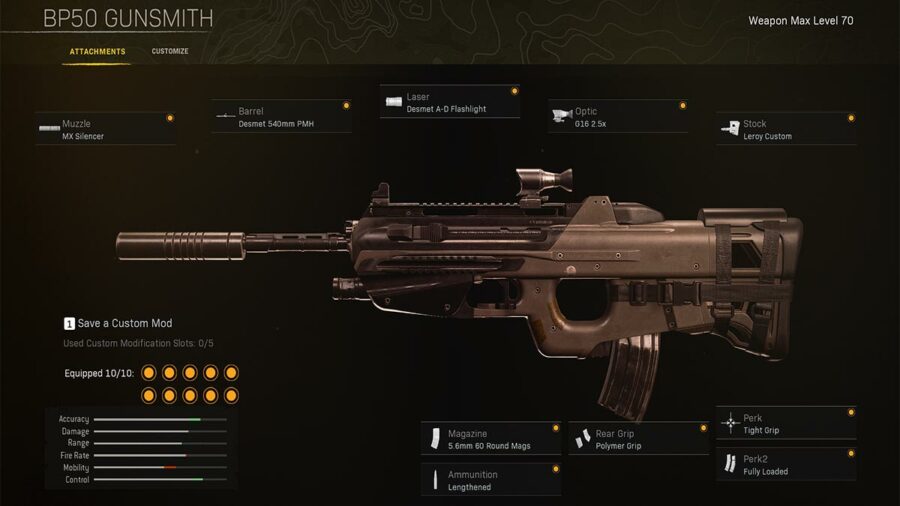 Muzzle: MX Silencer
Barrel: Desmet 540mm PMH
Laser: Desmet A-D Flashlight
Optic: G16 2.5x
Stock: Leroy Custom
Magazine: 5.6mm 60 Round Mags
Ammunition: Lengthened
Rear Grip: Polymer Grip
Perk 1: Tight Grip
Perk 2: Fully Loaded
You can certainly use the BP50 at mid-to-long ranges, however, there are more powerful guns in the game. Nonetheless, give this build a try and figure out if you like it. Just like every other long range build, the attachments shown in this BP50 build improve the recoil control, accuracy, and bullet velocity of the gun. This will allow you to engage with enemies that are further away with ease.
Best BP50 Class Setup Warzone
Primary Weapon: BP50 Assault Rifle
Secondary Weapon: Gorenko Anti-Tank Rifle / AX-50 / RA 225
Lethal: Semtex
Tactical: Stim
Perk 1: Quick Fix
Perk 2: Overkill
Perk 3: Amped
Stay tuned to GameTips.PRO for more Call of Duty content. In the meantime, head over to our article on Warzone 2 to now have Loadout Drops, Perks, and fewer A.I. claims leaker.