Build your ultimate anime hero in Anime Story. The journey ahead depends on what kind of anime hero you will become. Combine your strength from different animes like Naruto, Dragon Ball Super, and One Piece to become the strongest hero in your own story. If you think you have become powerful enough, try and fight against another player!
Codes for Anime Story will give you in-game currencies like Gems and Coins. Some of the codes will provide you with double experience points to help you level up at the start of the game. Use these currencies to purchase new powers and gear. These codes are great for a boost at the beginning of the game.
Join your favorite anime heroes on an adventure in Roblox. Claiming the codes for these anime games will help you gain a helpful boost to get stronger faster. Claim these codes for Anime Power Tycoon Codes, Anime Adventures Codes, Anime World Tower Defense Codes, Anime Squad Simulator Codes, and Anime Plush Simulator Codes.
All Anime Story Codes List
Anime Story Codes (Working)
Here's a look at all the working Anime Story codes.
PARTTWO—Redeem code for 2000 Gems (New)
WAVETWO—Redeem code for 20,000 Coins (New)
FIXED1—Redeem code for 30 minutes 2x experience (New)
Anime Story Codes (Expired)
These Anime Story codes are no longer valid.
RANKED—Redeem code for 30 minutes 2x experience
BUGS—Redeem code for 1000 gems
FIXED—Redeem code for 1000 gems
REVAMP—Redeem code for 30 minutes 2x experience
NERF_CELL—Redeem code for 30 minutes 2x experience
DELAY—Redeem code for 700 Gems
FREE_UPGRADES—Redeem code for
FIXED123—Redeem code for 1000 gems
SHUTDOWNS—Redeem code for 1000 gems
STRESS_TEST—Redeem code for 15 minutes 2x experience
ANIME_SHUTDOWNS—Redeem code for 1000 Gems
RESET—Redeem code for Stat Reset
APOLOGIES—Redeem code for rewards
BAN_WAVE1—Redeem code for 1000 Gems
MONDAY_RIP—Redeem code for 1000 Coins
RELEASE_DELAY—Redeem code for 700Gems
FIXED_EXPLOIT—Redeem code for 30 minutes 2x experience
HOUR_DOUBLEEXP—Redeem code for rewards
RELEASE—Redeem code for rewards
DUNGEONS_SOON1—Redeem code for 60 minutes 2x experience
BACK_AWAKE—Redeem code for Stat Reset
FAST—Redeem code for rewards
SORRY—Redeem code for rewards
REROLL_AURA—Redeem code for rewards
Anime Story FAQ, Answered
Follow our guides for all your questions on Anime Story.
How to Redeem Anime Story Codes
It's easy to redeem codes for free rewards in Anime Story. To do so, follow the instructions below.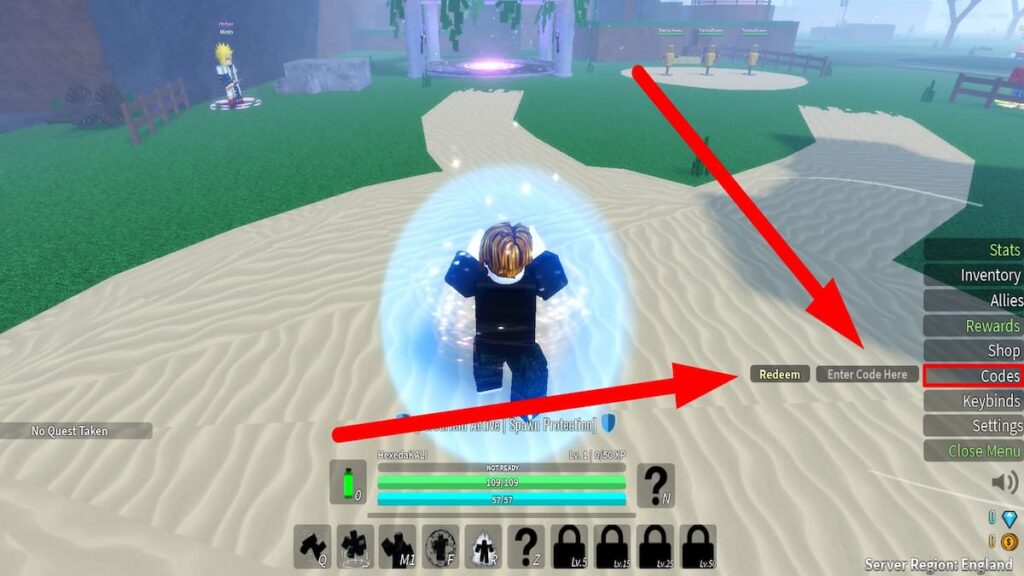 Launch Anime Story.
Click on the Open Menu button on the right-hand side of the screen.
Click on the Codes button to open the Enter Code Here text box.
Enter working codes into the Enter Code Here text box.
Click on the Redeem code button to claim your free reward.
How can you get more Anime Story codes?
To get the latest Anime Story codes from the developer tkc, follow them on Twitter @tkc_rbx or join them on their Anime Story Discord Server. We here at GameTips.PRO have all the latest codes that the developer drops, so bookmark this page and visit us often, never to miss a free reward.  
Why aren't my Anime Story codes working?
The codes for Anime Story may not be working because of several reasons. The developer may have expired these codes; most are time sensitive and have a limited time available. Claim the codes as soon as possible from our working list to avoid missing out on any free rewards. These codes could be mistyped into the text box; copy and paste the codes from our list to avoid mistakes while trying to redeem your rewards.
What are the basic controls in Anime Story?
To level up faster in Anime Story, you will need to understand how the basic controls work and where they are assigned to your keyboard. To be the best at Anime Story, learn these controls and unlock your true power.
"Q" key—Press to Dash
"LCTRL" key—Hold to Sprint
"LMB" key—Press to equip a Weapon
"R" key—Hold to Charge Power
"F" key—Press at the right time for a perfect Block
What is Anime Story?
Anime Story is an action RPG where you can build your avatar to become the strongest anime hero. Mix and match your favorite powers across the anime universe to take on bosses and enemies from familiar animes. You can even take on other players in the PVP arena to test your power and test strength of your build.
If you're looking for codes for other games, we have a ton of them in our Roblox Game Codes post! You can also get a bunch of free stuff via our Roblox Promo Codes page.