Overwatch 2 is here, and with are some big changes to the Overwatch series. This includes the addition of many new features and the removal of others. One that will impact players' cosmetics is the removal of loot boxes and the new seasonal model. This may leave you wondering when all Overwatch 2 seasons start and end.
What are the start and end dates for all Overwatch 2 Seasons
Overwatch 2 launched in early access on October 4, 2022, marking the start of Season One. Blizzard has confirmed that the seasonal updates will be every nine weeks. Each season will give players an opportunity to unlock various rewards and enjoy different content.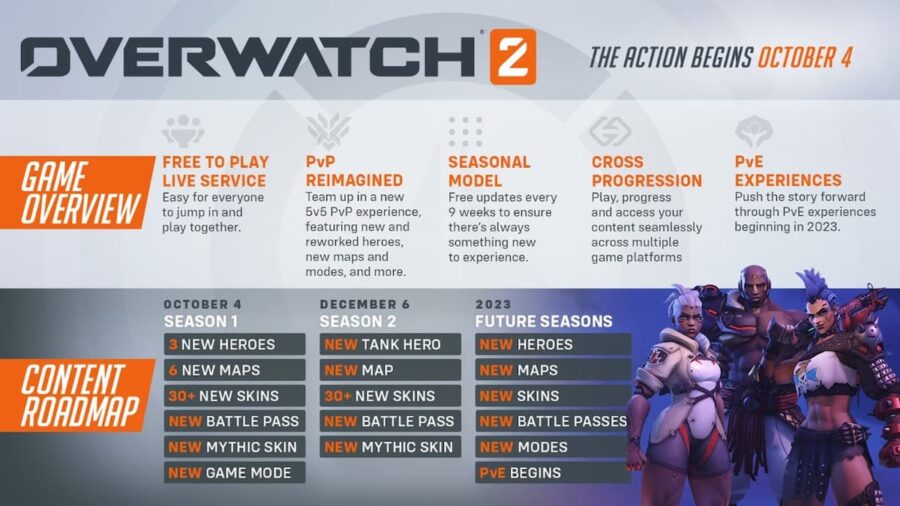 While Season One is currently ongoing, we do know that Season Two has been announced, and we have an idea of what can be expected in that season and the ones that follow. Here are all start and end dates for Overwatch 2 seasons.
Overwatch 2 Season Dates
Overwatch 2 Season One: Oct. 4, 2022 – Dec. 6, 2022

3 new heroes
6 new maps
30+ new skins
New Battle Pass
New Mythic Skin
New Game Mode

Overwatch 2 Season Two: Dec. 6, 2022 – ?

New Tank Hero
New Map
30+ new skins
New Battle Pass
New Mythic Skin
For more information on Overwatch, check out How to super jump with Mercy in Overwatch 2 and Which class should you play in Overwatch 2? on GameTips.PRO.