Lost Ark has numerous collectibles to find in its many different areas. However, none are as numerous as Mokoko Seeds. These small seeds look like fruit and have a green glow to them.
In Riza Falls, there are ten Mokoko Seeds to seek out and collect. This location is fairly large and has many branching paths to explore. Here are the Mokoko Seed locations in Riza Falls in Lost Ark.
Related: All Mokoko Seed Rewards in Lost Ark
Where to find all Mokoko Seeds in Riza Falls in Lost Ark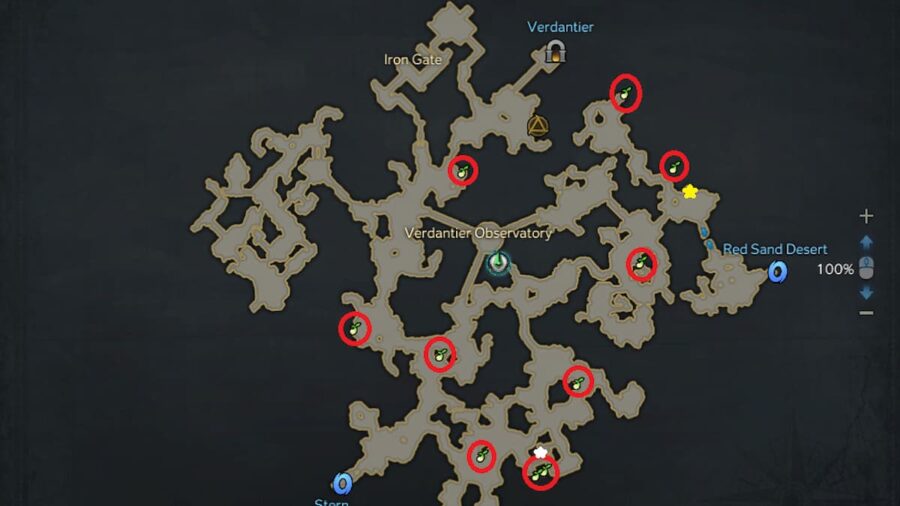 There are a few hidden Mokoko Seeds in Riza Falls. The yellow star shows a hidden path to the Mokoko Seed at the top of the map. The white star shows two hidden seeds at the bottom of the map.
Take the hidden path marked by the white star and slide to the bottom to find one. Then, climb up the first prompt to find the second seed. From there, make your way back up and find the rest of the seeds.
For more information on Lost Ark, check out All Mokoko Seed locations in Windbringer Hills in Lost Ark and All Mokoko Seed locations in Totrich in Lost Ark on Pro Game Guides.