In Destiny 2, lore pages can be found by completing specific triumphs and achievements. The lore pages for Acts of Mercy and Quintessence aren't any different. They are tied to the Mind Reading triumph in Destiny 2: The Witch Queen. In order to complete this triumph, you will have to complete three separate triumphs.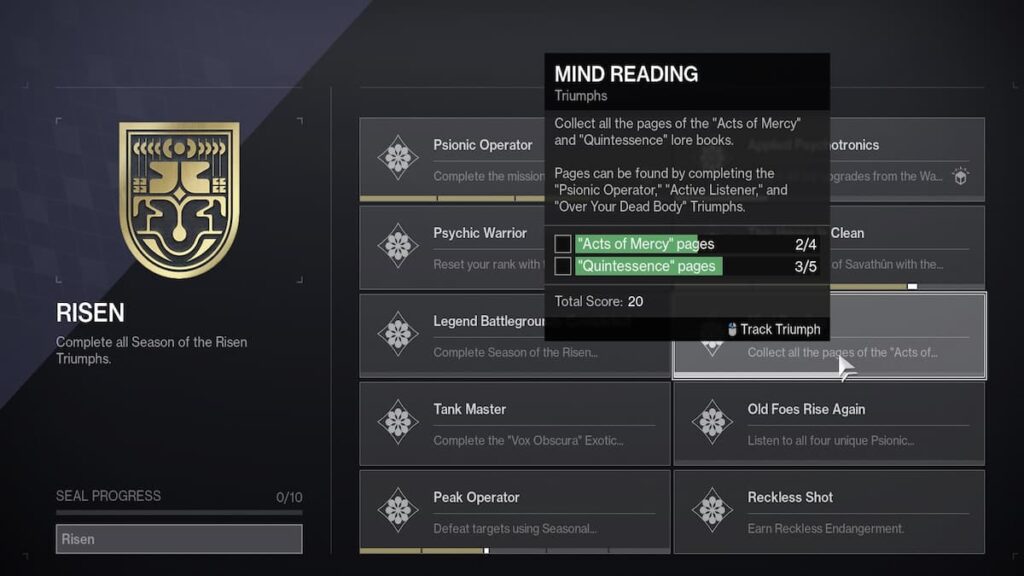 Active Listener: Listen to all the radio transmissions for Season of the Risen at the War Table.
Psionic Operator: Complete the mission "Operation Elbrus."
Over Your Dead Body: Defeat 15 Lighthoarders in PsiOps Battlegrounds.
Once you've completed these three triumphs, you will have to navigate to your triumph tab in Destiny 2 to claim the rewards for completing them. And as mentioned before, the reward for completing these triumphs are the lore pages for Acts of Mercy and Quintessence. However, do take note that unlocking these lore pages will not have any additional effect on your gameplay, nor will it boost your power in any way. It will just give you a detailed insight into the storyline for the current season.
If you're going for the Gumshoe title this season, completing the Mind Reading triumph is essential. However, if you just want to read the lore but you don't want to invest much time behind these lore pages, all you need to do is head over to the Ishtar Collective and read these lore books there.
If you're having trouble getting the Gumshoe title, check out How to get the Gumshoe title in Destiny 2 – Witch Queen Triumph Guide on GameTips.PRO.