As a way to give players a head start early on in the campaign, Gran Turismo 7 offers in-game Credit bundles, which can be used to purchase better vehicles and perks from the showroom. Of course, Credits can be earned through playing the mode itself and winning any of the races featured throughout. However, as a way to speed up the process, PlayStation puts four unique Credit bundles on its Store, all varying in price and quantity.
Available Credit Bundles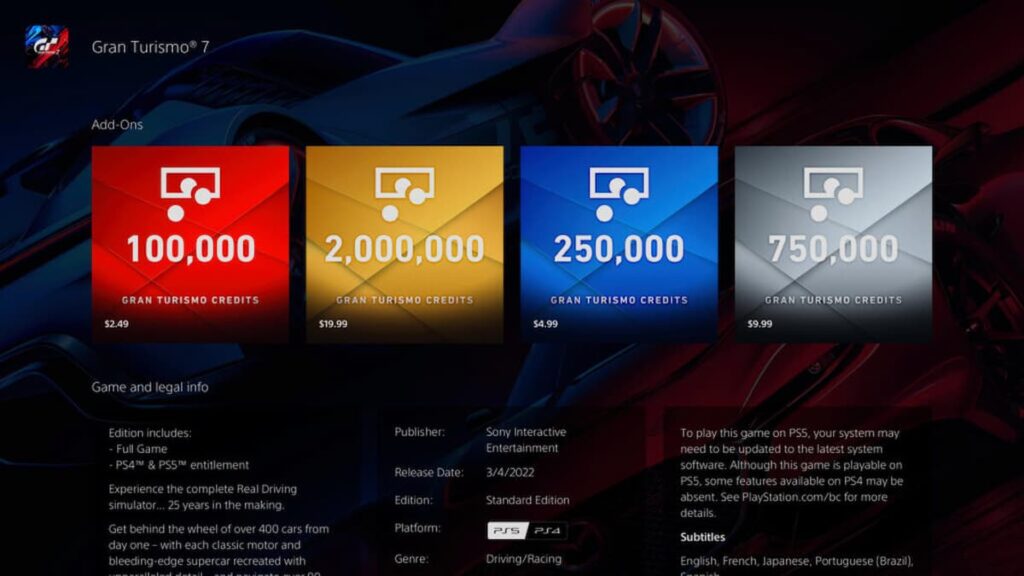 100,000 Credits – $2.49
250,000 Credits – $4.99
750,000 Credits – $9.99
2,000,000 Credits – $19.99
While something as lofty at 2,000,000 Credits can seem like a lot, the reality is Gran Turismo 7 has vehicles that soar way over the 3,000,000 mark, which means some of the top-tier classes can set you back by upwards of $40.
It is worth taking into account that you do not need to purchase any Credit bundle in order to complete Gran Turismo 7. It is, in essence, a shortcut for those looking to cut a few corners and reach the higher levels as quickly as possible.
You can find more news and guides for Gran Turismo 7 right here on GameTips.PRO.