Metal: Hellsinger, the rhythm action first-person shooter, is full of artists from various genres and subgenres of metal. These iconic voices are featured heavily in the main gameplay mechanics. Artists lend their vocals to make the game feel familiar to any fan of these vocalists. Here is a list of every vocalist in Metal: Hellsinger.
Metal: Hellsinger Vocalists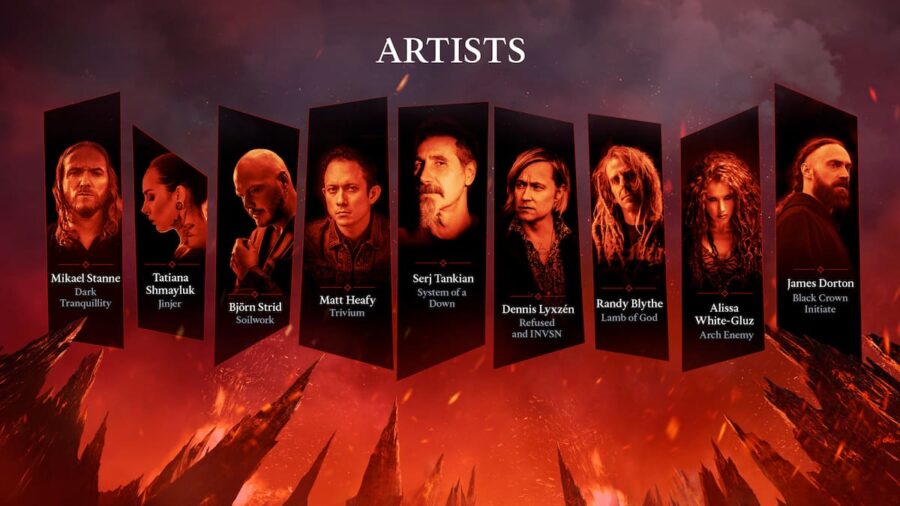 There are nine vocalists who lend their talent to Metal: Hellsinger. The game is narrated by Troy Baker, and the entire game's soundtrack will be new, made specifically to capture the fun of the FPS genre. These are all the artists lending their voices to the original soundtrack.
Related: When does Metal: Hellsinger release?
Mikael Stanne – From Dark Tranquility
Tatiana Shmayluk – From Jinjer
Björn Strid – From Soilwork
Matt Heafy – From Trivium
Serj Tankian – From System of a Down
Dennis Lyxzén – From Refused and INVSM
Randy Blythe – From Lamb of God
Alissa White-Gluz – From Arch Enemy
James Dorton – From Black Crowne Initiate
Using a blade and multiple guns, players can hear these vocalists and the game's soundtrack while fighting through the story of Metal: Hellsinger. The game is a very involved rhythm FPS and includes some unlockable ultimate abilities that give players an edge while killing demons. As players fire their guns and swing their sword, syncing their actions to the movement, the more intense the game becomes.
For more guides on Metal: Hellsinger, keep up to date with it on GameTips.PRO.