Moonbreaker is an exciting entry in the tabletop genre, taking it fully digital and allowing players to battle through the internet. It launched in early access, which typically means a game may be rough around the edges, but also means changes are coming.
What we want to be added or changed to Moonbreaker
Throughout our time with Moonbreaker, we have found things we like and things that could be expanded upon. We have compiled a list of things we would like added or changed with Moonbreaker.
Campaign
While Moonbreaker is in early access, it is simply unbelievable that we don't have a dedicated story mode or campaign, especially when you consider Brandon Sanderson was brought in to write the story and lore. While there are recordings that reveal information about the story, Moonbreaker has an enticing premise, and it is a shame we cannot experience this in a campaign of sorts. Hopefully, we will see a campaign mode added later, allowing us to fully immersive ourselves in the world.
Monetization
It has to be said, but Moonbreaker is emulating a free-to-play model while charging an entry fee of $30. While you can earn most of Moonbreaker's content by simply playing, it is early in its lifespan, and we do not know how the already aggressive microtransaction may evolve. As it is now, the premium currency, Pulsars, is not the main issue, but rather that a game mode is gated behind a currency you have to purchase. To summarize, Moonbreaker needs to either go free-to-play, or take a look at its monetization and make a change.
Cargo Run Contracts
Cargo Run is a roguelike game mode in Moonbreaker that can only be accessed with Cargo Run Contracts. At the start of the game, you receive a handful of these and can get a small amount daily, but once you run out, you will need to purchase them. You can do so with Pulsars or the freemium currency, Blanks, but Blanks are also needed to purchase Boosters. Gating a game mode behind a potential paywall is just bad practice, and we'd like to see this restriction removed altogether.
Unit Cultures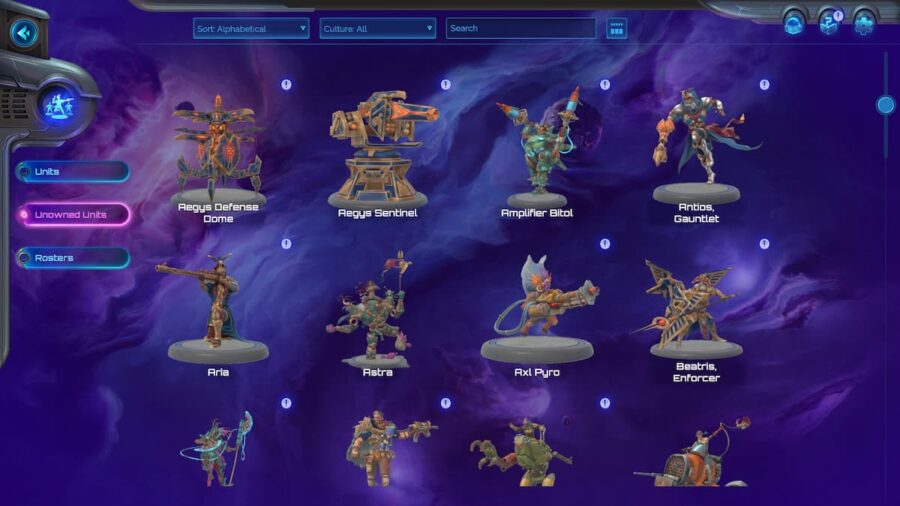 Any tabletop fan, especially those coming from Warhammer 40K, will know that typically you can only use units from a set faction. Moonbreaker does away with these, allowing you to pick and choose your units individually. While this is a good idea in practice, it can lead to a stale meta where all players use the same captain and units. We'd like to see some restrictions when it comes to your unit's Culture, perhaps being allowed to choose from two Cultures or offering an incentive for matching factions.
Better Camera Controls
For a game that includes an incredible painting system, it is actually quite hard to get a good look at your models in-game. During a match, you can zoom in and rotate the camera slightly, but seeing your miniature in action is surprisingly hard. The standard top-down view also makes it hard to recognize units, especially those that have a similar aesthetic. Adding in better camera controls would not only make painting your models feel more rewarding but also make determining enemy units easier.
Better UI
Following the camera controls, the UI in Moonbreaker can be described as decent at best. In-game matches could use some flexibility where elements of the UI are placed or let you stay on a unit after performing a command. The menu of Moonbreaker could also use some tweaking. It works fine, but a quality-of-life update to make it easier to navigate the menus or view units when building a roster would go a long way.
Less RNG
The RNG is brutal and overwhelming in Moonbreaker. The worst offender is the Assists you can choose at the beginning of the match. These can drastically affect how a match plays out and can easily ruin builds if you do not get the correct Assist. Other offenders include the RNG for landing an attack and the order in which your units become available in the Bridge.
At the start, you can choose from four units to summon, with the rest being pulled from a Reinforcement option. Getting a bad pull at the start of a match can easily set you behind and let your opponent snowball a victory. This is made worse by the fact you have to spend Cinder to randomly add a unit to your Bridge. Finally, the RNG of attacks seems incredibly wild, sometimes missing point-blank shots but scoring a hit from across the map with the enemy behind cover.
Map and Objective Diversity
The maps are one of the more disappointing aspects of Moonbreaker. While each map looks visually different, they almost play the same. There is nothing more than a flat arena with cover scattered throughout. Including height variation or hazards could go a long way to spice up gameplay and strategy. With Moonbreaker's rich setting, there are numerous options Unknown Worlds Entertainment could explain when it comes to maps.
In addition to this, Moonbreaker desperately needs more diversity in its objectives. With all maps feeling similar and the only victory condition being eliminating the enemy captain, all matches simply become a slugfest. We would love to see other objectives like king of the hill, capture the flag, escort, and others being added. This would greatly change how Moonbreaker plays and add more flexibility to your armies.
Options for more Players
Another feature that would be great would be allowing more players to take to the arena and battle. Currently, Moonbreaker only supports 1v1 gameplay, but we'd love 2v2 or options for free-for-alls. This would further increase the strategy and allow for more interesting gameplay and tactics. Combining the lack of map diversity, single objective, and 1v1 action, Moonbreaker could face the problem of feeling one-dimensional.
Better Game Speed
Moonbreaker is at a weird place where matches could be quick or incredibly long. A dedicated match timer could potentially hurt the game, but as it stands now, matches can drag on way too long. This is made even odder as the timer for player turns passes incredibly quickly. When you have the max number of units on the board, you barely have enough time to issue all your commands unless you rush. Moonbreaker needs to take a look at either match time or turn time and make a stronger connection between the two.
For more information on Moonbreaker, check out Everything included in the Moonbreaker Founder's Pack – Is it worth it? and Does Moonbreaker have controller support? on GameTips.PRO.